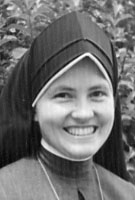 Sister Catherine McGovern, MM
Born: January 4, 1921
Entered: December 8, 1939
Died: September 27, 1976
Sister Catherine McGovern died peacefully at Bethany Convent early this morning, September 27.
Catherine Anne McGovern was born in the Bronx, New York City on January 4, 1921. Following her freshman year at St. Joseph's College, Brooklyn, Catherine entered Maryknoll on December 8, 1939 and was professed on June 30, 1942. Her religious name was Sister Cecilia Therese, After profession, Sister Catherine worked with Sister Marie Pierre Semler, developing and sharing her artistic talents through sacred art.
Sister Catherine expressed her desire to be assigned to The Cloister in the belief that her missionary vocation would best be expressed in this way. She was assigned to The Cloister on October 15, 1944, and spent most of her life in Maryknoll as a member of The Cloister Community in prayerful solidarity with all Maryknollers and with a world in need.
In September, 1971, Sister Catherine was one of the five Sisters chosen to begin our first Maryknoll Mission Cloister in Gallup, New Mexico. Sister Catherine was not able to remain in Gallup very long; but she shared deeply in the beginnings of our mission there and left a lasting impression.
Sister Catherine returned to The Center Cloister where poor health would plague her final years. In 1974, Sister Catherine requested an assignment to The Center Community and was at The Center until her illness necessitated transferal to Bethany late in 1975.
The Mass of the Resurrection will be celebrated for our Sister Catherine McGovern in the Chapel at The Center, with burial in our Maryknoll Cemetery.
We extend deep sympathy and our prayers to Sister Catherine's family.