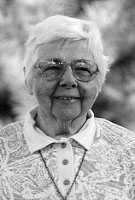 Sister Catherine Rita Sullivan, MM
Born: April 29, 1916
Entered: June 8, 1935
Died: July 17, 2006
Sr. Catherine Rita Sullivan, affectionately known as Catty, died around 6:00 a.m. July 17, 2006 here at the Center in Residential Care IV. While her health had been failing for the past few months, in the end she slipped away into new life quietly, probably in her sleep.
We gather this morning to remember and to celebrate Catty's 90 years of life, and her 71 years of dedicated service as a Maryknoll Sister in the Philippines, Hawaii, Likiep, California, Texas, Bethany, Monrovia and here at Maryknoll. During the past years at the Center, her ministry was praying for the Korea Region.
Catherine Rita Sullivan was born in Somerville, Massachusetts on April 29, 1916, the daughter of Agnes Killion Sullivan and Edward P. Sullivan. She had three brothers and four sisters.  Catty attended St. Joseph's Elementary and High School in Somerville, graduating in 1933.
Prior to entering Maryknoll on June 8, 1935, Catty worked as a seamstress in a Public Works Program, earning $9.60 a week. Through the years she would refer to the poverty and hard times her family experienced in the mid-thirties, and how the lessons learned at home, that is, work hard, laugh, have fun, served her well throughout her life.
At reception Catherine received the name Sister Rose Catherine. She made her First Profession of Vows January 6, 1938 at Maryknoll and her Final Profession of Vows three years later in the Philippines. Sister's first assignment was to the Philippines in 1939 where she ministered at St. Mary's Hall in Manila and then as housekeeper to the Maryknoll Sisters in Lucena. During this period, she attended Maryknoll Normal College in Manila. Catherine was among the Maryknoll Sisters interned in Los Banos, from 1942 until March 1945. She was repatriated to the United States and arrived at Maryknoll in May.
Later that same year, she was assigned to Hawaii. For thirteen years Catty taught at St. Anthony's School in Wailuku, Maui. Her first experience with children and finger painting was matter for a great story. By the end of class Catty's kindergarten students were so covered with paint they needed baths, and extra help was called in to clean their classroom afterwards. From the island of Maui she moved to another part of the Pacific to Likiep in the Marshall Islands where she taught primary school for five years.
After completing her studies and receiving a BS in Education in 1965 from Mary Rogers College, Maryknoll, NY, Catherine returned to school work in Los Angeles and Stockton, California. She taught emotionally disturbed high school students in a special education section of the Stockton Unified School District. Catty loved teaching and was good at it. The principal of the school wrote the following: "I don't know what we would do without Catherine on our staff She would be impossible to replace. A fine person – a beautiful teacher."
For the next six years Catty shared her gifts with our Maryknoll Sisters at Bethany. She was Director of Occupational and Remotivation Therapy and for three years was Assistant Coordinator.
As a new member of the Eastern US Region, Catty moved to Breckenridge, Texas in 1979. She served five parishes in the newly founded Fort Worth Diocese. She taught CCD and Bible classes, led liturgical services and visited "everyone." Catty saw herself as an advocate for the poor, needy, and underprivileged in a society that did not want to admit such persons existed. Catty also worked as a notary for the Fort Worth Diocesan Marriage Tribunal. The years in Breckenridge, as well as being a member of the Eastern Region, were particularly significant in Catty's life. She wrote: "I will miss being with you all. You taught me to share, listen, to laugh and to really love! I became me in the Eastern Region."
Catty moved to Monrovia in 1987. She was an active member of the Monrovia Community, especially remembered for her sewing skills. She also was a volunteer teacher of CCD classes. Catherine came to Maryknoll in 1999.
We extend our condolences to Catherine's family, and welcome our celebrant Maryknoll Father Clyde Phillips at this Liturgy of Christian Burial.