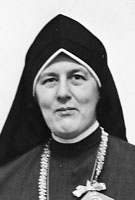 Sister Catherine Robin, MM
Born: February 4, 1910
Entered: December 7, 1932
Died: October 29, 1971
Sister Catherine Robin (Charles Marie) died at 1:00 P.M. on Friday, October 29.
Her death came suddenly and all of us at the Center and at Bethany were stunned. Sister Madeline Maria Dorsey sent over word from Bethany: "For us it was a shock, since Sister was cheerful and jovial both at breakfast and at dinner – and even worked on a puzzle moments before dinner."
Catherine Robin was born February 4, 1910 in Biddeford, Maine, and after taking both "classical" and commercial courses in high school, she did clerical work for the Travellers Insurance Company until she entered Maryknoll on December 7, 1932. She worked for many years in the Maryknoll Fathers Field Afar Offices and Father Fletcher recalled these days at Sister's funeral Mass and spoke of her warm smile and generosity. Communities who esperienced that generosity whether it was through office work or sewing or chauffeuring were Crichton House, the Venard, Topsfield and of course, the Motherhouse and her favorite, Bethany. Sister Rosalie Lacorte, on furlough from the Philippines, told how Sister Catherine had taught her to make a stole just a few weeks ago.
At Topsfield, Sister Catherine met Father Gunther Gesainger, S.V.D., who spoke many times with Sister about one of her favorite topics, the Liturgy. Through Father's encouragement Sister made many beautiful vestments that show her talent and creativity.
She loved to read and listen to music, especially symphonies. During her funeral Mass of the Resurrection on All Saints Day, November 1, her favorite organ selections from Beethoven's Sonatas were played by Sister Marie de Lourdes.
Both the wake and the funeral Mass were at Bethany and must have pleased Sister Catherine's liturgical tastes. Both Center and Bethany Sisters joined a beautifully prepared Office.
Father Gunther came from Washington, D.C. to preside at Sister's Mass.
Only a few weeks ago at our Annual Meeting we discussed "death, the individual, the community" and now some words on the last page of the Annual Meeting Report take on deeper meaning through Sister Catherine Robin, "There is a close connection between the individual and the mystery of death. To become real, a person must face up to the mystery of death." All of Sister's preparations show that she did. We ask that all Maryknollers join in prayer for Sister Catherine, as we remember that "to take on death brings life."