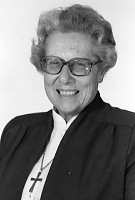 Sister Cecilia Ruggiero, MM
Born: September 25, 1913
Entered: December 29, 1935
Died: August 15, 2013
Cecilia Ruggiero, fondly known to many in Guatemala as Nati (Maria Natalis was her religious name) died as she lived, peacefully and quietly at 5:30 am on the feast of the Assumption in Maryknoll Sisters Home Care III.  She was one month and 10 days short of her 100th birthday.
Born on September 25, 1913, in Somerville MA to Angelina (Cataldo) and A. Frank Ruggiero, she was one of seven siblings.
Following graduation from Northeastern Junior High and Somerville High School, she entered Maryknoll on December 29, 1935.  She pronounced her First Vows in June of 1938.  Cecilia was then sent to work at the Venard, Maryknoll's Minor Seminary, until 1940 when she was assigned to study nursing.  She pronounced her Final Vows in 1941 and went on to earn her R.N. degree from Providence Hospital in Washington DC.
In 1943, she was assigned to the Bolivia-Peru Region where she remained only a year until 1944 when she was assigned to a Medical Clinic and Leper Colony in Panama.  In 1948, she was sent to Siuna, Nicaragua, where she remained for two years.  Following her renewal in 1950, she was asked to serve in the Motherhouse Infirmary. This assignment was followed by 10 years of secretarial work for the Maryknoll Fathers.  And oh, how she loved the Maryknoll Fathers!  Then came a two-year period of catechetical work in Houston, TX and Kansas City, MO.  She was next offered the opportunity to study midwifery at the Catholic Maternity Institute in Santa Fe, NM.  Finally, in 1966 she responded to a request from Jacaltenango, Guatemala, for someone to train midwives.
Long before new consciousness and quantum physics Cecilia was attuned to biorhythms and the energy resulting in each one of us from them.  She accredited our ups and down in Community to our positive or negative energy.  She encouraged us to walk our journey with Mollie's vision.  She could both charm and challenge church and civil authorities.  These were tumultuous times in Guatemala, in the Church and in Maryknoll.  Cecilia moved with the changes steadily and cautiously.  Like a mother hen, she kept an eye on us and offered a listening ear, a word of encouragement or a word of warning.
Ever conscious of her appearance and her decorum (as she was wont to call it) she would set off on horseback with her hat, her gloves and her riding boots to visit the villages and work with the midwives she so devotedly trained.  On one occasion two of us along with a Maryknoll Father took off together to motivate and animate midwives, health promoters and catechists.  It was a long trip, so we stopped at a halfway point, dismounted and took a break.  When it was time to continue Cecilia was too short to reach the stirrup.  Father very thoughtfully cupped his hands and told her to step up.  Because she was on the heavy side, he gave a hefty push and Cecilia went flying over the horse and landed on the other side.  Horrified, we look at each other and rushed to help her, but she was already upright, brushing herself off, and straightening her hat, she looked at us with a smile and said, "Let's try again".  And that seemed to be the theme of her life.  If something didn't work, let's try again!
In 1976, she accepted a full time job as Regional Coordinator.  With tears in her eyes, she left Jacaltenango and graciously assumed her leadership role.  Finishing her term in 1979, she single-handedly took on a priestless parish in Argueta, Solola where she was pastor, healer and friend to all.  Even though there was a pastor named from a parish in Panajachel, she organized the parish structure with responsibility given to the laity.  Once again, she became the animator, the resource person and the challenger.  We all stopped and visited as we went back and forth to the city and were always received with cookies and coffee!  Cecilia remained in Argueta for 23 years until in May of 2003 she fell and broke her hip. She said then, "Maybe I stayed too long – I slipped on a rock and am 90 yrs old."  Before she was carried out and taken to Maryknoll the people bestowed the Mayan mortaja upon her, a garment worn by all Indian women at the time of death.
Following a period of rest, undaunted she returned to Guatemala in a semi-retired capacity, living next to two other Maryknoll Sisters in San Marcos. In July of 2004, she left Guatemala for the last time, with a heavy heart, leaving behind a legacy we all cherish.
Her years in the Eden community, where she took the Maryknoll Family as her Prayer Ministry, were happy ones where she contributed much to the celebrations, liturgies and spirit of the group.  She was especially delighted when she was given a motorized scooter, as it was harder and harder for her to get around.  She would race through the halls and check each bulletin board, the mailroom as well as stop to visit her friends.  She did the same in Guatemala in her little yellow car, out driving us all even at the age of 80.
Diminishment is hard for all of us, but Cecilia lived through death taking each day with a smile.  She will celebrate her 100th birthday with all her friends having passed on to the fullness of life.  We give thanks for her and ask her to continue to help us walk the way.
We are happy to welcome Sister Cecilia's family and friends who are here with us this morning. We also welcome and thank our Maryknoll brother, Father Edward Moore, who will preside at our liturgy of Christian Burial.