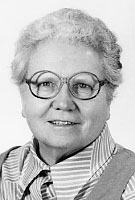 Sister Claire Downes, MM
Born: January 27, 1923
Entered: September 6, 1949
Died: March 30, 1997
We gather today to celebrate the Liturgy of Resurrection for Sister Claire Downes who was called to the fullness of life with God on Easter Sunday, March 30, 1997, at 12:10 p.m.
Claire was born in Manhattan, New York, on January 27, 1923, to Catherine McGlone and William Downes. She had six brothers and one sister, Catherine. Claire attended St. Patrick's Grammar School in Long Island City, graduated from Bishop McDonnell Memorial High School in Brooklyn in 1941 and continued her education at Browne's Business College, Fordham University, and evening sessions at New York University. She then worked for seven years, five of which were as Secretary at the New York University School of Commerce.
Claire entered Maryknoll on September 6, 1949. At Reception she received the religious name of Sister Maria Chiara. She made her First Vows on March 7, 1952, and Final Vows on the same date in 1955, both at Maryknoll, New York. After obtaining a Bachelor of Education Degree from Maryknoll Teachers College in 1953, she was assigned to teach at Transfiguration School, New York City, where she spent the next six years. In 1959, she was transferred to the Bolivia/Peru Region. She studied Spanish at the language school in Cochabamba which prepared her for seven years of teaching at Santa Rosa de Lima Parish School in Lima, Peru.
In 1967, Claire returned to the United States, worked for two years in the Maryknoll Magazine office, followed by two years in the Data Processing Department at the Center. In 1971, she moved to Monrovia, California, and shortly thereafter to Granger, Washington. In Granger, she worked with the Yakima Community Organization as an assistant teacher in a Parent-Child Center with Mexican-American families. She continued in this work until 1977 when she moved to Sunnyside, Washington. Here she worked for the Sunnyside School District in Migrant Education Work until 1985. Claire valued the importance of bilingual education for pre-school and elementary school children, and always considered home visits to the migrant camps an integral part of accompanying the children in their educational process, and their families in their struggle to eke out a living in very difficult circumstances. During these years, she also taught Spanish to Anglos who were interested in better communications with the Mexican-American community.
Returning to the Center in 1985, Claire's office skills were again called upon in the Data Processing Department and Mail Desk. She was to retire in 1990, but soon found herself doing part-time work for the Chicago Promotion Office. Retirement in Claire's eyes, but not to the eyes of the rest of us, came for her in 1994 when she was assigned to the Center, as she continued to give generously of herself and her talents until health issues became an obstacle.
Claire's smile, her loving quiet manner and sense of humor will long be remembered by all of us. She was a woman of deep faith, hope and love. In her room was found the following poem which describes Claire so beautifully.
Beatitudes for Women
Happy is she who suffers with the very young,
the very old, and the very lonely,
for she has compassion.
Happy is she who greets the world with joy,
laughter and anticipation,
for she has courage.
Happy is she who lives not where she chooses,
but where she is sent,
for she has freedom.
Happy is she who speaks gently, lives humbly,
for she has dignity.
Happy is she who listens and hears and extends her hands,
for she has understanding.
Happy is she who lives simply, loves deeply,
for she has sincerity.
Happy is she who lives intensively, and sings life's alleluia,
for she has awareness.
Happy is she who has compassion and courage,
freedom and dignity, understanding,
sincerity and awareness.
FOR SHE IS WOMAN
Thank you, Claire, for the 47 years you have been a Woman of Beatitudes in our midst!
We thank our Maryknoll brother, Father Robert Reiley, who will preside at this Eucharist of Resurrection. We extend our deepest sympathy to all of you.