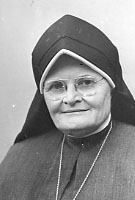 Sister Clara Venneman, MM
Born: March 20, 1900
Entered: October 15, 1927
Died: September 20, 1992
On Sunday, September 20, 8:45 a.m., Sister Clara Venneman entered into the "mansions" that Jesus prepares for all who do God's will. Sister Clara was surprised to realize that time had passed so quickly. When she was interviewed on the occasion of her Golden Jubilee, she said to Miss Maureen Flanagan: "It doesn't seem that long. I can hardly imagine it. So many things seem like they happened yesterday." Time passes quickly for those who are happily doing "all for God" which was one of the reasons Sister Clara gave for becoming a Maryknoll Sister. Today, those who loved her, mourn her loss, but celebrate her new life.
Clara Venneman was born on March 20, 1900 in Riverton, Illinois. She was one of five children, 1 boy and 4 girls, born to Leonard and Mary Costello Venneman. Clara graduated in 1920 from Sacred Heart Academy in Springfield, Illinois. Then she taught 3 years in a country school. During the summer of 1922 she went to Buffalo State Normal School. She continued her education at Cortland State Normal School from 1924-1926 where she majored in Physical Education. In 1927 she worked as a substitute teacher in New York City schools.
During that time she maintained a good correspondence with her sister Sarah, a Maryknoll Sister, Sister Espiritu, who played a big part in Clara's decision to become a missioner. Clara entered Maryknoll on October 15, 1927. At Reception she received the name of Sister Mary Albert. She made her First Vows on April 30, 1930. During the second year of her novitiate, 1929-1930, she attended Catholic Sisters' College associated with Catholic University of America in Washington, D.C. and received a teacher's certificate.
With all of this preparation for mission, Sister Clara was assigned to her first mission in Hong Kong, where she made her Final Profession on April 30, 1933. Sister Clara experienced the joy of being welcomed by Sister Espiritu in Hong Kong, where she remained until her next assignment in 1935. She then went to Kaying, South China and stayed throughout World War II until 1949. During her mission years in China, Sister Clara lived in small communities where she was always a "delightful companion." She developed her own pronunciation of certain Chinese words, often making people laugh. But there was something special about her words as everybody understood her. She was a very comfortable person and made others feel the same. Her ability to teach children was unique. She taught them different marches and tunes and sometimes used curtains to make outfits for the Minuet that she directed.
In 1949, Sister Clara returned for her Decennial. "I was afraid to go over the Pacific by plane" she confessed years later. This statement reveals her simple and child—like spirit which made her lovable to others. Sister Clara worked in promotion and at Bethany for 3 years. Unable to return to China, she was assigned to the Bolivia/Peru Region in 1952. From 1952—196O she worked in Bolivia mainly in Riberalta, teaching in public schools. In her catechetical work with children she often used methods she had learned from Bishop Ford in Kaying. One of her skills was the ability to apply what she had learned in her previous mission experiences to her new endeavors, especially in catechetics.
Sister was assigned to Guatemala in 1960 where she lived and worked in Huehuetenango and Colegio Monte Maria. After that period she worked for 2 years in Guadalupe, California and later in 1970, she was assigned to Crown Point, New Mexico. Her ministry there, along with Sister Benigna Foley and Sister Helen Cashin was among the Navajo Indians; they lived a very simple lifestyle. Besides teaching Religion classes, adult education, typing and English classes, she did home visiting, went to the local hospital and loved to meet people. She is remembered by her friends as a quiet, gentle person who was very generous and thoughtful of others. She had the ability to reach others using the language of love. Her companions in community said that she had a delightful sense of humor and was wonderful to live with.
In 1975, Sister was assigned to Bethany and later to the Center where she had the opportunity to be close to Sister Espiritu and they worked together on various small projects. Sister Clara entered the  Maryknoll Nursing Home in 1985 where she continued to be "in mission" through her prayer ministry and  in her ministry of suffering.
We come together to celebrate Sister Clara's faithfulness. She came to Maryknoll to do God's work and that is what she did all her life, witnessing God's love for all. We rejoice in remembering how much she did during her 92 years among us here on earth, and we know she is enjoying forever the eternal present. Let us rejoice with Sister Clara as she beholds God face to face.
We thank our Maryknoll brother, Father John Hudert, who is here with us to celebrate the Eucharist of the Resurrection.