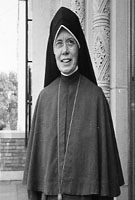 Sister Clare Tivnan, MM
Born: August 12, 1904
Entered: December 7, 1931
Died: February 13, 1995
We are gathered today to celebrate a special moment that gives personal and congregational meaning to the life we have shared with Sr. Clare Marie Tivnan. Through teaching, her personal life was interwoven with our lives as Maryknoll Sisters. Recognition of her personal talents enabled her to contribute much to formal education work which was a major commitment for the Congregation for decades in our history.
Clare Rita was born on August 12, 1904, and was baptized nine days later at Immaculate Conception Church in Salem, Mass. She was the second of three daughters born to Frank Tivnan and Catherine Sullivan. Sr. Clare is survived by Louise, the youngest in the family. She attended grammar school at St. Mary's, High School at Notre Dame Academy in Fenway, Boston, and earned Certificates from Leslie Normal School in Cambridge, Mass in 1925 and from Boston University in 1926.
Clare Marie joined the Maryknoll Sisters on December 7,1931 so that she could "come nearer to God". She became interested in the foreign missions through her oldest sister, Mary Judith, who preceded her to Maryknoll in 1925. On June 30, 1934 she made her First Profession and was assigned to Seattle the next year where she taught Kindergarten. Sister was assigned to the Motherhouse in 1935 and with Sr. Roberta King set up the Model Kindergarten of the Maryknoll Teachers Training College. It was during this time that she made her Final Profession on June 30, 1937 here at the Center.
Teaching was her forte. She loved teaching younger children in the Kindergarten and lower grade levels. Later assignments took her to Los Angeles in 1941, St. Louis in 1942, Transfiguration School in New York City in 1948, and St. Anthony of Padua in Bronx,NY. in 1950. After her Decennial in 1959, she did some literary and research work on "Children's Education" for 2 years. In 1961, she published a list of plays suitable for children from Kindergarten through Junior High School for the National Catholic Theatre Conference. She was assigned to the Bronx again in 1963 where she was to stay until 1970.
Sisters who had taught with her described how she made the classes alive with her music, art,dance, exercise, and drama. Barbara Hendricks, who taught with her in Chinatown, New York, shared how much she had learned from Sister Clare's active sense of imagination and creativity. Clare used every bit of her talent for the younger children and they loved it. She would go to the piano, play a tune and they knew exactly what to do and how to do it. In the Bronx she used her skills to teach catechism. The February 4, 1956 issue of "The Tablet" had an photo article on Clare Marie leading a group of fourteen First Grade children in "The Singing Catechism" as part of a demonstration of "The Use of Drama, Dance, and Song in Mission Work". The demonstration was staged at Fordham University during the 4th Annual Conference of Mission specialists.
Clare Marie's teaching skills went with the Sisters whom she taught. Gertrude Maley shared of the summers when she and many others learned Primary teaching methods from her and how she used the songs and methods in Tanzania. She had a way with the children that spelled magic! She reached out to them and transformed their lives! She created an uncanny bonding with the younger ones whom she called her 'babies'. The children expressed it well to her. One 6-year old came to her before she left the Bronx and said, "Oh, I just can't sleep all night because you are going away!"
In 1970, Clare's request for "time out" was granted and she spent it with her sister, who had retired from a lifetime of service in education. Clare then worked as a substitute teacher and became a semi-retired member of the Senior Region. In 1976, she discontinued teaching. She kept an active correspondence with friends, former co-teachers and pupils. During this time, she sent appeals to her friends and received contributions for the renovation of the Nursing Home Facility.
In 1988 Clare came back to the Center and was assigned to the Nursing Home in 1990.  Her prayer ministry was for the Eastern US Region.
Years later on the occasion of her 60th Jubilee in Maryknoll, the "Salem Evening News" of March 4, 1991 ran an article on this Maryknoll nun and teacher who for more than a half century was known for her smile and exceptional abilities "to always see the good in any child". Virginia Lavoie, a third-grade teacher at the Carlton School knew Clare for decades and was inspired by this 'absolutely wonderful' woman who could "take the worst class and the worst children and wrap them around her little finger." Lavoie said, "She could make them perfect." Charles Walsh, a former Principal wrote at Christmas in 1984 to the "teacher who was a dynamo of activity…whose classes were a joy to be with.. .and who had a wonderful devotion to 'our' kids". A long-time friend, Dorothy Baker, sent greetings on Clare's 86th birthday and thanked her for "just being there" and for doing her "part in translating to me His divine love and will".
Those of us who knew her as a younger Sister in community saw a generous, thoughtful, attractive, pleasant and refined person. Many of us never got to know her well but most of us have heard about her giftedness in teaching children. Her skills went far and wide vicariously to far-flung missions throughout the world through all the Sisters she taught during those summers at the Teachers Training College. She patterned her life after the Great Teacher who rebuked his disciples when they drove those children away, saying, "Let the little children come to me. Do not shut them off. The reign of God belongs to such as these." (Lk 18:16) Clare evoked the childlike in us through her wit, her sense of humor, and her impish practical jokes.
We welcome our Maryknoll brother, Fr. Mike Duggan, who will lead us in this Liturgy of the Resurrection.
Let us, then, thank God for gifting us with Clare Marie and for her talent in teaching and thank Clare Marie for the faithful way in which she lived as a missioner for the children. This masterful teacher contributed in no small way to the education of thousands of children and teachers including us Maryknoll Sisters here in the United States and overseas.