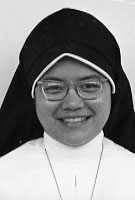 Sister Conchita Hojilla, MM
Born: January 14, 1939
Entered: June 9, 1964
Died: October 20, 1998
Today, as persons of faith struggling to find meaning in what has happened, we gather to celebrate Conchita's passing into new life, to remember her many gifts and her loving presence among us and the many ways that she manifested God's faithful love to all of us. We deeply mourn the loss of our dear sister and friend. Conchita was deeply committed to the mission of Jesus and her life and death call us personally and communally to recommit ourselves to that mission.
Conchita lived life with a tremendous intensity about issues of social justice coupled with a resplendent joy in relationship. She had a loving, person-oriented approach to all whom she encountered and her wonderful sense of humor always shone through. Conchita's intelligence led her to continually seek the truth and gave her the courage to challenge others in a way that was gentle yet probing. The following prayer, which occupied a central position on her desk, offers us a beautiful reflection on her many gifts.
Oh God, your goodness is beyond what our spirit can touch and your strength is more than the mind can bear. Lead us to seek beyond our reach and give us the courage to stand before your truth.
Respect for the integrity of creation was integral to whom she was and highly significant in the development of her own spirituality. She was profoundly committed to multicultural community – both in living it personally and gently calling the Congregation to deepen our awareness of the meaning of multiculturalism for us.
After completing a two-week visit to the Sisters of the Philippine Region, Conchita was visiting the Sisters in the Hong Kong Region when she died in Hong Kong on Tuesday, October 20, 1998.
Sister Conchita was born in Manila, Philippines, on January 14, 1939, to Matias and Concepcion Montelibano Hojilla. She was the second child in a family of six sons and two daughters. She attended Colegio de San Agustin and graduated from high school at Maryknoll College, (now Miriam College) Quezon City, where she also obtained an A.B. degree in English in 1959. She received an M.A. in English in 1962 from Marquette University, Milwaukee, Wisconsin, where she was a Fulbright Scholar. Conchita taught English at the University of Negros Occidental and De La Salle College in Bacolod, Negros and also at Miriam College.
Conchita entered the Maryknoll Sisters Congregation in Quezon City, Philippines, June 9, 1964, and made her First Profession of Vows on April 30, 1967. She received her mission assignment to Central America in 1968. Her mission sending ceremony was celebrated in the same chapel at Miriam College where her Mass of Christian Burial was offered on Sunday, October 25, 1998.
In 1969, Conchita went to Guatemala where she taught at Colegio Monte Maria in Guatemala City. She went to Maryknoll in 1974 for her reflection year in preparation for Final Profession. The following year, Conchita received an M.A. in Religious Studies from Maryknoll School of Theology. Her Final Profession of Vows was December 13, 1975, at Maryknoll, NY. After Final Profession, Conchita served as a member of the Congregation's Mission Education Team that conducted programs in parishes, colleges and schools throughout the United States.
In 1977, Conchita returned to Guatemala where she worked with a team of Maryknoll Sisters in the Diocese of San Marcos in a new diocesan program for the integral development of women. The goal of the program was to develop self-esteem in rural women, especially indigenous women, and to form local leaders who would eventually be responsible for this ministry. The courses included evangelization, health and hygiene. The years Conchita spent in San Marcos were a time of tremendous political violence and flagrant human rights violations in Guatemala as the war escalated to a new high. It was a time when both the pastoral agents and the local women working in the formation of rural leaders were highly suspect by the military. It was a dangerous time and a dangerous place to be a missioner, but Conchita never wavered in her commitment to the rural peoples among whom she lived and worked.
Conchita returned to Maryknoll in 1982 and worked in the Congregation's Office of Social Concerns as well as the Interfaith Task Force on Central America. Her experience in Guatemala, of sharing life with people of faith in the midst of a violent political reality, was highly significant in her work to promote awareness in the United States of the reality of Central America and the role of U.S. foreign policy in creating and maintaining that reality.
After three years of social justice advocacy work in the United States, Conchita was assigned to Panama where she worked in the Vicariate of Darien. Her ministry focused on the formation of Basic Christian Communities among people of diverse cultural heritage: the indigenous Embera, Afro-Panamanians and mestizos. She worked with local leaders to set up programs in which local women and men were trained to become Delegates of the Word who could then gather the people of their communities together for reflection on the Scriptures. Other programs helped mothers develop parenting skills and empowered them to deal with the health problems of their families and communities through the use of medicinal plants.
Conchita's leadership skills became apparent to the larger Maryknoll Sisters Congregation when she was elected by her Region to attend a number of Congregation-wide planning meetings including the ones that led to the Congregational Gathering in 1996. The Congregational Gathering, when more than 500 Maryknoll Sisters came together from all over the world to celebrate life and mission together, was the first such Congregation-wide gathering in the eighty-six-year history of the Maryknoll Sisters. The wonderful spirit created at this gathering is still being felt throughout the Congregation. Just after the Congregational gathering, at the 14th General Assembly, Conchita was elected to a six-year term on the Congregational Leadership Team.
In our Leadership Team Meetings, Conchita always looked for and reminded us of the larger context in which we worked. Her deep spirituality beckoned us as a team to keep ever in mind what our service of leadership was to be for a Congregation in mission.
In Conchita's office, a card is prominently displayed with the following words of Ita Ford: "I hope you come to find that which gives life a deep meaning." Conchita's life journey which led her from Negros to Manila, to Guatemala, to Panama, to the United States and now, finally, back to the Philippines, is a testimony to her encounter with that which gave her life a deep meaning: mission.
"Each of us and all of us carry within the dream of Mother Mary Joseph. We recommit ourselves to take that dream into the future." (C. Hojilla, Welcome/Reception of Candidates, August 1998)
In January of this year during her Reflection at the Eucharistic Celebration on the Feast of the Epiphany, she asked the gathered community:
"What can we as a Congregation learn from the star, from the Magi which will be for the life and light of today's world?"
Her answer:
"I suggest something simple – a simplicity costing not less than everything:
Let us go out into the night sky.
Let us follow our star which goes ahead of us.
What emerges may alter our lives forever.
And so in joy, with trust and confidence in our hearts,
Let us go and see what God has in a store for us."
Like the Magi, Conchita followed the light of the star. Let us have the courage to follow this star so that like her we may be life and light for today's world.
We welcome our celebrant, Maryknoll Father Daniel Jensen, a close friend of Conchita's since her years in Guatemala, who will celebrate this Memorial Mass, as together we give thanks for the gift of Conchita's life.