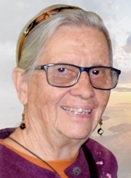 Sister Constance Pospisil, MM
Born: July 2, 1935
Entered: September 2, 1957
Died: May 20, 2020
On May 20, 2020 we received the unexpected news from our Sister Silvia Pacheo in Guatemala City that our dear Sister Constance (Connie) Pospisil passed from this life in Lemoa, Guatemala, to the other side of the Communion of Saints. She was 84 years old and a Maryknoll Sister for 62 years.
Sr. Connie's faithful companion, Sr. Helen Werner, wrote: "Connie mentioned that she had [felt] pain… however on Wednesday morning (May 20), she felt better and we had a beautiful morning prayer together.  The following are the last lines of the reading we prayed that morning from the Maryknoll Book of Inspiration: It is the love of God within me that will be the driving force of my life.  The more Christ's love grows within me, the more I can say with St. Paul, 'I live no longer I, but Christ lives in me' (Gal. 2-20)… Connie left us so quickly and she is now alive in her new life… Connie is in PEACE!"
Connie was born in New York City on July 2, 1935, to Anton J. and Constance Fogle Pospisil. Connie graduated from Cathedral High School in NYC, and then went to St. Vincent's Hospital Nursing School, becoming a Registered Nurse in 1956. In 1977, she received her Bachelor of Science degree from Pace University in Pleasantville, NY.
Connie entered Maryknoll on September 2, 1957, and made her First Vows at Maryknoll, NY, on June 24, 1960. She worked at Bethany (the Sisters' rest home) as a nurse after profession until she was assigned to Chile in 1961. She made her Final Vows in Chile on June 24, 1966.
From 1961 to 1969, Sr. Connie worked in a clinic and did catechetical work in Pucon, and then Galvarino. From 1969 to 1971, she was assigned to Maryknoll, NY, for Mission Education and Promotion work in the United States. In 1972, Sr. Connie returned to Chile, and until 1975 she worked in Chillan and Santiago, forming rural health leaders, teaching first aid to young adults, starting the first pre-school lunch program in La Bandera. She was with the people there during the early years of the brutal Pinochet regime. From 1977 to 1982, she was involved in Psychiatric Public Health Nursing and worked with Basic Christian Communities.
From 1982 from 1985, Sr. Connie did Congregational Service at Maryknoll, NY, working with Computer Services in the Development Department. From 1985 to 1988, she was a member of the Center Council Board at Maryknoll, NY. In 1988, she returned to her ministry in Chile.
From 1990 to 1993, Sr. Connie, together with Maryknoll Sisters Carolyn Moritz and Lyn Kirkconnell and Maryknoll Sister Associate Judy Lu McDonnell, OP, joined the Collaborative Community of Maryknoll Fathers, Brothers, and Lay Missioners in São Paulo, Brazil. The community shared finances, assemblies, decision making, and ministries. While Sr. Connie lived in the community with the Maryknoll Sisters, she also worked in collaboration with Lay Missioners working with mental health programs for women in the periphery of the city of São Paulo.
In 1993, Sr. Connie and Lay Missioners Anne Archbold and Paul Sommers moved to João Pessoa, Brazil, to begin a new pastoral group. Shortly after, Sr. Efu Nyaki joined her and they both opened a Maryknoll Sisters' house while Sr. Connie continued to work in a Program of Mental Health for Women, as well as doing work with Feminist Movements in Pessoa. Sisters Efu and Connie were co-founders of Afya Women Holistic Healing Center, where they welcomed women from all over the world to come for healing their own trauma and many other emotional problems related to domestic and urban violence against women.
It was with Sr. Efu that Sr. Connie first discerned the possiblity of asking to join the Contemplative Community. In December 2004, Sr. Connie was assigned to the Contemplative Community Entity and after spending some time at the Chalet in Maryknoll, NY, she went to the Contemplative Community in Lemoa, Guatemala, where she lived these past sixteen years. In 2009, Sr. Connie and Maryknoll Father Tom Goekler began the Maryknoll Affiliates in Guatemala.
Sr. Connie was Inter-Assembly Conference Representative for the Brazil Region in 1993, and in 2017 for the Contemplative Community. She was also the General Assembly Delegate from Brazil in 1997, and General Assembly Delegate from the Contemplative Community in 2008 and 2014.
United with our beloved Sr. Helen Werner, we are so lovingly and prayerfully grateful to all the Maryknoll Sisters in the Guatemala Region, who so blessed our Contemplative Community in Lemoa from the beginning in 1986. At this time of Sr. Connie's passing into Eternal Life, our special gratitude to Sr. Silvia Pacheo and Sr. Bernice Kita, and the Sisters of Charity, and Valentina and the people of the local community for all their assistance, kindness and support preparing for Sr. Connie's Wake, Mass and Burial in Lemoa. Our gratitude is beyond measure!
Sr. Connie's encounter with love was and continues to be for all of us and beyond such a powerful witness. She revealed in her most personal way that love alone is essential to our mission call and to all walks of life. We give prayerful thanks to our Maryknoll Sisters Leadership Team and all our Sisters, the Maryknoll Society, Lay Missioners, Affiliates, Full Circle, and friends around the world for their love and prayers in honoring Sr. Connie especially at this time. Connie's compassion and her love for music and dance continue to live on in all of us!