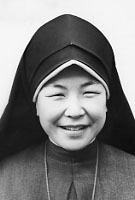 Sister Cora M. Sakamoto, MM
Born: Feburary 26, 1921
Entered: July 1, 1941
Died: September 11, 1988
This morning we gather to express in song and prayer our earthly farewell to our beloved Sister Cora Maria Sakamoto. She touched us all in some way or another with her life. Her big brother, Sydney, is able to claim the longest relationship and traveled all the way from San Antonio, Texas to be with us today. His journey would have given him claim to traveler with the most mileage for this occasion. But on Wednesday afternoon we received a call from the Los Angeles Airport telling us that Sow had just arrived from Rio de Janeiro, Brazil. Tow has faithfully driven from Kansas City for his several visits to which Sister Cora so looked forward and this trip of the last day or so has been different from the previous ones. Yuki has passed this way on occasion, and we are so happy that circumstances permitted her to come at this time. Sydney, Tow, Sow and Yuki we greet you and welcome you with great affection and love. We stand together with you today as brothers and sisters privileged to have this opportunity to share our emotions: sadness at Cora's leaving us but happiness that she has attained what she believed in and lived for. Having all of you here together on this day would have pleased Cora exceedingly.
Our celebrant of this morning's Liturgy is Father John Devaney, Superior of the Passionist Fathers at Sierra Madre and who serve as our chaplains. Though Arcadia Methodist Hospital has chaplains, we are grateful to several of our Passionists who took the time to pray and just be with Sister during these last weeks. With us also today and concelebrating with Father Devaney are Columban Father Steen, along with Maryknoll Fathers Tom Golden, Steve Wood and Tom Amarillas. We also welcome Maryknollers Father Pat Hoffman and Brother Charles O'Neil; and gratefully acknowledge the presence of several of our Guild members as well as some of Sister Cora' s area friends to share the Eucharist with us today.
Sister's birth certificate states that Haruko Sakanoto was born February 6, 1921 in El Paso, Texas. Her family was deeply religious, and on November 16, 1938 Cora was baptized a Catholic in San Antonio, Texas at which time she was given the name "Mary". She attended school in San Antonio including one year at Incarnate Word College there in 1940. In 1941 she entered Maryknoll and made her First Profession of Vows on March 7, 1944; she pronounced her Final Vows on March 7, 1947. At Reception Sister received her religious name "Cora Maria".
From 1943 to 1947 Sister Cora attended Maryknoll Teacher Training College and received her B.E. upon graduation. She was assigned to the Central Pacific where she taught and did in-house service at four of the Oahu convents for the next thirteen years. In 1960 she returned to Los Angeles and taught at the Japanese Mission School, St. Francis Xavier, for the next two years. During 1963 and 1964 Sister Cora attended Rosary College, Chicago, Illinois where she was awarded a Master's degree in Library Science. During 1965 and 1966 she worked on the New Catholic Encyclopedia at The Catholic University of America, in Washington, D.C. In August 1965 the Managing Editor, Rev. John P. Whalen requested the Congregation to extend Sister Cora's service. He wrote as follows to Mother Mary Colman, Mother General at that time:"We are so well impressed with her as a person and a competent librarian that we should like very much to have her remain with us during the coming year. I realize that you have heavy demands on you for help, but we are so near completion and so seriously in need of Sister's abilities that I am bold enough to ask you to permit her to stay on. I am sure that you will be proud in years to come of the contribution that Maryknoll has made to so significant and necessary a work for the Church." A letter of April 1966 from Sister M. Claudia, IHM, of the project states: "I want to thank you for allowing Sister Cora to join the Index staff this past year. She has been a tremendous help in the editing of the Index copy, and this is truly a most exacting and trying job. She has also been a fine religious to live with. I do hope that she can stay with us for the summer months. The delay in galleys and page proof has naturally delayed our work. We are putting every effort into it to finish as soon as we can but with only 5,000,000 words indexed out of 15,000,000 you can see that we still have a long way to go. The New Catholic Encyclopedia will always be indebted to Maryknoll for the contribution the Maryknoll Sisters have made to it."
Library work then moved into center stage for her two years at Maryknoll College in Manila, Philippines, five years at Mary Rogers College Library, another four years at the Maryknoll Center Library.
In 1978 she took on the endless duties of Motherhouse Sacristan, going about this with cheerfulness, patience, and making many rough ways smooth.
In 1984 she chose to move to Monrovia, where she filled her days with many house chores, librarian, sacristan and always ready to get into the car and go, especially if it was a shopping trip.
In January 1958 there was an indication of the onset of some health problems. However, that was thirty years ago. How she managed is not known but for those of us who have walked these last miles with her at Monrovia we know that she had a tremendous capacity to suffer, a tremendous capacity to be as little burden to others as possible, and a tremendous optimism. When the doctor told us in July that he could only see from fourteen to twenty-eight days as her future, she proved her grit was greater than his guess. She spent about a week in the hospital, another two in a care facility, and then her doctor felt that she could have a little more peace and joy if she could return to her convent and walk about among her beloved flowers and vegetation, share meals and quiet companionship with her Sisters, her friends,and her own private hours of prayer in the chapel. So, on his suggestion we brought her home with his express proviso that should there be any untoward situation we were to call the paramedics at once and return her to the hospital. Well she knew the days were shortening for her but on September 2nd she wrote to a friend at Maryknoll, "Thanks be to God, I am able to get to chapel and meals with the aid of a cane." She had also planned to wrap the Christmas gifts for our employees' party in December.
Cora, you were an inspiration to all of us and we are going to miss your shuffling about in our midst but we know you are where you want to be and we rejoice in your new life and your release from the suffering which you taught us has so many noble and dignified facets to it.