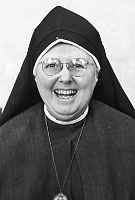 Sister Cornelia Collins, MM
Born: October 21, 1913
Entered: July 4, 1935
Died: November 18, 1987
After years of longing for God, Sister Mary Cornelia Collins peacefully died in the Maryknoll Sisters Nursing Home on November 18, 1987 at 12:40 P.M.
Marie Teresa Collins was born in Everett, Massachusetts on October 21, 1913, one of five children, four girls and a boy, born to Cornelius Francis and Mary Jane Lawless Collins. Marie was educated well. She completed Everett High School and received a diploma from Burdett Business College in 1932. Later she received her degree from Maryknoll Teachers College.
On July 4, 1935 she entered Maryknoll and at Reception received the name, Sister Mary Cornelia. She made her First Profession on January 6, 1938 and was immediately assigned. She pronounced her Final Vows on January 6, 1941.
Sister spent two years in Hong Kong and nine years in China in the cities of LaiPu, KunMing and Kweilin. Part of this time was during the War and the Bishop asked some of the Sisters to stay with the U. S. Army in KunMing. Here Sister Cornelia did secretarial work and held the office of Top Secret Control Officer.
But oh, there was joy in her heart when she was able to return to mission. She writes with fondness of the people she lived among, the beautiful countryside and the mountains which sheltered the villages she visited.
In 1949, Sister returned to the States for Decennial and then was assigned to the Philippines to await re-entry to China. During the next three years she served in Manapla, Lucena and Lica.
Taiwan was about to open as one of our mission areas and Sister Cornelia was selected to be in the first group to go there in 1953. Her mission was in Miaoli where, we are told, she was very helpful in our own community and a source of great strength to the Mandarin-speaking refugees who had fled China with the barest of necessities. Her faith, courage and outgoing disposition fortified all of them and they shared a common hope to return to China.
But God had other plans in mind for Sister Cornelia. The remainder of her life was to become a crucible of suffering. From 1961 until the time of her death she lived in great pain caused by illness. One can hardly imagine the anguish that must have been hers as she recognized the need for hospitalization and, therefore, separation from Sisters and ministry. Her letters tell of abiding faith and of hope. Sisters who lived with her wrote of their feelings of helplessness to prevent these episodes.
During times of wellness in the 60s and 70s Sister worked faithfully on Promotion, in Communications, in Archives and at Bethany. By 1980 she became very ill. So in 1981 Sister was admitted to the Maryknoll Nursing Home where she could be cared for fully. We wish to thank our Sisters and Staff in the Nursing Home for their attentiveness and love to Sister and we thank her family for their visits which meant so much.
We give our sympathy to Sister Cornelia's family and friends.
Father Richard Albertine, our Maryknoll brother, will celebrate with us today the Mass of the Resurrection.