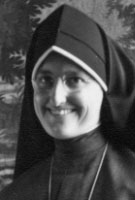 Sister Dolores Marie Jansen, MM
Born: September 23, 1913
Entered: December 7, 1932
Died: November 2, 2005
On November 2, 2005, Sister Dolores Marie Jansen died peacefully at mid-day in the Residential Care Unit of the Maryknoll Sisters Center. She was 92 years of age and had been a Maryknoll Sister for 72 years.
Maria Dolores Margarita Jansen was born in Germantown, Illinois on September 23, 1913, the first of eleven children, six boys and five girls, born to Joseph and Mary Frances (Gesenhues) Jansen. She attended Germantown's St. Boniface Parish Grade School where her mission vocation was sparked by the practice of donating toward the ransom of Chinese baby girls. Maria Dolores graduated from grade school when she was twelve years old. As there was no high school in the vicinity, she continued living at home and helped with the family's Chevrolet dealership. She soon became an excellent driver at a time when few women were seen behind the wheel.
Maria Dolores entered Maryknoll Sisters on December 7, 1932 at the age of nineteen. At Reception she received the name of Sister Dolores Marie, which she retained throughout her life. She spent her first novitiate year at the Maryknoll Sisters Motherhouse. For her second year she was sent to Clarks Summit, Pennsylvania to work in the Maryknoll Fathers' junior seminary while studying for a high school certificate at Maryknoll Convent School, affiliated with Catholic University. While there her arm suffered a serious injury in the laundry's mangle and she feared she would be sent home. Two months in the hospital didn't daunt her, and Mother Mary Joseph knew this young woman would not only recover but be a gift to mission and Maryknoll.
Sister made her First Profession of Vows at Maryknoll on June 30, 1935, received her high school certificate in June of 1936, and made her Final Vows on June 30, 1938. Her education continued at Maryknoll Teachers College at the Motherhouse where she graduated with a teaching certificate in 1941. That year she began studies at nearby Manhattanville College, earning a Bachelor's degree in Philosophy in 1943. Sister Dolores Marie was sent to continue her studies in Canada, graduating in 1947 from the University of Toronto with a Master of Arts in Philosophy.
Returning to Maryknoll, she was appointed Assistant Dean of Maryknoll Teachers College and taught philosophy and psychology there for ten years. Concurrently, she served as Second Assistant to the Local Superior of the Motherhouse.
Sister Dolores Marie finally received her mission assignment in 1956 to the then Tanganyika, East Africa, at that time a British Protectorate. Hers was to be pioneering work with far-reaching benefits for the women of that land. The Maryknoll Sisters were to open the first Catholic high school for girls in that country of twelve million people. On the way to Tanganyika (re-named Tanzania after independence), Dolores and her companion, Sister Marian Teresa Dury, spent six weeks in London studying the British education system. Along with Sister Margaret Rose Winkelmann, the three Sisters opened Marian College in Morogoro where Sister Dolores Marie served as teacher of math and religion for two years and then Headmistress until December 1964. This was a small school of three classrooms, two dorms and a dining hall. Marian College's aim was to prepare young girls from the rural area to become women who took an intelligent and active role in the service of their people and their country.
In the Valedictory Address of the second graduating class, Cecilia Mgoli stated that "The acquisition of Catholic education is what we sought…the responsibilities we have been given were all a training in leadership…The fact that we graduate in the year our country is going to be a Republic makes us feel that a great responsibility is ahead of us…" The school's success can be measured by the number of graduates who became leaders nationally and internationally.
Sister's career as Headmistress was cut short in 1964, when, while attending the Maryknoll Sisters' General Chapter as a Delegate, she was elected to a six-year term on the General Council. During these years she served as Secretary General of the Congregation. She was part of the 1968 Special Chapter, graciously receiving for the Council's final two years, four newly elected members to help with the transition to a new governance structure.
Finally, in 1971, she was able to return to Africa, this time to Lusaka, Zambia, where she served for two years working with children suffering from polio in a hospital administered by the Grey Nuns. However, in 1973 it was necessary for her to return home to care for her seriously ill mother.
After her mother's death, she returned to Tanzania to serve as procurator and secretary at the Maryknoll Language School in Musoma. In 1976 she moved to Kenya where, until 1993 with intermittent breaks, she worked as secretary in the Maryknoll Fathers Regional House in Nairobi. By collaborating with Mr. Bob Koepp, who oversaw a complex operation that shipped relief aid to populations in East and Central Africa, she maintained a lifeline for the Maryknoll Sisters in neighboring Sudan in their efforts to help feed people in that war-torn country. Her care packages to the Sisters brought great joy and no little nourishment.
Throughout her years in Africa, Sister Dolores Marie was known for her generosity to all. Street children were of concern to her and she brought them cookies and bread. The welcome mat for Maryknoll Sisters and guests was always out. She had learned to cook and never failed to provide a meal. Finally, in 1993 at the age of 80, Sister returned to the Motherhouse where she served until weeks before her death as a volunteer in the Communications Office. Leaving Morogoro in 1964 had been so hard, but let it be noted that she returned for a reunion celebration in 1998 and was overjoyed at the love of the students and faculty.
We express our gratitude to her many Maryknoll Sister friends, particularly Sisters Marian Teresa Dury and Margaret Rose Winklemann, the members of the Tanzania and Kenya Regions, the Maryknoll Residential Care staff and all who loved her through her long and ministry-filled life.
With us today we are happy to have as the celebrant of this Liturgy of Christian Burial, our Maryknoll brother, Father Carroll Houle, Sister's good friend for many of her years in Africa.