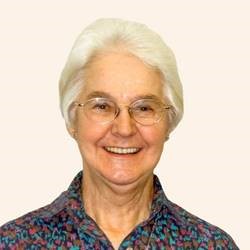 Sister Dolores Mitch, MM
Born: January 9, 1937
Entered: December 30, 1958
Died: June 30, 2022
We come together today to celebrate the life and mourn the death of our sister and friend Dolores Mitch. Dolores died on June 30, 2022, in San Diego, California, where she had gone from Monrovia, with Sister Miedal Stone to attend the wedding of her nephew Tom Mitch.
The Sisters from Monrovia wrote, "While Sr. Dolores' passing was a shock to all present and to all of her family and friends, we all recognized God's loving plans to have Sr. Dolores spend her last day surrounded with her loving family and a Maryknoll Sister. And then after enjoying a loving joy-filled wedding and reception, she was taken into the Fullness of Love and Joy with God."
Dolores Mary Mitch was born on January 9, 1937, in Missoula, Montana, to Anna (Kering) Mitch and Ernest Mitch, naturalized U.S. citizens originally of Hungary. She had three brothers, Arnold, Joseph and Ernest, who were much older than herself, and one sister, Anne Elizabeth called Betty, all of whom pre-deceased her. In Missoula, the family owned a motel business, which doubtlessly figured importantly in Dolores' warm ability to extend herself graciously to strangers and make friends easily.
In 1955, Dolores was graduated from Sacred Heart Academy in Missoula, and later that year began her university studies at Gonzaga University in Spokane, Washington, continuing at Montana State University and Fordham University. She was graduated with a degree in English, from Gonzaga University. Later, in the Philippines, Dolores earned a Master of Arts degree in Educational Administration from the Ateneo de Davao University.
On December 30, 1958, Dolores entered the Maryknoll Sisters Novitiate at Valley Park, Missouri, where she made her first profession on August 22, 1961. Her religious name was Sister Maria Luke. She briefly taught at Mary Rogers College, at Maryknoll, New York, and, in 1963 was assigned as a missioner to the Philippines, where she made her final profession on August 22, 1967. She served in the Philippines for many years in various capacities, in English and Cebuano, a major Filipino language, and was affectionately called Sister Dolly by the people she knew. She had many adventures in this island nation, one of which she vividly described in a letter to her family, dated August 15, 1973.
"For once I have an interesting tale and unusual experience to relate. I feel even more like a missioner now since I have been shipwrecked like St. Paul! We were 17 in all, 12 sisters and five men, in a pump boat, on the way to Cateel, Thursday, August 2, when our boat capsized. Luckily, no one was caught under the boat or hurt. (It was 5:30 p.m.) We were 16 hours in the ocean, overnight before we were rescued. So now, like St. Paul, I feel even more confirmed as a missioner, I just hope like him, I won't have two more shipwrecks!"
While an educator at heart, Dolores came to know many religious women and served their association in Davao City, Mindanao as executive secretary from 1984 to 1989. During these years she was drawn to the life and spirit of a member of Carmel, Mother Mary Clare, who was nurturing a new group of contemplative sisters living simply and in keeping with the times.
Dolores did everything possible to support this foundation and later, in 2000, with the permission of the Maryknoll Sisters President, Sister Helene O'Sullivan, became an honorary member of the group, known as Puso ng Carmelo, or Heart of Carmel, in the Province of La Union. This was a contemplative commitment precious to Dolores for the rest of her life.
Meanwhile her life as a Maryknoll Sister was full and generous teaching English, religion, and psychology; working in educational administration and supervision. She began in Lipa City in Luzon and moved on to various assignments in Mindanao, particularly with the Muslim Community and served as chairperson of the Education Department while teaching at Notre Dame de Jolo from 1980 to 1984, when she began her ministry with the association of religious women.
Twice she returned to the U.S. to serve in the Congregation's Development Department doing mission education and promotion in Chicago, the mid-west and the west coast. She was an amazing long-distance traveler and enthusiastic representative for mission.
Dolores never stopped educating herself, always on the lookout for what might be of benefit to the people of the Philippines. Therefore, on the margin of all her endeavors she studied and became accredited in the Advanced Intensive Journal program developed by Ira Progroff, PhD. Dolores expended great energy in popularizing this program as she was deeply convinced of its value for the people. At the end of 1994, Dolores wrote to her friends and family saying,
"One exciting thing this year in my work in the Intensive Journal is I started a study group for about 15 -20 participants, all of whom are interested in studying the Journal (the Advanced Studies Program) to become certified leaders of workshops here in the Philippines. I don't know how many of them will actually pursue this plan, but it gladdens my heart to think that possibly a few of them may persevere to take my place. I would really like to have the Intensive Journal here, as it has enriched the lives of so many people."
The City of Baguio in Luzon became Dolores' home during the last ten years of her mission life in the Philippines. While her ministry was giving Journal workshops, she was a tireless supporter of the Maryknoll Sisters' ecological project there. She enjoyed shopping in the outdoor market and preparing Filipino dishes. She warmly greeted all the expected and unexpected visitors who appeared there to visit the ecological project, always extending her hand and introducing herself as Sister Dolly Mitch from Missoula, Montana.
In 2006, she returned to the Maryknoll Sisters Center, Maryknoll, New York where she worked first  in the Congregational Vocation Office, then assigned as Communications Manager for the Development Department. She was always attentive to the sick and elderly, forever watching for scenic places to visit and have a picnic. She traveled immense distances by public transportation to visit family and friends. She was unfailingly exuberant and perpetually interested in other people.
In 2013 Sister Dolores relocated to the Maryknoll Sisters Retirement Home in Monrovia, California where she remained active with volunteer work until her death; she was particularly dedicated to the environment, always with an eye on the future. Aligned with this, she requested that at the time of her death her body be cremated, and her ashes returned to Maryknoll, New York for burial.
Dolores expansively loved her family, Maryknoll and the land and people of the Philippines. It is no wonder that her final words were thank you, spoken to Sister Miedal, but representative of a full and generous life uttered from a grateful heart.