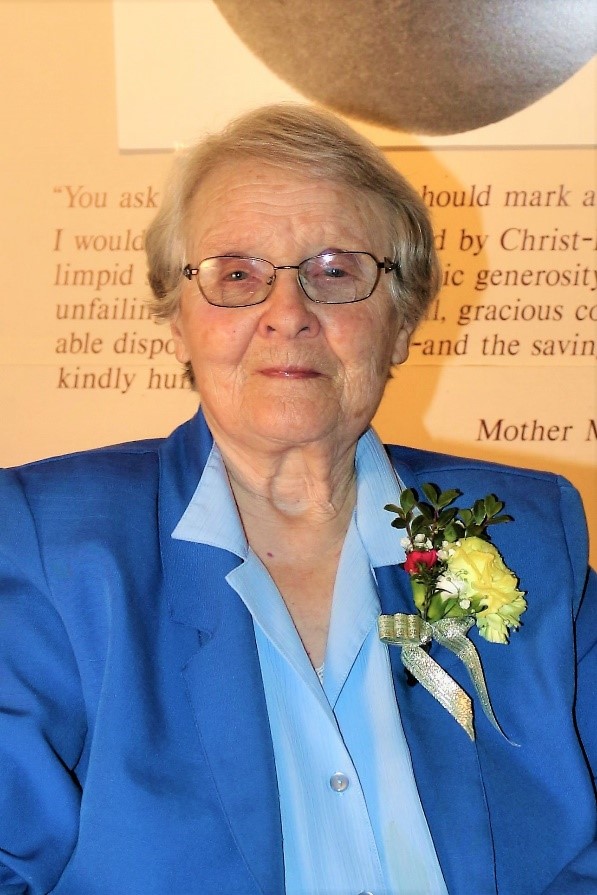 Sister Dolores Ritter, MM
Born: December 10, 1928
Entered: February 1, 1952
Died: July 13, 2023
Dolores Agnes Ritter was born on December 10, 1928 in Dresden, Kansas. Her parents, Bernard (Ben) Ritter and Philomena (Minnie) Kruse Ritter were both from Kansas and of German decent. They offered their family of eleven children a close family bonding and significant grounding in land resources and farm life. All seven brothers: Sylvester, Seraphim, Raymond, Francis, Dennis, Cletus and Victor and her sisters: Alfreda and twin sister, Florence have pre-deceased Dolores. Bernadine Spresser, Dolores' youngest sister still lives in Kansas. The family belonged to Immaculate Conception Parish in Leoville in the diocese of Salina, Kansas.
Dolores' formal and experiential education was predominantly in catholic settings. She graduated in 1946 from Leoville Rural (Catholic) High School in Leoville, KS. For the next year and a half, she worked on the family farm before leaving home for a Catholic Hospital to become a nurse's aide. She then attended Marymount College, Selina, Kansas for 1 semester of pre-clinical courses. Continuing in the field of health, Dolores received her degree as a registered nurse in 1951 from St. Mary's Hospital School of Nursing in Manhattan, Kansas. Following graduation, Dolores worked for a few months as a graduate nurse at St. Catherine of Siena Hospital in McCook, Nebraska until she entered Maryknoll. In 1961, as a Maryknoll Sister, she took a special training course for Inhalation Therapy at Mt. San Antonio College in Walnut, CA and, in 1972, earned a Bachelor of Science Degree in Public Health Nursing from Boston College, Boston, MA.
Dolores said her interest in religious life first began in the 4th grade through the witness of sisters who taught her and her mother's sister who was in a community. Missionary interest came later in 11th grade. It was the parish pastor who had a Maryknoll Priest classmate that first mentioned Maryknoll to Dolores. Her parents were not supportive of her desire at first. During Dolores' 1st year of nurses training the interest intensified. Then two Maryknoll Sisters happened to pass through Kansas and spoke to the students in nurses' training. Dolores went ahead and applied. Although she was eager to enter, Mother Columba suggested that she finish nursing school first. Dolores reapplied and entered Maryknoll Sisters on February 1, 1952 in Valley Park, MO. She professed First Vows September 8, 1954 in Valley Park and final vows September 8, 1960 in Monrovia, CA.
After her first profession of vows, known then by her religious name of Sister Rose Dismas, she was assigned to our motherhouse in New York to serve in the infirmary kitchen. After just 3 months, another assignment came – to Maryknoll Sisters' Tuberculosis Sanatorium in Monrovia, CA, where she remained for the next 11 years. Sister Rose Dismas supervised the surgical area, took care of central supplies and specialized in chest surgery. She returned again to the Motherhouse infirmary in NY in 1966 to use her nursing skills as a staff and clinic nurse and keeping medical records. After 3 years she began studies for Public Health Nursing in Boston College, Boston, MA.
In 1972, Sister Dolores received her first overseas mission assignment to the Central Pacific Region. The initial time in Hawaii was to acclimate to island life and discern a ministry assignment. She was then sent to the Maryknoll Sisters Community on Yap, in the western Caroline Islands, part of the US Trust Territory in Micronesia. Dolores became the Public Health Nursing Supervisor in Yap District Hospital with additional duties of a Public Health Officer: supervising clinics on the main and outer islands, training and supervising health assistants and nurses, planning and programing with the District Department of Health Services, and participating in implementation of programs. Mission was indeed a total way of life for her.
After four years of service to the people of Yap, Sister Dolores moved to the Marshall Islands (1977). During her first year there, she made several trips to outer islands, studied the Marshallese language, initiated community health education and offered training in natural family planning. She was aware of a very high birth rate in a small country without sustainability for life needs. Dolores carefully worked with Marshallese women to learn customs, for translation and preparation of health educational materials and as teachers for natural family planning.
Sister Dolores, along with Sister Emily McIver, awaited word to extend Maryknoll Sisters presence to Ebeye, a small and overcrowded Marshallese island that held the work force for the US military base on Kwajalein. Once there it was not long before Dolores keenly assessed situations and moved to address island sanitation conditions and nutrition concerns for school-aged children; she continued teaching natural family planning methods and raising fertility awareness with young girls. Dolores started women's groups and encouraged gardening against the odds of proximate salt spray and sandy soil. She gave away tomato plants in pots!
In 1981, Dolores returned to the US mainland for mission promotion is the Midwest. Awareness of her mother's medical needs increased that year. Serious complications with family farm viability did not allow others to take on needed medical care at that time. In 1982, Dolores requested time for family ministry in Kansas, which continued for the next 6 years. During those years she also made pastoral visits to elders in their homes, offered bible study groups and coordinated the parish RENEW program.
In 1998, Sister Dolores returned to the Central Pacific for the next 20 years, mostly moving and ministering among different areas of the island of Hawaii, also known as "the Big Island". After a brief time in Kailua, Oahu she went to Hilo. There Dolores participated in pastoral ministries and became a Vista Volunteer Worker in the in Hilo Food Bank. For 5 years, she was the agency's Relations Coordinator. Her experiences in Hilo then extended to Kauai's Food Bank from 1995-1997. In 1987 Dolores moved to Pahala, an area in the aftermath of the of the sugar cane industry collapse. Dolores lived in a HUD (Department of Housing and Urban Development) facility for the elderly where she was the resident coordinator. She engaged in, Hulian O 'Kau' – "changing times of Kau" Resource Center as a clerical volunteer and encouraged experimental gardens and farmers' markets. Her medical background again surfaced as a hospice volunteer and inviting groups to raise awareness of Medicare rights and fraud. She was also a foster grandparent for Special Education in the elementary school.  Life was balanced with parish involvement in choir, as a lector and with the women's club.
In 2008, Sister Dolores left the Hawaiian Islands and retired to our Maryknoll Sisters' house in Monrovia, California. Because of health needs, she returned in 2017 to Maryknoll Sisters Center in New York and the Eden Community where she remained until her passing into new life in the afternoon of July 13, 2023.
Dolores, Dee, had unwavering quietness, a subtle sense of humor, unruffled calm and peace about her. Her faithfulness to prayer and trust in God sustained her in all.  Connections with community and family were very important to her. Through the years, she maintained contact with extensive writing, sharing mission and offering a window all the places and ways she saw Jesus. Dolores addressed so many unmet-needs wherever she was and left foundations to build on for generations to come. We are blessed and so grateful to have had her as a Sister and co-missioner for 71 years as she bridged land and sea, generously braiding healing and hope wherever she was with the continual call of God to come and follow.