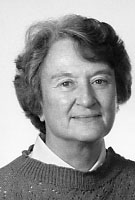 Sister Dolores Smiskol, MM
Born: April 11, 1930
Entered: September 2, 1955
Died: January 30, 2008
Though never losing her hope for healing, Sister Dolores Smiskol accepted God's other plan for her and peacefully went to Eternal Life Tuesday, January 30, 2008 at 6:20 a.m. in Residential Care IV. She was accompanied by many Sisters in these last weeks of suffering. Sister was 77 years of age and a Maryknoll Sister for 52 years.
Dolores Jane Smiskol was born in St. Louis Missouri on April 11, 1930, the first child of Elizabeth (Ellebrecht) and Richard P. Smiskol. Later her one sibling, joined the family. Dodee, as she was known to all of us, was predeceased by her parents.
In 1948 Dolores graduated from Notre Dame High School in St. Louis, MO, and went on to complete a five year program in Nursing and Nursing Education at the St. Louis University, graduating with a R.N. and a B.S. in Nursing Education in 1953. After a brief period of work, she entered the Maryknoll Sisters on September 2, 1955 at Maryknoll New York, receiving the name Sister Mary Dolores at Reception. We who entered in 1955 placed ourselves under the patronage of Mother Mary Joseph who died five weeks after our entrance.
Dolores made her First Profession of Vows at Maryknoll, NY on June 24, 1958 and her Final Profession in Korea on June 24, 1964. In 1958 she was assigned to Korea where she served until 2002 interspersed with breaks for education and renewal. Her first mission was in Pusan at the Maryknoll Hospital and Clinic, established for refugees from the Korean War. Here she and Sister Patricia Conroy, under the direction of Sister Gilmary Simmons, setup a TB clinic which served people in several geographic areas. Their clinic became so popular that people moved their shack-like houses to hills located in these area served by the clinic. TB was rampant, and recognizing the need for more skilled nurses the Sisters established a training program.
One of the most significant events in her life was when she inadvertently got caught in the middle of the Korean Student Revolution while on a visit to Seoul with Sister Gabriella Mulherin. Somehow the two Sisters got separated and Dodee's driver, hearing the gunfire and seeing the mayhem, pulled into the grounds of the old Severance Hospital. Dodee went into the emergency room to help and responded to a request for nurses to ride in an ambulance to pickup wounded students. Some were very badly hurt and the ambulance was packed. Covered with blood Dodee cradled the heads of the critically injured encouraging them as they rode to the emergency room. At one point a policeman opened the ambulance door with a pointed gun. Dodee pushed away his gun and told him they had to hurry because there were many badly wounded in the ambulance. He quietly backed away.
In 1965 she moved to Jeung Pyeung where she worked in the Maryknoll Sisters' Clinic and also did public health nursing. During this time, Dodee returned to the States for studies and obtained a Master of Arts Degree in Public Health from the University of Michigan, Ann Arbor. On her return to Jeung Pyeung she supervised the Public Health Department of the Clinic until 1974, training staff and going to villages in a mobile clinic. Those who served with her during this time spoke of her caring concern for the patients she served.
Dodee lived in our Seoul Center House as a member of the Regional Governing Board from 1974—1976. During this time besides attending to regional matters, she also taught English and worked in a clinic. She also attended the Inter-Assembly Conference in New York in 1976. On her return to Korea, Dodee went to Samyul to do public health nursing from 1980—1982. Her father's failing health necessitated her return to the States and she, with her sister, cared for him until his death in 1984. Since her father had been very opposed to her entering Maryknoll, this time with him was one of reconciliation.
Dodee returned to Korea to do pastoral work with our Sisters in Hawi-Myun from 1986-1988. Then from 1988-1994 and again in 2001, she was involved in campus ministry — one of the favorite periods of her life – at Chonnam National University in Kwangju. She not only taught English but fostered spirituality and encouraged the students to have concern for issues of justice around women's rights, the poor and the ecology. In 2002 she returned to Maryknoll where she first served in the Development Department and later on the Pastoral Care Team in Residential Care until 2006. Dodee was a good worker wherever she was in mission and was appreciated for her many talents and simplicity.
Dodee loved her friends.She enjoyed going to gatherings and activities. We who entered Maryknoll with Dodee remember her spirit in those early days, which never seemed to wane. Our 50th Jubilee celebration was a highlight for Dodee, and her search for just the right thing to wear entertained us all.
We are very grateful to her doctors, nurses and staff who attended her through the years and especially in this latter time. We also thank her sister, and nephew-in-law, who traveled from St. Louis to see Dodee when she was recently in the hospital. To her family, as well as the extended family, we offer our most sincere sympathy.
We welcome Maryknoll Father Martin Lowery, who served with Dodee in Korea, who will preside at our Memorial Liturgy. Dodee donated her body to science. As we celebrate her life in this liturgy, you will see that there is a strong focus on food in the songs and readings! Let us rejoice with Dodee in the banquet of her new life.