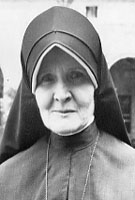 Sister Dolorine Tom, MM
Born: October 13, 1898
Entered: June 22, 1922
Died: December 8, 1973
Sister Mary Dolorine Tom died at 1:00 P.M. on Saturday, December 8, 1973 at Phelps Memorial Hospital.
Sister Mary Dolorine (Angela Gertrude) Tom was born on October 13, 1898 in Stanton, Texas. She attended grammar and high school in Texas, specializing in music (piano) for eight years. From a Texas ranch she entered Maryknoll as a teacher of music in June 1922. She was professed in 1925 and was assigned to Korea in 1927. She returned two years later to work on the West Coast at Mountain View, California and Seattle, Washington. Then in 1941 she was assigned East to work subsequently at the Venard, PA, Bethany, NY, Crichton House, NY and the Motherhouse doing clerical and Promotion work. In addition to her musical talent, Sister had a keen mind and was intensely interested in the political issues of the day, as was evidenced not only in her conversations but also by the news clippings she posted on our bulletin board.
She was affectionate and responded with warmth and appreciation wherever affection and understanding were offered her, and from the beginning through her talents, inclinations and personality, made her own special impact on the Community . . . causing both laughter and consternation. She wasn't the stereotype "nun"! In her own inimitable way she had a special love for and interest in the lay personnel working here at the Center as well as in the younger generation of her family with whom she devotedly corresponded. She is survived by a brother and a sister. Two nephews and two nieces, her brother's children, were here from Texas to join us in the Office of the Resurrection on Monday night and for the Eucharistic celebration on Tuesday.
We realized Sister Dolorine's deep, personal and all pervading love of Our Lady as we saw her each night at the back of chapel praying her Rosary. Our Lady rewarded this devotedness and loyalty by taking her home to her Son on her feast – that of her Immaculate Conception. Let us imitate her devotion to Mary and pray particularly at our Eucharistic Celebrations during Advent, thanking Our Father who has made it possible for Sister Dolorine to join our other Maryknollers who have gone ahead of us and with them to inherit the light. Because that is what the Father has done. He has taken Sister Dolorine out of the power of darkness and created a place for her in the Kingdom of the Son that He loves, and in Him she gains her freedom, the forgiveness of her sins. (Col.I: 12—14)