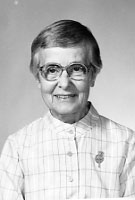 Sister Donna Marie Witte, MM
Born: January 24, 1913
Entered: September 6, 1944
Died: March 20 ,1991
We rejoice in the release from suffering and return home to God of our Sister Donna Marie Witte. On the evening of March 20, 1991, Donna Marie died in the Maryknoll Nursing Home amidst a number of her Maryknoll Sisters, many of whom were her companions in the Philippines.
Sister Donna Marie was born Dorothy Annetta on January 24, 1913 in Richmond, Indiana. Her parents, William Witte and Mary Anna Horstmann had six children, four boys and two girls.
As a graduate from St. Andrew High School in Richmond, Donna Marie was at the head of her class in both academic and commercial subjects. She did office work for 14 years until she entered Maryknoll on September 6, 1944 at the age of 31. Her first and final vows were taken on March 7, 1947 and 1950 respectively, both at Maryknoll. Donna Marie was attracted to Maryknoll through her Maryknoll brother, Fr. Clarence, and the Field Afar magazine.
We knew Donna as a quiet person, steady, generous and willing to grow beyond her natural inclination towards seriousness and independence. Such characterized the early assessments of her and her life developed into a lovely maturity, a more visible sense of humor, enthusiasm for mission, love of people, and faith—inspired faithfulness that endeared her to people, Maryknoll and the Filipino people she lived among.
Donna Marie's first assignment was to the Maryknoll Fathers' General Council Secretariat where she worked from 1948 to 1954, while living at "Crichton House". In 1954 she was assigned to the Philippines where Donna Marie did office work at Maryknoll College and then was College Treasurer from 1971 — 1978. In that capacity she had more direct contact with faculty, staff and students who soon came to appreciate her kindness and thoughtfulness. She was viewed as one of those who helped build the firm foundation upon which Maryknoll College in Manila was based.
Donna Marie was known in the community to be conscientious, a hard worker and self  effacing. She was not seen as a leader, but always present in an active sense of positive collaboration. As the community prayer style evolved into prayer—sharing, our members began to realize the depth of Donna Marie's prayer life. It was even said of her: "she was on the road to heaven.., she knew the Lord." It was also said by one of our Sisters in the Philippines that Donna Marie was one of the many unheralded members of Maryknoll.
By her own interpretation, Donna Marie saw herself as conservative. Change was not easy for her. In particular, the change of habit in the community was painful and it took some years until she herself made the change. Those who knew her always found her true to her convictions and yet, open to new understandings. During the era of controversy about the turnover of Maryknoll College and continuance or not of the name of "Maryknoll". Donna Marie also experienced a change. She wrote to Anna Marian, then Vice-President, that she had come to a new understanding. She said she realized that disassociation from institutional works was the spirit of the times and that in, eventually giving up the name of "Maryknoll" for the college, we had the opportunity to practice real poverty of spirit — just as Christ took the risk of making us part of himself.
In 1978 Donna Marie went to Upi on the island of Mindanao, where her chief task was bookkeeping for three schools which the Diocese sponsored for Tiruray and Muslim children. In her own words Donna said: "I did not much hope of being particularly useful because of not knowing the language and being shy about learning it at my age. However, I am still light on my feet, (and) can hike the 8 kilometers to Kabug-kabug."
According to the Sisters who lived there, this hike was no small feat up and down a muddy mountainous path. While in Upi, Donna Marie, aside from bookkeeping, participated in supportive services for the Sisters and teachers, some parish activities and was Eucharistic minister. She was known for her sweetness and gentleness that touched the hearts of the people.
While in Upi, it may be that Donna Marie's prayer life was a most effective aspect of her life. When she left Upi for the States in March 1985, the parish priest told those at the Departure Party that: "he would sometimes go walking early in the morning and he would see Sister Donna Marie making her morning meditation so intent and devoutly that she never looked up." He said that he hoped he would have the same spirit of prayer when he reached her age. Our own Sisters in Upi also found her "praying presence" most important for all of them.
When told that Donna Marie would need to leave, Archbishop Philip Smith, OMI, begged that she not be sent home. He gave assurance that someone else could review the books and reports, but that just by being there, Donna Marie would do more good than could be measured. Such was the measure of Donna Marie's presence.
Nevertheless, Donna Marie did return to Maryknoll in 1985 and worked in Treasury part-time. True to her life and her person, Donna Marie was seen by those in Treasury as a "wonderful person, delightful to have, and faithful to ordinary jobs of whatever kind."
In November 1987, she was assigned to the Maryknoll Nursing Home. Here, as elsewhere, Donna Marie was quiet, dignified and eager to understand the arrangements made for her.
As we approach Passion Week, Sister Donna Marie's suffering and diminishment are over. We rejoice in her new life and celebrate the spirit of one we knew in life and now count among the blessed of heaven. The celebrant for our Mass of the Resurrection is our Maryknoll brother, Jim Kroeger, formerly of the Philippines and now a member of the Society's General Council as the Assistant General for Asia.  We are happy to have with us and extend our welcome and sympathy to Donna Marie's brothers, and her sister.