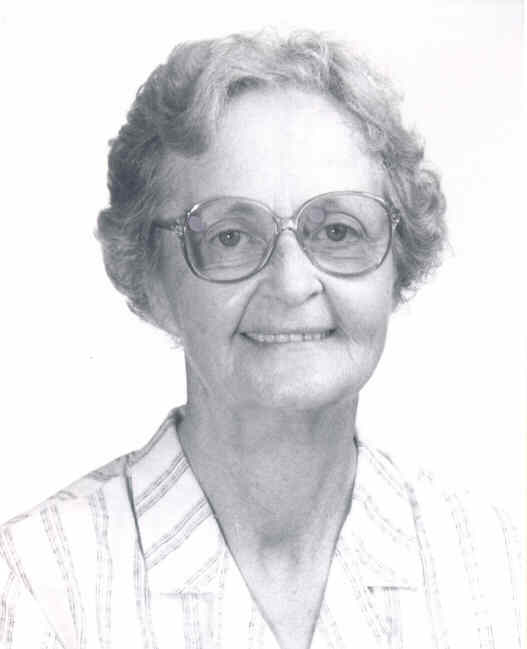 Sister Dorothy Mulligan, MM
Born: September 30, 1922
Entered: September 6, 1948
Died: July 6, 2017
Today, we celebrate the life of Sister Dorothy Mulligan, whose presence among us has shown us God's faithful love. Her deep commitment to mission, both in a foreign land and in the Maryknoll community stands as the hallmark of a woman totally for others. Many Maryknoll Sisters will also remember her as Sister Joanna Marie and as their devoted History teacher.
Sister Dorothy Mulligan died on July 6, 2017, at the Maryknoll Sisters Center surrounded by friends who sent her off with a Maryknoll College song that must have rung familiar in her ear: "The blue and gold of Maryknoll will keep our spirits flying high, wherever you are and wherever you'll be, faithful we'll always be to thee…" She was 94 years old and had been a Maryknoll Sister for 68 years.
Dorothy Anne Mulligan was born to Anna Sullivan Mulligan and John J. Mulligan on September 30, 1922. She was an only child. Both her parents predeceased her. Dorothy grew up in Yonkers, NY where she attended Elizabeth Seton Academy (high school). After graduation in 1940, she went on to earn a Bachelor of Arts Degree in History from the College of Mount St. Vincent in Riverdale, NY in 1944. She then earned a Masters of Arts Degree in History from Columbia University in New York in 1948, and a Ph.D. in Social Sciences in 1953 from the University of Sto. Tomas, Philippines.
Dorothy entered the Maryknoll Sisters Congregation from Sacred Heart Parish in Yonkers, NY on September 6, 1948. She became interested in mission work through her reading and hearing about the missions from her mother. She read The Field Afar, read the works of Maryknoll priests and Sisters from childhood. She felt "they could carry out God's will better than any other". Upon joining Maryknoll, when asked why she wanted to be a religious, she wrote in order to express "the love of God for me in a tangible way" and "to be part of a loving Maryknoll Community." She said she wanted to spread the faith and "go teach all nations."
She made her First Profession of Vows on March 7, 1951 at the Maryknoll Sisters Center and her Final Profession of Vows on March 7, 1954 in the Philippines where she had been assigned. There she taught in high school, and later on the College level after earning her PhD in Social Sciences. She also served as the Directress of St. Joseph's Villa, the College Residence Hall for students from the provinces who needed a 'home away from home' while finishing their studies at Maryknoll College.
After being in mission for 10 years in the Philippines, from 1951-1961, Dorothy returned to the U.S. and served in various capacities at the Maryknoll Center – as Assistant Novice Mistress at the Valley Park Novitiate, as Mary Rogers College Registrar and Social Sciences teacher; and in the Documentation Office of Research and Planning Department. She was then appointed a Center Council Member (1975 – 1979).
At the end of Dorothy's 17 years in mission at the Center, Melinda Roper, then President of the Congregation, wrote expressing deep gratitude "for your contribution and service with Central Administration" adding that those years "were significant years for our Maryknoll Sisters Community, a period of almost re-founding the Congregation after a difficult time of brisk change in the Church and in Society." Melinda gave recognition for Dorothy's contribution based on her self-gift that enabled the leadership to keep going on "our rocky road to renewal. You have certainly strengthened the heart of the Community."
Following her years of generous service at the Center, Dorothy felt compelled to return to the Philippines in 1979. This time, she was attracted to Cotabato on the southern island of Mindanao, home to a large Muslim population in the area long before the Spaniards came to colonize the Philippines in the 16th century. She described it as 'Islamic, poor and in need of help'. She felt that this was an area where Maryknoll Sisters could help build up, turn over and move on.
Dorothy taught at Notre Dame University (NDU) in Cotabato City. She wrote to Melinda Roper that she was working on the Core Curriculum Project initiated by the University administration to prepare the students to use their future professions for 'the good of the surrounding community, not just for their own self advancement'. Their emphasis was to bring about a better understanding between the Christian and Muslim population. She added that there was a 'good relationship between the Muslim and Christian students at the University".
Her letters did allude to the 'killings, and ambushes,' but despite deteriorating peace, marked by kidnappings, robberies and crimes, Dorothy stayed on this island teaching at the Notre Dame University. She was appointed as the Director Emeritus of the University Library under the sponsorship of the Oblates of Mary Immaculate Congregation. The President, Fr. Eliseo Mercado, who recognized Dorothy's lasting influence, wrote: "You have been part of the OMI and the Notre Dame system, and of our 50th anniversary celebration. You have been part of that tradition. Indeed, you are a treasure!"
In 1996, after Dorothy left Mindanao and lived in the Regional House in Quezon City. She joined the Baguio Student Solidarity Congress for the students from several schools. Those students wrote to her: "The Maryknoll Spirit is endless; it does not count the cost. Thank you for being with us during the Baguio Student Solidarity Camp. We know the many sacrifices that came with it. Your message on the ideals of Mother Mary Joseph will long linger with us".
Dorothy returned to the Center in 1998 and served in Congregational Services until 2002. She joined the Eden community in 2003 under the care of the capable nursing staff. We thank all of them who cared for her these many years until her death.
As we celebrate and express our appreciation for Dorothy's strong mission mindedness, let us remember her mission in light of the ongoing violence in Mindanao that has claimed so many lives and made refugees of thousands of people. In the midst of this conflict, news reports describe how Christians and Muslim have fended for each other's safety reminding us of the fruit of at least 40 years of work on reconciliation to which Dorothy made an important contribution. We also thank her for her part in co-authoring the book, Maryknoll Sisters in the Philippines.
Today, we welcome William Weber, a maternal cousin of Dorothy from Connecticut to be with us.
We also thank Fr. James Noonan, M.M. who worked long in the Philippines, and will preside at this liturgy of Christian Burial.