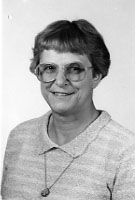 Sister Dorothy Rubner, MM
Born: July 3, 1919
Entered: July 2, 1940
Died: December 18, 2010
We gather this morning to celebrate the life of our Sister Dorothy Rubner. Hers was, in many ways, an extraordinary life lived in quiet, gentle graciousness and generosity to God, to her Maryknoll Community and to the many people she served.
Sister Dorothy Rubner died peacefully after a long illness on December 18, 2010 in Maryknoll Residential Care IV. She was 91 years old and had been a Maryknoll Sister for 70 years.
Dorothy Marie Rubner was born on July 3, 1919 in Milwaukee, Wisconsin to Barbara (Jacobi) and Charles Rubner. Dorothy had four sisters and three brothers.
When Dorothy was in 5th grade in St. Michael's School, Milwaukee, two newly ordained Maryknoll priests, one on his way to Japan and the other to Korea, visited her school. It was at that moment that Dorothy made her life's choice: she too one day would be a Maryknoll missioner. She would be called Sister Barbara Marie after her mother, and she would go to China. Years later Dorothy would say, "And it all happened just that way."
Dorothy graduated from Holy Angels High School, Milwaukee, in 1937, and then attended Milwaukee Vocational School for two years perfecting her secretarial skills. She worked as a professional typist until she was free to realize her long desire of becoming a Maryknoll missionary. She entered the Maryknoll Sisters Congregation from St. Michael parish in Milwaukee on July 2, 1940. At her Reception, she received the religious name of Sister Barbara Marie, as she had dreamed as a little child. After Vatican II, she returned to her baptismal name. She made her First Profession of Vows on March 7, 1943, and her Final Vows on the same date in 1946, both at the Maryknoll Sisters Center in Ossining, New York.
In September 1946, after having worked for three years in the administrative offices of the Maryknoll Society and helping out in the Sisters' Promotion office, Sister Barbara Marie, with several other Maryknoll Sisters, boarded ship in San Francisco. They were on their way to South China. They made one stop in Shanghai before landing in Hong Kong on December 28. Sister Dorothy was assigned to Wuzhou, Guangxi province, for language and culture study. There she also helped in the novitiate of the Sisters of the Sacred Heart, a congregation founded by the Maryknoll Fathers and trained by the Maryknoll Sisters. In 1948 she was missioned with Sr. Mary Diggins to Sz Wong, an isolated mission in the Wuzhou Diocese where, with the help of lay catechists, they instructed people in the faith. When Sister Mary returned to Wuzhou for rotation on language study, she was replaced by Sister Rose Bernadette Gallagher.
All pastoral ministries soon came to a halt following the October 1949 Communist victory. Sister Dorothy with Sister Rose Bernadette was placed under house arrest until their expulsion from China two years later on January 9, 1952. The Sisters, along with some other foreign missionary priests of the area were led away by guards. Sister Dorothy wrote, "After our four hour hike to Pingnam we were put on a boat to Canton and from Canton we took a train to Hong Kong where we had a very special welcome."
In Hong Kong, while doing pastoral work in Chai Wan and King's Park, Sister soon found herself serving thousands of mainland refugees flooding the British colony. She helped these refugees build new homes and rebuild their lives.
In 1953 she was assigned to the United States to work with Chinese immigrants in the Chinatowns of New York and Chicago. In these places, Sister Dorothy trained other pastoral workers, and helped new arrivals with immigration procedures and to settle in their new world.
She returned to Hong Kong once again. From 1967 to 1977 she served as a pastoral worker in Kwun Tong parish. While there she set up the Kwun Tong Pastoral Centre which is still active today. During one of her periods of renewal, Sister Dorothy, eager to update her pastoral skills, spent one year at the East Asian Pastoral Institute, Manila, Philippines where she earned her diploma. She later served as a pastoral worker at Our Lady of Maryknoll Hospital, Hong Kong.
In 1981, when the Bishop of Macau invited the Maryknoll Sisters to open a new mission in Macau, Sister Dorothy quickly volunteered her services. She worked in the Pastoral and Mass Centre located close to the China border. There she spent eight years organizing programs for the elderly and for new migrants. When China in the early 1980's opened its door to visitors, Sister returned to Wuzhou to visit the women she had years before instructed in the faith. Her missionary work in mainland China, although short-lived had not been in vain. They reassured her, "We have all remained faithful to your teachings and to our faith."
In 1995, Sister Dorothy, then 75 years old, left Macau and returned to Hong Kong where she began a whole new ministry. Volunteering her services to the Kwun Tong Pastoral Centre in the morning, she spent her afternoons at the Catholic English Diocesan Weekly, the Sunday Examiner. There she helped Father John Casey, MM, the editor and Ms. Moira Shaw, the assistant editor, insert and edit texts, cut stories and assist in the final layout. She filed and categorized photos and acknowledged mail. Her fluency in Cantonese was helpful in dealing with the Chinese parent publication, Kung Kao Bo.
Sister Dorothy returned to the United States to retire at the Maryknoll Sisters retirement home in Monrovia, California in 2001. Failing health required her return to the Maryknoll Sisters Center in New York where she was assigned to the Center Eden Community, Residential Care IV on February 1, 2006. At this time she said, "I have always felt that my greatest gift from God was my missionary vocation and the privilege of working with the Chinese people." It was no doubt, this deep love for the people that was so evident in Sister Dorothy's gentle, and self-giving quiet life that led her to choose as her prayer ministry Hong Kong, Macau and China.
We are happy to welcome Sister Dorothy's family and friends. We also welcome our Maryknoll Father Jose Aramburu, who also served in Hong Kong. He will preside at our Liturgy of Christian Burial. We are grateful for this opportunity to accompany each other in our loss of Sister Dorothy.