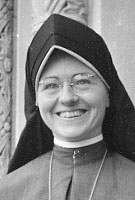 Sister Dorothy Therese McDonald, MM
Born: April 21, 1913
Entered: December 1939
Died: June 12, 1982
On Saturday, June 12, 1982, at about 5:25 p.m., Sister Dorothy Therese fulfilled the work she had been given to do, and the course she had been asked to run. She died in Maryknoll Nursing Home.
Dorothy Catherine McDonald was born in lower Manhattan April 21, 1913, and her family lived in that Borough till 1925 when they moved to the Bronx. Here, Dorothy attended elementary and then Cathedral High School. Dorothy graduated from Hunter College in New York City in 1935 and received her Masters in Arts from Columbia University a year and a half later. Business school gave her added skills which helped in her capacity as secretary in the American Book Company, and the Legal Department of New York City.
Dorothy entered Maryknoll in December, 1939. She had written that she wished to enter Maryknoll "…because I believe in 'Go teach all nations… and I believe in… leave all things to follow Me." During her almost 43 years as a Maryknoll Sister, Dorothy was able to penetrate ever more deeply and fully into these two particular aspirations as a handmaid of the Lord.
At Reception, June 30, 1940, Dorothy was given the name "Sister Dorothy Therese" and after first vows here at Maryknoll, June 30, 1942, she was assigned to Hawaii. Dorothy made her final vows in Hawaii three years later.
Her first assignment was to teach at Maryknoll School, Punahou. It was a tense war period, but Sister's jokes and "magic" gadgetry created much fun for all. Her's was truly Mother Mary Joseph's "kindly sense of humor." She wrote lyrics for feast days, departures, arrivals, and jubilees, besides producing plays in both convent and school, for special occasions.
Sister remained in mission in Hawaii for 26 years. Besides being at Maryknoll School in Punahou, she also taught at St. Anthony's High School, Maui, and at St. Ann's in Kaneohe, Oahu, imparting knowledge in such an easy, light, loving way that it made school fun. Most of all, students knew they were important persons in the eyes of Sister Dorothy Therese.
Sister Dorothy Therese brought a great love for life and for the Lord of her life to everyday happenings. Then, for special days and Community celebrations, the Community could always count on her expertise in comedy, drama, and story telling. She was a prime contributor to recreation, re-creating Community spirit on the missions as well as here at The Center.
In 1968, Sister returned to spend almost a year in the Bronx in family ministry to her uncle. After his death she came to the Center and ably filled several secretarial posts. Here, as always, Sister enjoyed her work and did it well.
Sister Gilmary, a former Coordinator at The Center, writes of her, "Dorothy was always there with extra help and extra 'overtime' support. She was a loyal, knowledgeable and an invaluable contributor to The Center Council teams for a long time.
Sister Dorothy Therese also knew how to enjoy free time and vacations. Like Mother Mary Joseph, she enjoyed books, good movies, good plays; – an expert swimmer, she delighted in the ocean. It would seem that, humanly speaking, someone who found life so good, would find it hard to relinquish life.
Our prayers and condolences go out to Sister's family and all of her good friends. We assure you that Sister's joyous spirit and faithful love are, and will remain, a part of our lives.
The Celebrant of the Eucharistic Liturgy is Maryknoll's Bishop Edward A. McGurkin. Concelebrating with him are Maryknoll Fathers Francis J. Winslow and Joseph R. Lang.