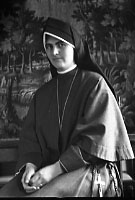 Sister Edward Marmion Wilson, MM
Born: December 9, 1921
Entered: September 7, 1943
Died: September 18, 1955
Sister Edward Marmion died at St. Vincents Hospital in New York on September 18, 1955. It was the tenth year of her religious profession.
Edith Wilson was born on December 9, 1921 in Canandaigua, New York to William Edward Wilson and Beatrice Tether Wilson. Both of her parents were born in England. Her father was a music teacher. She had one brother and four sisters. Edith attended St. Mary's grammar school and Canandaigua Academy for high school. She then graduated from Nazareth College with a BS in Chemistry.
After profession in 1949 she began her mission work in Hong Kong at the Maryknoll Convent School as a science teacher. Her field was education and she applied herself diligently to her task in each of her assignments. The students loved and respected her and found in her a perfect example of the truly dedicated educator whose efforts were consistently directed toward the good and the beautiful.
She was endowed with an extremely sensitive and affectionate nature which she controlled to a heroic degree. Best of all, she succeeded in keeping herself free from personal attachments which would have been a snare indeed to one of such delicate sensitivity. Sister said of herself, "I wish to do what God wants – not what I am naturally inclined to…There are moments of desperate helplessness but so long as I pray, God always sees me through them and I never really run away however much I long to."
One of her students wrote lovingly about her after hearing of her death, "Her classes were a joy to attend…especially her biology classes – human and gripping, imparting so much interesting knowledge, making you feel quite reluctant to change classes when the bell rang. Kind, human, always ready to listen to your problems or share a laugh, always leaving a deep impression on you when you have had a personal talk with her. Never cross, never harsh. She had a way about her that made you want to do your best, and her mere presence created respect and admiration."
Sister Edward Marmion was buried in the Maryknoll Fathers Cemetery at Maryknoll, NY. A requiem Mass was held for Sister at St. Teresa's church in Kowloon, Hong Kong on September 23, 1955 and the eulogy was preached by Rev. C.M. Orlando, P.I.M.E.