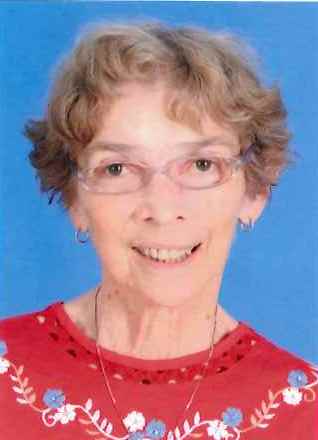 Sister Eileen Brady, MM
Born: May 12, 1935
Entered: September 2, 1957
Died: August 2, 2015
We gather here today to celebrate the life in mission and ministry of our dear friend and Sister Eileen Brady. Eileen died on August 2, 2015, she was 80 years old and had been a Maryknoll Sister for nearly 58 years. Eileen Mary Brady was born on May 12, 1935 to John Edward and Jule Grace (Mona) Brady, their first and only child. Both of her parents have predeceased her.
Eileen grew up in New York City and attended St. Brendan Elementary School, St. Barnabas High School, and Marymount College Manhattan, where she received a bachelor's degree, majoring in chemistry. She entered Maryknoll on September 2, 1957, from the N.Y. Archdiocese – Parish of St. John the Baptist. At Reception, she received the name Sister Maureen John, but later resumed her baptismal name. She made her First Profession of Vows on June 24, 1960 at Maryknoll, N.Y. and her Final Profession on June 24, 1966 in Manila, Philippines where she had been assigned to mission in 1963.
Prior to her assignment to the Philippines Eileen had taught chemistry at Mary Rogers College for two years, while also studying for an M.S. degree at St. Louis University. She later taught chemistry on the faculty of Maryknoll College in Quezon City for six years. Eileen was a faithful and dedicated teacher – always appreciated by her students and colleagues in academia. However, as later years would bear witness, her true calling in life was to a more humanistic form of social service, which would more directly involve her in the lives of disadvantaged children and families.
In 1969, Eileen was delighted to be assigned to Mindanao and to study the Visayan language. However, after a short time, her mother requested that she return to the USA, as her father was critically ill and she wanted to have her support and companionship. Following her father's death in 1969, Eileen remained in the States obtaining scholarship funds for studies for a Masters Degree in Social Work at Fordham University. At that time, she requested a transfer to the U.S. Region. When the U.S. Region was geographically divided in 1972, Eileen was elected to the first Eastern/USA leadership team. She served in the same position again from 1979-81 and remained a member of the E/USA Region until 2001.
More than thirty years of Eileen's missionary life were spent in the USA. Her years in Congregational Services included work in the Purchasing Department in 1969-70, and Mission Education and Promotion, 2007-08. A memorable experience in those years engaged Eileen's gifts of spontaneity and enthusiasm as the voice of "Trilly"- on a creative fifteen minute NBC-TV program entitled: Let's Talk about God that featured two Maryknoll Sisters and two puppets Trilly and Gruffy.
After receiving her MSW in 1972, Eileen served for twenty-five years as a Family Therapist and Treatment Supervisor at Children's Village, a residential treatment program for disturbed teenage boys in Dobbs Ferry, NY. Subsequently she served five years as a therapist at Hallen Special Education School in New Rochelle, NY. By her own account, some of the happiest times in her missionary life were the years spent as a social worker at Children's Village. She knew she was making a difference in the lives of the children there and made many friends among the staff. While she was always conscientious about her reports, what she enjoyed most was interventional meetings with the children and their families.
During these years, Eileen was a very active member of the E/USA Region. She always enjoyed opportunities to gather with her Sisters at regional and area meetings. She especially enjoyed their social events and parties. Her fun loving side brought life and joy to all; and her creative spirit found expression through music, dance and song, as well as in planning meetings. She knew herself well and balanced her various activities and ministries with frequent spiritual practices, especially Zazen.
One of her companions in the Eastern Region reflected: "I always enjoyed the Eileen we all knew. She was bright, astute, caring, all accompanied with humor and generosity. I know she was troubled about many things that couldn't be changed but she always wanted to try."
After Eileen's mother died in 1999, she was determined to return to mission abroad. She asked to be assigned to East Timor, where she arrived in 2001 when the country was still under U.N. Trusteeship. In 2002, she was present for East Timor's Independence Ceremony; and later engaged her psychiatric experience and therapeutic skills with the Truth and Reconciliation Process, helping to ameliorate the severe trauma suffered by the Timorese people, especially the children.
Eileen worked in Dili, the capital of East Timor, for two years as Project Manager for Trauma through the Timorese NGO–Timor Aid. One of the programs initiated was CAPACITAR, wherein she developed new skills she later brought to her ministry with the Maryknoll Community serving in Aileu. She helped develop a Child Development and Parenting Program, which successfully enabled eager young families to learn more about parenting. She organized the translation of the CAPACITAR Program Manual into Tetun language, and arranged for several children's books to be translated and printed, as much needed resources. During her years in the East Timor Region, Eileen was always a community person, manifesting a sincere interest in each of the members of the Maryknoll integrated team, and in their respective ministries. She participated fully in weekly meetings and social activities, delighting everyone with her recall and singing of old, familiar songs.
In 2014, due to health issues, Eileen returned to Maryknoll, NY. She was assigned to Maryknoll Home Care IV and she continued to retain her zeal and deep desire to remain in active ministry—always searching for new goals and meaning in her daily life. Earlier this summer, she successfully participated in three Maryknoll Mission Institute programs where she did seem to find new purpose and meaning, engaging with others quietly, listening, learning, and finding a measure of peace.
We extend our deepest sympathy to Eileen's family and join them in spirit and in prayer. We welcome other family members and many friends from New York and the Philippines who are with us this morning. We also welcome our brother, Father Jim Noonan, who shared mission with Eileen in both the Philippines and in Asia South, who will preside at this Eucharistic Liturgy of Resurrection for our Sister Eileen.