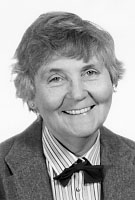 Sister Eileen Dolan, MM
Born: June 15, 1922
Entered: June 14, 1962
Died: March 14, 2002
Good Morning! As we begin this Eucharistic celebration, I wish to welcome Sister Eileen's family, as well as many friends and many of the Maryknoll staff, who either worked with or cared for Eileen here at Maryknoll. In the name of the Maryknoll Sisters, I want to extend to each of you our condolences on the death of your sister and friend.
"Now we know in part, but then I shall know God as God knows me." This quote from I Corinthians was chosen by Eileen for the first reading of this Eucharistic liturgy. Today, as we hear these words, we celebrate Eileen's completion of her search to know, love and serve her God.
On March 13, 2002, at seventy-nine years of age, the journey to fullness of life for Sister Eileen Maria Dolan came peacefully in our Assisted Living Facility here at Maryknoll. Eileen Maria Dolan was born in San Isidro, Buenos Aires, Argentina, June 15, 1922, to Juan Dolan and Maria Julia Kehoe Dolan. She was the first daughter in a family of six sons and three daughters. Her great-grandparents migrated from Ireland to the Pampas of Argentina in the 1840's. Eileen said of herself, "I am a native of Argentina; my first language is Spanish, but all my genes are Irish."
Eileen completed her primary and secondary education at Michael Ham Memorial College and teachers training at El Instituto de Lenguas Vivas in Buenos Aires. She had known she wanted to be a nun from an early age and was probably influenced by her younger brother being brought to live in a monastery at age nine to prepare for the priesthood. Eileen
entered the Passionist Sisters Novitiate in Valparaiso, Chile, where she made her first profession on January 17, 1943. That same year, she returned to Buenos Aires to teach and eventually become the principal at Michael Ham Memorial College. While teaching, she continued her studies and received her Bachelor of Arts Degree in Education from the University of Buenos Aires in 1949. During this time, Eileen still felt the call to be a missionary and thought this desire could best be fulfilled by a life of prayer in the cloister. Since there was no branch of the cloistered Passionist Sisters in Argentina, on April 24, 1949, Eileen transferred to their cloister in Pittsburgh, Pennsylvania, where she made her final vows on February 4, 1951.
For the next twelve years, Eileen lived the cloistered religious life until she became aware that God was calling her to a different participation in mission. The call of Pope John XXIII for missionaries to Latin America was the impetus for her to answer a lifelong desire to become a missionary. In 1962, Eileen came to New York to see her brother, Mario, and asked to visit Maryknoll as she had been praying for the Maryknoll missionaries during her years in the cloister. As soon as she arrived at Maryknoll, she felt this was where she belonged. On June 14, 1962, just one day shy of her fortieth birthday, Eileen transferred to our Congregation. She made final profession on June 24, 1964 at our novitiate in Topsfield, Massachusetts.
Eileen spent the years from 1964 to 1970 in parish ministry in San Miguelito, Panama, where she collaborated with priests from the Archdiocese of Chicago who were implementing changes which followed the II Vatican Council. The major thrust of the pastoral plan was to find community where it existed, to foster its development where it did not exist, and to form it spiritually and religiously. The many friendships which Eileen fostered with the people in the parish were to remain with her throughout her life. She recalled with much satisfaction the privilege of helping to write the first Eucharistic Prayer in Spanish before the use of the vernacular had spread to the entire Church. Eileen was also requested by the Minister of Health to become involved with a community-based health care program in Panama from 1971 to 1973. Writing of this work, she stated, "It has been very interesting and fruitful work; and a very fine experience to be 'giving testimony' in a high level group where decisions are so far reaching and can have such indescribable effects on the people."
This experience led Eileen to obtain a Bachelor of Science Degree in Public Health Nursing from Pace University in 1975 and a Master's Degree in Community Health Education from Colombia University in 1978. From 1978 to 1981, Eileen worked at Mt. Sinai Medical Center in New York City in the Department of Environmental Health. She also ministered as a Nursing Consultant for Latin America Health Programs for the Department of Community Health of Mt. Sinai Medical Center until 1986.
In 1984, Eileen became ill. However, she never let her illness keep her from being active and involved. In 1987, she was assigned to Supportive Services at Maryknoll, New York, where she worked in Housekeeping. The housekeeping staff who worked with Eileen loved her dearly. They mentioned that there are no words to express what Eileen meant to them. She treated them with great kindness and respect, helped them as they adjusted to life in the United States and was a great support for their families. They described Eileen as one who was always willing to work alongside them as they toiled to accomplish their tasks.
On a paper left in Eileen's personnel file, she asked that in this Letter of Appreciation the following thank you be included. She wrote: "Special thanks to the Housekeeping, Laundry and Nursing staff who provided me with niceties (like rice pudding) when I couldn't eat." Eileen was very grateful for the warm and loving care she received from the nurses and staff on the third floor. For this we, too, as Maryknoll Sisters, are grateful.
As Eileen's illness progressed, she retired from Housekeeping in 1990 and her energies were devoted to her struggle with the illness. However, Eileen never really retired and could always be found working in a voluntary capacity at the Center. When asked if there was anything else that Eileen would like included in this Letter of Appreciation, she wrote: "Just get me to the church on time and if possible, have the music of bag pipers." Eileen, you are not only at the church on time, but it seems you made sure you would arrive in heaven on time for the Saint Patrick's Day celebration and would hear the music of the bag pipers! While we will miss Eileen with her sparkling eyes and impish smile, we rejoice that she is now with the God whom she loved and served throughout her life.
Eileen had a great love for her family. Their pictures surrounded her in her room. She always spoke of them with great joy and love and  enjoyed her times with them in Argentina and here at Maryknoll. As she lay in bed in her last days, her eyes were continuously focused on the crucifix and the pictures of her family. Again, I extend our  condolences to each of you, Eileen's family and friends. I also wish to welcome our Maryknoll brother, Father Thomas Henehan, who, along with Father Peter Meehan, Father Alberto Cabrrera, Father Carlos Mullins and Father Harvey Ballance, will preside at this Eucharistic Liturgy of Christian Burial.