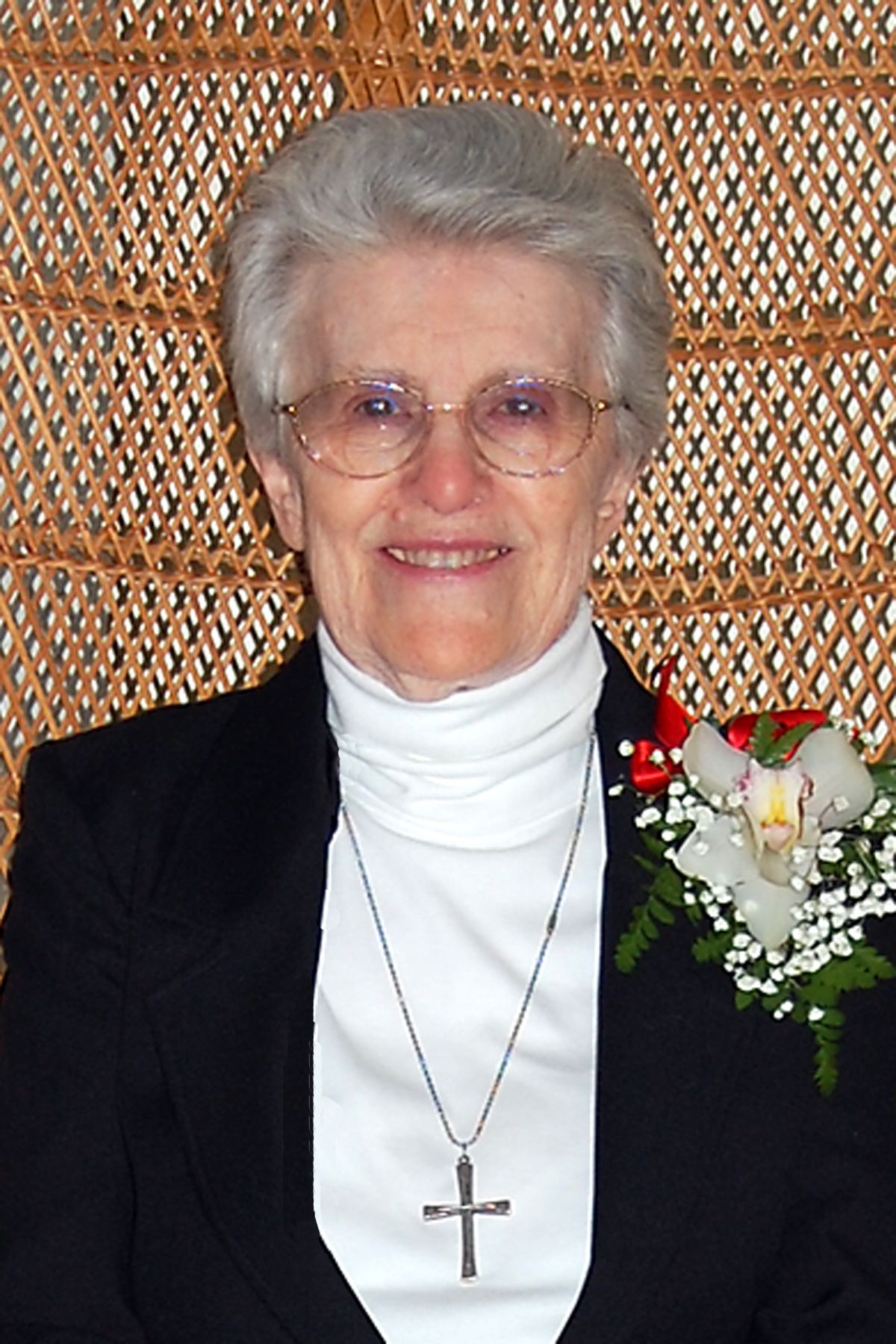 Sister Eileen Franz, MM
Born: December 3, 1927
Entered: September 6, 1950
Died: November 5, 2017
"Do Whatever He tells you" Jn. 2: 5
These words of our Blessed Mother to the servers at Cana seem to be the very words that motivated our Sister Eileen throughout her life as a Maryknoll Sister. She was already a Registered Nurse when she joined Maryknoll, dedicated to care of the sick and yet we see as we review her life throughout the sixty-seven years of service to God and her Community, a woman ready and willing to do whatever task was asked of her with efficiency and dedication, be it as secretary, librarian, catechist, pastoral worker, office clerk or nurse. And as attested to by her Sisters in Community, she always did so with a smile, gracious courtesy, humility, total commitment, admirable faith and to the best of her ability. In other words, a true "Handmaid of the Lord", ready to do whatever was asked of her.
Eileen Ann Franz was born in Jersey City, NJ on December 3, 1927 to Margaret (Hennessy) Franz and John F. Franz, Jr. She was the eldest of three children.
Eileen graduated from St. Dominic's Academy, Jersey City in 1945. She worked for three months after graduation at the Metropolitan Life Insurance Company before going to St. Francis Hospital School of Nursing, in Jersey City where she obtained her diploma as a Registered Nurse in 1948. She remained on the nursing staff there until February, 1950. In March, 1950 she joined the Public Nursing Service of Jersey City until September 6, 1950, when she entered the Maryknoll Sisters Novitiate at Maryknoll, NY from St. Joseph's Parish, Oradell, NJ in the Newark Diocese. Her quiet, mature, professionalism must have impressed her novitiate superiors, because out of the several nurses who entered with her, she was assigned to be infirmarian to the 85 Postulants in her entrance group.
At her Reception into the Congregation, on March 7, 1951, Eileen received the name, Sister Marea Consuela. On March 7, 1953 she pronounced her First Vows at the Maryknoll Sisters Motherhouse, Maryknoll, NY and her Final Vows on March 7, 1959 in Taiwan where she had been assigned soon after her First Profession. She was the first Sister to be assigned to the South Asia Region in seven years, when so many of the Sisters were being expelled from Communist China. After arriving in Hong Kong she was sent to the new mission of Taiwan with Sisters who were veterans of the China mission. She went to Miaoli with four of the Sisters who spoke Chinese and were able to begin contacting people and forming catechumenates. Meanwhile, Eileen set to work studying Mandarin, the official language and eventually Hakka, which many of the people spoke. The Sisters followed the method taught them by Bishop Francis X. Ford, whereby they went among the people, making friends and teaching them wherever they found them. There were to be no schools or clinics set up by the Sisters. Eileen wrote, "So, I put away my nurses uniforms and learned the tools of the catechist, striving with my halting Chinese to share what little I knew about the wonderful God who loved them." To improve her language ability, Eileen visited a local hospital and became friends with a young woman with T.B. Eventually her entire family was baptized and became the most fervent and apostolic family in town. Eileen wrote, "The kind of work we did was difficult, in that you don't always see results, but it is the kind of mission work Our Lord himself did. Often as I walked through the paddy fields or down the mountainsides, I pictured Jesus doing the same thing, perhaps sitting under an old banyan tree or on top of a hill and preaching the ever new lesson of the Beatitudes." In spite of many difficulties Eileen lost her heart to the good people of Taiwan.
During the years from 1955 to 1968 she served in the parishes of Tahu, Miaoli and Towfen teaching catechism and often using her nursing skills to help the sick. There are many instances in which she reached out in kindness and love to people in desperate need, too many to relate here. In 1968 she returned to Hong Kong for medical attention and worked in the Office of Medical Records at Our Lady of Maryknoll Hospital, Kowloon, but also used her time to reach out to patients who needed someone to sit with them, showing they were loved, much as she did with so many of our Sisters here at the Center in recent years.
In 1971 Sister Eileen returned to Maryknoll, NY to do Congregational Service. She first worked at Bethany House, which at that time was the Sisters' nursing facility. She was there from 1971 to 1978. During that time she renewed her Nursing Certificate, taking advantage of opportunities to attend short courses and keeping up on nursing techniques for future work when she hoped to return to Hong Kong. However, this was not to be. Eileen's mother was ill and needed her help. In 1974 she wrote to her Sisters in Hong Kong saying:"I've been thinking in terms of working in Our Lady of Maryknoll Hospital, but this seems not to be in God's plans for me now."
Sister Eileen did not return to Asia and her mission became that of service wherever she was needed, right at the Maryknoll Sisters Center in New York up to the time of her death early on Sunday morning, November 5.
We welcome our Maryknoll Brother, Father John Moran, who will preside at this Liturgy of Christian Burial for Sister Eileen.