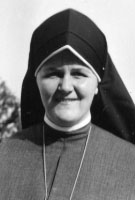 Sister Eileen Kelley, MM
Born: June 30, 1926
Entered: September 6, 1938
Died: January 12, 2007
Sister Eileen Kelley surprised all of us when she quietly slipped away into new life at 7 p.m. on January 12, 2007 in Residential Care IV. Eileen was 80 years of age and had been a Maryknoll Sister for 59 years. Her parents James F. Kelley and Mary Ellen Meehan Kelley and two brothers have predeceased her.
On Epiphany in 1990, during part of a shared homily, Eileen reflected with those gathered in this chapel on the struggles of her life journey. Commenting on the wise men, who left behind their lives of comfort and ease in search of God, she said about herself, "The star that guided me to Maryknoll took me on a journey that led to Africa. After several of the happiest years of my life I experienced the hardships of the journey. The deserts, hills and plains became almost impassable. The path that I chose led me over rocks that caused me to stumble… I deviated from the path and left for a time, perhaps forever, all that I hold near and dear in that part of the world." She went on: "..I tried to find the way of return. I tried to handle this search alone but I could not. I needed the support and help of others. God sent many Sisters, some who are here in our chapel now, (perhaps some of us here gathered today, 17 years later) to guide me along the way…. I had to stumble along until I reached the rock of inner peace. But it all came about in listening and learning from others who had traveled a similar road. Undoubtedly what I perceived to be stumbling blocks were, in reality, stepping stones to new life with God…. the star is still shining! The search for new manifestations or epiphanies of God will never end."
The journey with its deserts, hills and plains began in Boston, MA where Eileen Theresa Kelley was born on June 30, 1926. She graduated from Jeremiah E. Burke High School in Dorchester in 1943 and worked as a telephone operator before entering Maryknoll on September 6, 1948 and at Reception was given the name Sister James Eileen. After First Profession of Vows on March 7, 1951 she worked in the kitchen at Crichton House, studied at Maryknoll Teachers College and at St. Joseph's Hospital School of Practical Nursing in Yonkers, NY where she earned a license as a Practical Nurse. Sister made Final Vows on March 7, 1954 at Maryknoll and served for the next three years at the Maryknoll TB Hospital in Monrovia, California.
Eileen set sail on the "S.S. African Lightning" with Sister Elizabeth Grace (Sister Katherine Taepke) in the fall of 1957 for her first mission assignment to Tanganyika. After an exciting trip around the Cape of Good Hope and stops along the East African Coast, the two new missioners arrived, finally, in Dar es Salaam. For the years that followed Eileen worked at Buhangija Mission in Shinyanga, and at Kowak. She organized and developed the dispensary at Nassa, trained lab technicians and nurses' aids, and held well-baby and pre-natal clinics. She delivered babies and took care of them and their mothers. Eileen was a nurse! She is remembered especially by the Maryknoll Sisters for her hospitality during those years and how she loved to dance.
Returning to Maryknoll in 1965 Eileen was Motherhouse Assistant Superior for the next three years. In 1971 she completed studies at St. Vincent's Medical Center of Richmond, School of Nursing in Staten Island and earned a license as a Registered Nurse. She resumed nursing work now in the United States. She worked as a staff nurse at Phelps Memorial Hospital and with our Sisters at Bethany as well as here at the Center as Infirmary Nurse. She served at the Dominican Sisters Family Service at Mariandale, Ossining, New York and volunteered at the Ossining Open Door Community Center.
Eileen was re-assigned to Tanzania in 1977 but health concerns necessitated her return to Maryknoll the same year. Her skills as a nurse were once again put to work, in the Maryknoll Nursing Home, at the East Coast Migrant Health Project in Homestead, Florida, and at Bayley Seton Hospital on Staten Island.
Ten years later her dream of returning to Africa was finally fulfilled when she joined a team of Maryknoll Sisters to work with refugees in Somalia. The other Sisters were Catherine Erisman, Sylvia Elaine Postles and Ann Klaus. This new ministry was a commitment of the Africa World Section and each Sister was to remain a member of her own region. Eileen served with the team in Somalia, "on loan" from the Center for one year.
Back from Somalia and once again at Maryknoll, she served as CHU driver and Watch Hill cook and coordinator, after which Eileen was assigned again to Africa, this time to the Kenya/Sudan Region, where from 1992-94 she helped staff the Africa World Section House in Nairobi. That she was a gracious hostess and had such a welcoming spirit both at Watch Hill and at the World Section House are remembered to this day. Eileen retired in 1999, and the cause of refugees became her Prayer Ministry.
Eileen's journey came to an end, peacefully, last week. Her search for new manifestations or epiphanies of God is now complete. She has found her way home.
We offer condolences to all those who loved, cared for and supported Eileen through the years, as well as the many she supported, loved and cared for, in Africa and in the US.
We welcome our Celebrant, Maryknoll Father Carl Meulemans for this Liturgy of Christian Burial to remember the courageous life of our Sister Eileen.