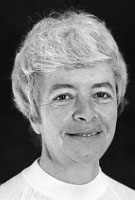 Sister Eileen Manning, MM
Born: September 30, 1921
Entered: February 1, 1951
Died: November 23, 1994
Sister Eileen Manning died very peacefully at our Maryknoll Center on November 23, 1994. She was seventy-three years old and a Maryknoll Sister for forty-three years.
Ann Eileen Manning was born on September 30, 1921, in Flushing, NY, the 3rd child of Delia Radigan and Timothy Joseph Manning, both of Ireland. She grew up in a loving family, with her two sisters and two brothers. After high school graduation, Eileen worked for ten years. It was probably during those years that she began to ask of life, "What's it all about?" A question that became as identified with her as the denim she wore. On February 1, 1951, she took a decisive step toward answering it when she entered Maryknoll at Valley Park, Missouri. In a vocation questionnaire, she had expressed her journey to Maryknoll in these words, "The idea of a religious vocation came to me when I was visiting Maryknoll three years ago. It came as a surprise, hence the delay. I was really amazed at the work the nuns and priests did for the unfortunate people who knew nothing about God and who had nothing. My religious sister and brother did not influence me in their words but I'm sure their prayers helped guide me to Maryknoll."
Eileen's unassuming manner came along with her into the novitiate. At age 30 she may have been a "senior" in the group, but Sisters recall the gracious good humor with which Sister Timothy Mary, as she was known in those days, lightened every task. After First Profession. on September 8, 1953 in Valley Park, she was assigned Stockton, California. A naturally creative person, she became a very good catechist. She also served one year as Second Councillor in a community where Sisters described her as "wholesomely joyous and refreshingly pleasant, regardless of the situation."
In 1963 she returned to Maryknoll where she obtained her Bachelor's Degree, and was subsequently assigned to the Africa Region. In all, Eileen enjoyed 21 years of mission life in East Africa, initially in Tanzania as pastoral minister in Mipa and as teacher of art and religion at the junior seminary in Makoko. In 1972 she was assigned to the Teachers College in Kitale, Kenya where she inspired excellence and commitment in her Kenyan colleagues.
Although she had found language study difficult, Eileen had a phenomenal memory for people whom she remembered by name. In the slums of Nairobi where she worked with Small Christian Communities, from 1977 to 1982, she knew the names of the people who sold bottles by the side of the road. To all of them that meant she loved them. We who shared life with her in Kenya knew that too, when we elected her as our Regional Coordinator from 1978-1981.
Eileen spent her last five years in Africa in Bura Tana, a resettlement scheme in the desert of northeastern Kenya. There she brought hope to many as she gathered the children together and started a Nursery School. Simultaneously, she prepared the teachers whom she challenged to "make the desert bloom" for these little ones. A photo of her in the October 1985 issue of Maryknoll magazine shows how well she succeeded as the pied-piper of Bura Tana!
Even in the desert she was one classy lady who shared her sense of style liberally. As she taught the women to sew, she also encouraged them to "dress up" for their celebrations. When she left Bura Tana, she gave away some of her dresses. There's still one woman there who says, "Whenever I feel sad I put on Eileen's dress and it makes me joyful again!"
Eileen returned to the United States in 1989. As a member of the Western U.S. Region she spent five years as a Pastoral Minister in New Mexico, first in Alamagordo and more recently, in Las Cruces. When she became ill, the church committee at St. Genevieve Parish where she served as Ministries Coordinator, announced: "This week, we said goodbye to Sister Eileen who has returned to the Maryknoll Center in New York for medical treatment. We are going to miss her ever-present smile and her soft-spoken voice! Please keep this very Special Lady in your thoughts and prayers."
In memory of this very Special Lady, in our hearts this morning we bring forward all the people whose lives she touched. Together we entrust her to God with whom she spent a lot of time in prayer, in the stillness of early morning when the breeze whispers across the desert sand.
We offer our deepest sympathy to all of Eileen's family and friends and welcome our Maryknoll brother, Father Dan Jansen, will preside at this Eucharistic Celebration for our Sister Eileen.