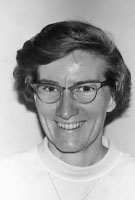 Sister Eileen McIntyre, MM
Born: October 20, 1927
Entered: September 2, 1955
Died: March 19, 1988
Sister Eileen McIntyre died March 19, 1988 at 1:25 P.M. at Memorial Sloan-Kettering Hospital.
Eileen was born to John Angus and Catherine Kennedy McIntyre of Nova Scotia on October 20, 1927 in Brooklyn, New York. She was their only child and the love among them was great.
Eileen grew up in Brooklyn, New York and went to St. Vincent Ferrer Grammar School. She graduated from Cathedral High and Hunter College, the latter with an A. B. degree. Then she went to work for five years as secretary to the Vice President of Home Life Insurance Co. After college, where she was active in the Newmann Club, the thought of religious life attracted her but she put it aside in order to pay back her parents a little for all they had done for her. Finally, faced again with a desire not only for religious life but for Mission, she sought entrance to Maryknoll and came on September 2, 1955. She never ceased to enjoy the song we created for that occasion, "September the Second We Came in Our Finery" and also was the only one among us who always knew the words! At Reception nine months later, Eileen received the name of "Sister Mary Michael" and the group became the Mother Mary Joseph Group in honor of Mother who died shortly after we entered.
On June 24, 1958 Eileen made First Profession here at Maryknoll and was assigned to Hunter College to get her Master's of Science in Education degree which she achieved June 14, 1960. She left for Hawaii that summer and began eight years of teaching at Punahou on Oahu and two years serving as Superior and Principal at Wailuku on Maui. On June 24, 1964 she made her Final Profession.
Following furlough in 1970, Eileen served in the Admissions Office here for a year. Though she would have liked to stay longer, she responded to the request of her Region that she return as House Coordinator at Punahou and to teach in the High School there. In 1972, Eileen returned to the Center to work in the Travel Office. It was during this time that she, Srs. Mercy Hirschboeck and Regina McEvoy dreamed their dreams of a prayer presence on the Lower East Side of New York City. The Eastern Region and the Congregation said "yes", so in the fall of 1973 Avenue C and St. Brigid's Parish welcomed this group. Their welcome and their friendship only deepened through the years.
Eileen served the parish as a part-time secretary and worked in the Catholic Worker Soup Kitchen. Into their home came the many neighbors, parishioners and Maryknollers who sought their gifts of hospitality, prayer and caring.
The deaths of Regina and Mercy led Eileen to the conclusion that her work there was complete. It is interesting to note that when she stated her objective for entering the Eastern Region she said she wanted a work subordinate to a life of prayer and an expression of social poverty. Fifteen years later, applying to Mexico-Guatemala Region she worded that same section by stating again that she hoped to be a witness of ministry and prayer in a situation of poverty.
Throughout their time in the Eastern Region she was assiduous in causes for justice. She was active in movements against hunger, war and homelessness, untiring in efforts for Sanctuary and the well-being of Refugees. She served on the SCANY (Sisters Council, Archdiocese of New York) Advisory Committee and on planning committees for many social endeavors.
When someone at Maryknoll whom we love dies, feelings and images energe that continue the life of that person. So it is with Eileen for many here today: Those of us who entered with her, we who shared life with her in the Central Pacific and Eastern Regions, in Cochabamba, Bolivia for those few short weeks at Language School and in the Mexico-Guatemala Region where Eileen visited and would have made her home had God not chosen otherwise. In talking with some who knew Eileen well, we agreed we will remember her for deep integrity, gentle graciousness, willingness to work as part of groups, excellent secretarial skills freely given, careful preparation of prayer services, trust, utter fidelity and service to Sister Marcy in her declining years. Life a thread of gold through these daily asserted qualities ran her wonderful sense of humor, the turn of phrase at the worst of moments.
And so we move toward this Liturgy of Resurrection for our diminutive, unassuming, faithful friend, Eileen, grateful to Fathers Frank Scanlon, George Kuhn, Edward Keehan, Joaquin Beaunont and Salvador Ros, who will celebrate with us and all who have come today.