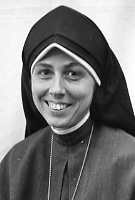 Sister Eleanor Keeney, MM
Born: March 16, 1923
Entered: September 4, 1948
Died: November 29, 2013
The following letter was written by Sister Eleanor Keeney who asked that it be read at her funeral Mass. She wrote:
If you would indeed behold the spirit of death, open your heart wise unto the body of life. For life and death are one, even as the river and sea are one. Only when you drink from the river of silence shall you indeed sing…And when the earth shall claim your limbs, then shall you truly dance."
From The Prophet by Kahil Gibran
I was born on March 16, 1923, in West Hoboken, NJ, the third girl of Mary Dimmick and John Keeney. The first-born died in infancy. My father died when I was nine months old. My mother remarried when I was about five years old. My sister, Lorraine, who was both sister and friend to me pre-deceased me in 1999.
The family moved to Brooklyn, NY when my sister and I were quite young. We graduated from St. Frances de Chantal Grade School and St. Brendan's High School. We grew up together and became very close. It was during my high school days that I felt the first urgings toward religious life having grown up in a strong Catholic family.
After graduating from high school, I worked for Eastman Kodak Co. in NY City while thinking of entering nurses' training, a career I pursued in 1942. Those were challenging but happy days where I met many lifelong friends. We used to drink tea in the dark when we practiced for air raid drills during WW II and danced the nights away at the USO sneaking into the nurses' quarters after curfew time. I was one of three student nurses chosen to finish training as a Cadet Nurse at Fort Dix, NJ where we felt privileged to be serving our armed forces.
I graduated from Jersey City Medical Center Nursing School in 1945, after which I had various nursing positions for three years. During this time, I was feeling more drawn to religious life and seeking spiritual direction.
In the meantime, during a retreat, I received a prayer partner, an SVD Father who was imprisoned in China, and I began a correspondence with him. In 1946, I learned that my letters were the only ones he received via the Red Cross while he was in prison. I saw this as Divine Providence at work. In 1947, I went to St. Louis to meet him. It was at this time that he planted the seed for a missionary vocation suggesting the Maryknoll Sisters whom he had met and admired in their ministry in China with Bishop Ford.
On September 4, 1948, I entered Maryknoll at the Venard in Scranton, PA for my postulancy. I came to the Center in late February 1949 to enter the novitiate. I was Professed on March 7, 1951 and assigned to Sri Lanka (Kandy, Ceylon). I sailed for Sri Lanka from Brooklyn, a stone's throw from my family home on August 15, 1951. I made my Final Vows in Ceylon on March 3, 1954.
For ten years, I held various nursing positions in a 1200 bed general government hospital. In 1958, there was a change of government, which eventually forced the Maryknoll Sisters to leave that beautiful island and people we had grown to love. Five of us were the last ones to leave the hospital in 1960. We then established a small nursing home and clinic for the Bishop, which we turned over to Sinhalese Sisters. We left the Island in 1961 to return to Maryknoll.
I worked as a nurse at the Maryknoll Center for five years. It was during this time that the Maryknoll Fathers learned of a plot to rob the Maryknoll Post Office. Sister Mercy and I were asked to go to St. Teresa's the following morning before sunrise and wait for action with the police stakeout. When the sun rose the thieves drove into the parking lot, entered the post office and exited with bags of mail. The police moved in shooting. That was our cue to help the wounded as the getaway car sped out of the driveway. It was a drama of TV proportions!
In 1967, I was assigned to Thailand with Sr. Theresa Grondin, a former China missioner. In the northeast of Thailand during the Vietnam War, I did mobile medical work with the assistance of the U.S. Air Force. It was a two-year contract with the Bishop during which time Sr. Therese and I visited the Buddhist Monastery where she was asked to teach Christianity to the monks and I was asked to attend to their health needs. It was a wonderful experience of dialogue. In 1969, I returned to the Center where I was assigned to care for our sick Sisters at Bethany. During this time, my mother died leaving my stepfather who insisted upon living alone until he died ten years later.
In 1971, I entered the University of Connecticut to pursue a Nursing Degree in Education where I graduated Summa Cum Laude in 1975. In order to develop my skills in Public Health Nursing while also being able to visit my ailing stepfather, I worked as a Visiting Nurse in Yonkers, NY. There I developed lasting friendships with patients and their families. My stepfather died in 1980 after I had been with the Visiting Nurses for five years. I then took up a position in Monrovia, CA to care for our retired Sisters.
It was during this time that I received an assignment to Zimbabwe in September 1982 with Sister Theresa Mangieri, who became my good friend and faithful companion. Theresa and I, after much research, settled on St. Albert's Mission in Northeast Zimbabwe not far from the Mozambique border. This was soon after the war of Independence when Rhodesia became Zimbabwe. Theresa became a secondary school teacher and I the Director of Nurses in a 75-bed mission hospital that had no qualified staff. That was the biggest challenge of my life: to try to run a hospital that had no qualified staff. Somehow, I survived and grew to love the people of Africa. However, in keeping with the Maryknoll charism of not taking leadership positions, I gave over my hospital position to an African Sister and began a Hospice Program in the Diocese of Gweru.
It was during this time that AIDS became a serious problem and I helped found a Non-profit AIDS Program where I started a Home Care Program to train the local village workers in basic nursing skills. They went into homes to assist the primary care giver to do home nursing. I also did AIDS education in the parishes, schools and with the local parish priests. In 1994, I began training an African to replace me as the program was doing well and in 1995, I left Zimbabwe to return to Maryknoll. There I worked at the mail desk until Theresa Mangieri, Marilyn Ingraham and I took up ministry in North Carolina, Fr. Frederick Price's home mission territory. With our beginning in North Carolina, Maryknoll had come full circle. We settled in Hendersonville, NC, which is situated on a plateau between the Blue Ridge and Smoky Mountains. Marilyn left us within a few months to return to Brooklyn. There Theresa and I got involved in various programs to help the elderly, the sick, and the poor, many of whom are victims of the economy and domestic violence. We found North Carolina still mission territory in a state that had only three percent Catholic population. We hoped that in some small way we might be able, by our example, to spread the Gospel of love.
After 12 years in North Carolina, we reviewed our ministries: mine visiting the homebound elderly, volunteering in a Day Care Center for the elderly and ministry to alzheimer patients. All these ministries I enjoyed.
Although it was difficult to leave North Carolina, I knew that at 87 years old, it was time to return home. We were warmly welcomed and we were happy to spend our twilight days where it had all begun many years ago. I now chose as my prayer ministry, the needs of the United States of America.
With St. Paul I say, "I have fought the good fight, I have finished the course…" and I am grateful to Maryknoll, my family, my friends and my caretakers at Maryknoll, who have all made it possible for me to realize God's plan in my life.
This letter was written by Sister Eleanor Keeney
Let us now celebrate Sister Eleanor Keeney's wonderful life in this Liturgy of Christian Burial. We are happy to welcome with us today Augusta Bello, Sister Eleanor's friend of over 70 years, and her daughter Gina Bello.
We also welcome Fr. Jack Sullivan, our Brother in Maryknoll, who will preside at this liturgy.