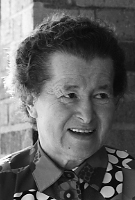 Sister Elfriede Konig, MM
Born: August 28, 1933
Entered: September 5, 1954
Died: October 28, 2000
This morning, on the feast of All Souls, we gather to remember and to celebrate the life of Sister Elfriede Konig. On the morning of Saturday, October 28, 2000, Elfriede was accompanied by Sister Mary Edna Brophy to Phelps Memorial Hospital. Approximately four hours later Elfriede died peacefully. She was 67 years old and had been a Maryknoll Sister for 46 years.
Elfriede Konig was born in Klindorf by Gottschee, Yugoslavia on August 28, 1933, one of eight children – three daughters and five sons — to Alois and Frieda Nadler Konig. During World War II all Germans were asked to leave Yugoslavia and her family moved to Austria. In May of 1945, twelve-year old Elfriede with other members of her family were placed in a refugee camp. It wasn't until 1949 that the Konig family was re-united.
Elfriede received her education in Austria and at the age of 17 came to the United States to live with her aunt in New York City. On the trip to New York she met several Maryknoll Seminarians returning from Rome. They became friends despite the language barrier, and Father William Marley became a life-long friend.
Four years later, on September 5, 1954, Elfriede entered Maryknoll but not before she made a return trip to Austria to visit her parents, having saved enough money from her salary of $45 a week as a clerk in New York City. Elfriede won the hearts of all her Maryknoll Sisters and in December 1954, Sister Jeanne Marie Lyons, Novice Mistress, described Elfriede as: "Our Heidi, – a delightful person, with much simplicity, honestly, sympathy, keenness. She is willing to do or try anything."
Elfriede made her First Profession of Vows on March 7, 1957 and after working a year in the Seminary kitchen, attended Maryknoll Teachers College and received a Bachelor of Education Degree in 1962.
The following year, Elfriede's assignment to Chile began her many years of loving service to the people in Talca, Temuco and Copiapo. Her years in Chile were only interrupted in 1983 to 1986 when she cared for her ailing mother in Austria, and from 1991 to 1995 when she returned to the Center for Congregational Service. In 1997 she returned to the Center for medical care.
Elfriede's surname, Konig, means "King" and she often reminded those with whom she lived and worked that she was a daughter of the "King", especially during the days of the military regime of Pinochet. She always used to say if she had the opportunity, she would talk with Pinochet to tell him what she thought of him. When questioned why, she would say, "I talk every day with my Heavenly Father, why not with him?" Elfriede was fearless in expressing her truth as she saw it. She would say: "We are all children of the Heavenly Father, why should I fear this or that person?"
One cannot think of the life and mission of Sister Elfriede, however, without being reminded of the passage from St. Matthew's Gospel (Chapter 25): "I was hungry and you gave me food, I was thirsty and you gave me something to drink, I was a stranger and you welcomed me, I was naked and you gave me clothing, I was sick and you took care of me, I was in prison and you visited me." There are countless stories of Elfriede's kindnesses.
Elfriede gave food to the hungry and welcomed the stranger in the Atacama Desert of Copiapo. She with Sisters Jane Gregorich, Margaret Lyons and Maria Serraon (who died in 1986), opened a new mission and lived on a hill with miners and their families. Elfriede never refused a person in need and she would not just give a hand-out to them but would talk to them, take them to a restaurant, and at a church fiesta buy ice cream for them. A deep passion and love for the poor was an integral part of Elfriede's life.
Elfriede cared for the sick. She cleaned the house of a seriously ill woman, saw to the needs of the family, was with them when the woman died and then arranged for her funeral and burial. Elfriede, a very outgoing and loving person, was always at the service of others.
After one of her renewals, Elfriede wanted to take back to Chile a wheel chair for one of the poor ladies from the "Old Folks" group. She had no way to get it on the plane, so she sat on it herself. In that way, she succeeded in bringing it back for her friend. In her own unique way, Elfriede showed that the "Lord hears the cry of the poor!"
On a visit with Marge Lyons to the ruins of Machu Picchu in Peru, before leaving the small Cuzco airport, Elfriede looked for a poor person and gave the rest of her roll of toilet paper to a begging Indian woman. On the plane trip from Cuzco to Lima when she went to the ladies room and did not return to her seat for some time, Marge asked if she was sick. Elfriede's response was: "No, I cleaned the bathroom, it was very dirty."
Elfriede often spoke of the horror of war, the senselessness and cruelty of violent death and wanton destruction. She talked of running from the Nazis, the blackouts, the fears of living in a war-torn country. She spoke of begging for food from the English soldiers, and of how kind they were to her and her companions. Elfriede was marked by the sufferings of those early days and brought to mission her unique experience and background — and two very special identifying qualities: Love of the poor, and love of and trust in our Heavenly Father.
We celebrate Sister Elfriede's Eucharistic Liturgy of Christian Burial on the Feast of All Souls — "Come you blessed of my Father, possess the Kingdom prepared for you. Enter into the joy of a loving Father forever". Elfriede's early life and her final years were filled with suffering. Now we have no doubt she is in the peace and joy of God! She has passed her final test: "I was hungry and you gave me food…" with glowing colors, entering God's Reign of life forever.
We welcome and extend our deepest sympathy to Elfriede's family and friends. We are grateful for your presence and thank you for sharing Elfriede with us in Maryknoll for forty-six years. Her passion and love for the poor and her deep faith and trust in her "Heavenly Father" will forever remain in our minds and hearts. We also welcome our Maryknoll brother, Father James Lehr, who will preside at this Liturgy of Christian Burial as we remember and give thanks for the life of our Sister Elfriede.