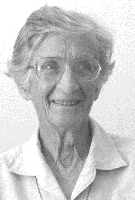 Sister Elinor Doherty, MM
Born: October 12, 1925
Entered: October 30, 1947
Died: November 24, 2014
We gather this morning to remember and celebrate the life of Sister Elinor Doherty who died quietly and peacefully on November 24, 2014 in our Maryknoll Sisters Home Care 4, Maryknoll, New York. She was 89 years old and had been a Maryknoll Sister for 67 years.
Elinor Loretta Doherty was born on October 12, 1925 in Pontiac, Michigan to Albert Doherty and Elinor McGowan Doherty. One of seven children, Elinor was raised in Our Lady of Refuge Parish . She attended St. Fredericks High School in Pontiac, Michigan and graduated Cum laude in 1947 from Marygrove College with a Bachelor of Science in Chemistry.
On  October 30, 1947 Elinor entered the Maryknoll Sisters at Valley Park, Missouri. At Reception she received the Religious name Rose Andrew. Sister Elinor made her First Profession of Vows on May 8, 1950 at Valley Park, Missouri and Final Vows on the same date in 1953 also at Valley Park.
Sister Elinor was assigned in 1950 to the Motherhouse to serve as Assistant to the Postulant Mistress and two years later was assigned to the same position in the Valley Park Novitiate.
In 1953 Elinor was missioned to Merida, Yucatan, Mexico to serve as an assistant in a Mexican Sisters Novitiate.
In 1958 she was assigned to Guatemala City where she taught Mathematics and Science in Colegio Monte Maria the Maryknoll Sisters School.  From 1969 to 1991 Elinor was Coordinator of the Junior High Section of the School in addition to teaching Mathematics and Religion Classes. As Coordinator much of her time was given to counseling  the students which endeared her to the young women. Besides her school responsibilities she managed to serve as a Regional Governing Board Member from 1977 to 1979.
In 1992 Sister Elinor chose to give service at the Center as Working Telephone Reception Supervisor. She returned to Colegio Monte Maria in 1995 where she remained until 2002. During these years her close relationships with former students and Alumnae served to promote the gradual turnover of the school into the capable hands of the dedicated graduates of the school.
In 2002 Elinor was assigned to the Center House Community in New York where she used her sewing skills in the Residents Clothing Department. Because  of her declining health Sister was assigned to the Eden Community  in 2007. Naturally she chose Guatemala as her preferred prayer ministry.
As a Maryknoll Sister Community Member, Sister Elinor was known as cheerful, gentle, generous, a person of quiet strength. She was a joy to know, a gift to live with and a pleasure to work for.
We are grateful to our dedicated Home Care staff who attended to her needs with such loving care.
We welcome and thank our Maryknoll brother, Fr. Edward Moore, MM who will celebrate this Liturgy of Christian Burial.