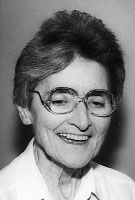 Sister Elizabeth Ann Faherty, MM
Born: September 1, 1930
Entered: September 1947
Died: April 26, 2010
"Life is at best an unfinished symphony. There is always something more we wish to do but God plans otherwise."
These words of Karl Rahner so well describe the life of our Sister Ann Faherty who peacefully passed on to her New Life with God, surrounded by Sisters who knew her and loved her, at the Maryknoll Sisters Residential Care IV on April 26, 2010. She was 79 years of age and had been a Maryknoll Sister 62 years.
Elizabeth Ann Faherty was born on September 1, 1930, to Julia Reardon Faherty and Martin Faherty in Boston, MA. She had two brothers and two sisters. Both of her sisters have predeceased Ann.
Ann graduated from St. Gregory's High School in Dorchester, MA, in 1947. She entered Maryknoll from St. Gregory Parish in September of the same year at the Venard Maryknoll house in Clarke's Summit, PA. At Reception, Ann received the religious name of Sr. Corde Maria. She made her First Profession of Vows on March 7, 1950, and her Final Profession on the same date in 1953, both at the Maryknoll Sisters Center in Ossining, NY. She studied at Maryknoll Teachers College receiving a Bachelors of Education (B.E.) degree in 1953.
That same year, Ann was assigned to the Philippines where she taught primary grades at Maryknoll College in Manila. She was sent to Davao on the Island of Mindanao in 1960, where she taught at the Maryknoll High School of Panabo until 1962. She was then assigned to Batangas serving as Superior and Principal of Our Lady of the Rosary High School in Lipa City. She returned to Panabo in 1964. In 1968 Ann was a delegate from the Philippines to the Maryknoll Sisters Special Chapter of Affairs in NY. Following the Special Chapter Ann returned to Panabo where she continued to serve as Superior and Principal.
In 1970 Ann returned to the U.S. for further study and to be near her elderly mother. She later requested transfer to the Eastern U.S. Region. In responding to this request, the Personnel Director of the Philippines wrote: "[Ann] is an excellent teacher, principal and educator. She works well with others and tends to bring out good qualities in her co-workers. She has definite gifts of leadership and has always been willing to assume responsibility."
When Ann returned to the U.S. in 1970, she began teaching part-time in the Adult Learning Center in Dorchester, MA. She then took a year for study and received an M.A. in English from Harvard University in 1972. After completing her M.A., Ann returned to full-time teaching at the Adult Learning Center in Boston where she remained until 1988 when she was "excessed" from the program because funding was cut. As a teacher of the Boston Public School System, Ann was assigned to South Boston High School where she taught until 1998. Always a superb and demanding teacher and a strict disciplinarian, Ann related well and was highly respected by her students, many of whom had behavior problems. At the end of one school year, a young girl who had given Ann a hard time during the school year told Ann that if all the teachers in her past had been as caring as Ann she would have been a better human being.
Ann was always conscious of family and family needs. She was a loving companion to her mother in her last years. After her sister died, Ann assisted her brother-in-law in caring for her 3-year old nephew. Ann shared her family and home with all of us Maryknollers with her generous hospitality.
As a member of the Eastern U.S. Region, Ann participated fully. She served as a member of the Regional Governing Board from 1975-1979. She also served for several years as Regional Finance Officer.
Today we are here to celebrate Ann's life, a life of dedication and love and suffering, and now her New Life with God. We are pleased to have with us Ann's brother-in-law. Because of health reasons, Ann's brother is not able to be with us.
We welcome our Associate Maryknoller, Father Timothy Graff, as presider at this liturgy of Christian burial.