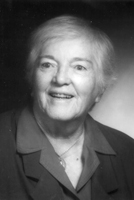 Sister Elizabeth Donahue, MM
Born: February 3, 1924
Entered: September 4, 1948
Died: January 10, 2014
"The hills are alive with the sound of music…" These words express one of the special gifts Sister Elizabeth Donahue shared so generously throughout her life.  We are gathered today to celebrate her new Life with God, which she entered so peacefully on January 10, 2014, in Maryknoll Home Care IV, at Maryknoll, NY, where she received loving care from dedicated staff and Sisters.  She was 89 years old and had been a Maryknoll Sister for 65 years.
Elizabeth – or more commonly called, Betty – was born on February 3, 1924 in Waterbury, Connecticut to John Donahue and Loretta Murphy Donahue.  Her parents and her only brother, Dr. John Donahue, have predeceased her.  From her Irish grandmother, she received a strong Irish legacy, which she continued to pursue in her retirement years.
s Grammar School in Waterbury in 1937 and from Waterbury Catholic High School in 1941.  After receiving a B.A. in social science from William and Mary College in Williamsburg, VA in 1946, Betty worked as a Girl Scouts Field Director doing social group work, and other physical education activities, in Pecos, TX and in Pleasantville, NY.
It was this experience, which Betty brought with her when she entered Maryknoll at the Motherhouse in New York on September 4, 1948 from Immaculate Conception Parish in Waterbury.  At her Reception on March 7, 1949, she received the name, Sister Elizabeth Mary.  She made her First Profession on March 7, 1951 at Maryknoll, NY and her Final Profession on March 7, 1954 in Manila, Philippines.
It was during her years as a postulant that Maryknoll first experienced Betty's entertainment, drama, and group recreation skills as she directed shows, such as "Snow White and the Seven Dwarfs," and "Mary Poppins" in puppets.  Betty also taught entertaining songs, square dancing and other dances.
Betty's first assignment in Maryknoll was in the congregation's Mission Awareness Office.  In 1953, she was assigned to the Philippines where she taught Religion and English in the High School division of Maryknoll College in Quezon City.  Betty is lovingly remembered by her students (who called her, Sr. EM) for introducing them into the world of drama, musicals, and puppet shows, teaching them how to work as a team, as well as "her obsessive-compulsive efforts to turn us all into English grammar experts."  Her spectacular presentations included" The Sound of Music," "The King and I," and "The Lute Song."  She also directed the Glee Club, which won for the College first place in the inter-college Songfest in 1963. That same year she received her M.A. in social psychology from the Ateneo de Manila University.
In 1965, Betty was assigned to the Motherhouse where she joined the faculty of Mary Rogers College and taught Psychology while studying for her Doctoral Degree in Education, which she received from Fordham University in New York City in 1970.  She was then named Central Personnel Director for the congregation.
At the end of her service as Director of the Personnel Department, Sr. Barbara Hendricks, President of the Central Governing Board, wrote, " I'd like to speak for the Central Governing Board and express our sincere gratitude to you for all the dedication and responsibility which you demonstrated over these past four and a half years. I realize that this particular period has been a very difficult, disorganized and fragmented one for our Community and yet, you've managed to steer a clear, straight course as head of a vitally important Central Service. In addition you've also made a fine contribution as a group facilitator and teacher within the Center Community, the Mission Institute, the Cloister, the Seminary and outside communities like the Dominican Sisters at Mariandale."
From 1974 to 1989, Betty worked for the Maryknoll Fathers and Brothers in field education and then as Director of Enrollment at the Maryknoll School of Theology.  She greatly treasured the years that she worked for the Maryknoll Society.
In 1990, Betty returned to Waterbury for Family Ministry to care for her mother until her mother's death in 1992.  Betty remained in Waterbury, devoting herself to parish ministry in her home parish, Immaculate Conception, helping plan the parish's 150th anniversary, coordinating its Eucharistic Adoration Program, and other parish activities.
From 1993 – 2002, Betty was able to arrange for a small group of Maryknoll Sisters to use the parish's unoccupied convent building as a Maryknoll Sisters retirement community.  The Sisters did catechetical work, home visiting, and other parish ministries for both English and Spanish-speaking parishioners.  Betty loved these days in Waterbury.
In 2002, Betty returned to Maryknoll in NY first as a member of the Chi Rho community and later as a member of the Eden Community, where she chose as her prayer ministry to pray for all Priests.  There also she again shared her musical and acting skills with the Sisters by organizing a choir and entertainment skits.
We are happy to welcome members of Betty's family and friends.  We also welcome our Maryknoll brother, Father Ernest Lukaschek who is the celebrant for this Mass of Christian Burial.