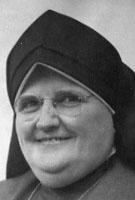 Sister Ellen Mary Murphy, MM
Born: September 10, 1902
Entered: October 15. 1928
Died: January 31, 1977
In the Book of Revelations we read, "Behold I make all things new" (21:77). On January 31, at about 11:30 p.m., Sister Ellen Mary Murphy, after months of suffering, entered into the newness of eternal life. Long years of dedication and service had prepared her to greet her Lord face to face. "I have come into religion she wrote, "to serve God." To all who knew her, her entire life spoke of the fulfillment of that aspiration.
When Sister Ellen Mary left for Monrovia, California in March, 1975, she was not in good health; but she looked forward to doing those things which retirement might make possible. Eight months later, in November, Sister became very ill. Medical examinations and tests of various kinds uncovered nothing significant. By July, 1976, Sister's condition was deteriorating quickly.
Ellen Mary Murphy was born on September 10, 1902, in Manley, Nebraska. She first wrote to Maryknoll requesting admission when she was twenty. Mother Mary Joseph responded immediately, but Ellen Mary's mother became seriously ill and Ellen Mary had to postpone her entrance until October 15, 1928. She was then 26 years old. During these years of waiting she worked as a school teacher in Nebraska and as a comptometrist in a large business office in Omaha.
When she came to Maryknoll, Sister expressed her desire to serve God and to rely on Him alone, She wrote, "and with God's grace I will try to do willingly everything that is asked of me."
Sister pronounced her first vows on January 6, 1931 and was assigned to Dairen, Manchuria that same year. In 1934, in Fushun, Sister made her final vows. Life in Manchuria, where the Sisters lived in houses of two, could be both difficult and lonely. She wrote with considerable poignancy from Antung, "It is nice for us in houses of two to have a bigger house to go to for a little visit sometime." She often reminded herself in those days,"I have come into religion to serve God."
December 7, 1941 is the day on which Sister Ellen Mary's active missionary ministry in Asia ended. With the outbreak of the War with America, the Japanese interned Americans in Japan-occupied territories. Sister was interned in the priests' house with local Sisters. Although the prisoners suffered no physical violence, they were very closely confined and as the war continued, they suffered much from hunger. Sister was repatriated to the United States arriving on the "M.S. Gripsholm" on December 1, 1943. For much of her time in Manchuria she had worked with abandoned or orphaned children. She had been there for twelve years.
After Sister regained her strength, she received a number of assignments in the United States, first at St. Anthony's in the Bronx, to New York and Chicago Chinatowns, to Los Angeles, Mountain View, and to St. Teresa's working for the Maryknoll Fathers. Sister served in positions of community leadership for over fifteen years both in Manchuria and in the United States. Those under her frequently remarked on her freedom of spirit and joy.
Let us, her relatives and friends, pray for Sister that the Spirit will transform her humanity, completing and crowning the workings of God's gifts to her during her life here on earth.
"A voice from the silence said, 'Behold I make all things new'. I looked and I saw a woman walking under the sapphire sky, with green grass under her feet. She was smiling and singing of the wonder of loving, ever growing, ever changing. And a voice rose softly, 'Behold I make all things new."
The Mass of the Resurrection, concelebrated by eight Maryknoll Fathers, including Bishop Edward A. McGurkin, was offered in The Center house Chapel at 11:00 a.m., February 3rd, Burial followed in Maryknoll Cemetery, Maryknoll, New York – in the midst of a gentle snowfall.