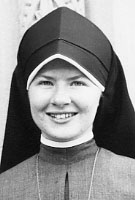 Sister Ellen Theodore Bezy, MM
Born: November 20, 1923
Entered: October 5, 1946
Died: April 6, 1956
Sister Ellen Theodore (Mary Margaret Bezy) was born November 20, 1923 in Charleroi, Pennsylvania and attended the public schools of that town.
For five years, after high school graduation, she was a bank clerk and bookkeeper in the Charleroi Savings and Trust Company.
She entered Maryknoll October 5, 1946, was professed April 6, 1949. Sister attended Maryknoll Teachers College from 1948 to 1952. She started mission work after attending Cochabamba Language Study School. She arrived in Peru on March 30, 1953 and did teaching in our St. Rose of Lima School there, to the edification of the pastor, her confreres and the people.
Sister returned to the Motherhouse June 9, 1955, ill. Her health continued to decline until she died on April 6, 1956.
Father Lawlor's letter, below, tells of Sister's beautiful influence on those with whom she came in contact.
Excerpt of letter from Fr. Lawlor, pastor of St.Rose of Lima parish, Lima,Peru, on the death of Sr. Ellen Theodore Bezy at Maryknoll:
"Today a pall has fallen over the parish for our "little saint" has definitely left us… We all recall the many incidents, the many sacrifices, the many wonderful things she did, but above all, her constant smile.
Mother, I never once saw her perturbed, never once did I hear her raise her voice. To me personally, Sr. Ellen Theodore was the re-embodiment of the Little Flower. Her sanctity pervaded everything she seemed to do: it was there in her classroom and one felt it as soon as he walked in… It was the same with grown ups. They are the ones who always called her "nuestra santita."
She loved the work and the Lima parish and we certainly all loved her. And somehow, I know now she'll be closer to us than ever. There's no longer the distance from here to the States, she'll be hovering right over us, continuing to pray for us and helping us now more than ever before by her heavenly assistance.
May God in His eternal goodness, recompense a thousandfold her good parents and the Maryknoll Sisters for the priceless jewel, whose presence and help we were privileged to have for so long. I pray that some day I merit to be with her again in our heavenly home."