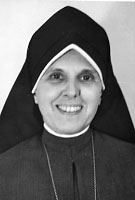 Sister Elvira Selgas, MM
Born: October 10, 1901
Entered: September 24, 1924
Died: February 4, 1977
Sister Mary Elvira Selgas died peacefully at 5:15 a.m. on February 4, 1977 at Bethany. Throughout her life she pursued the way Mother Mary Joseph often pointed out to us as having great value for our apostolate – sickness and suffering cheerfully borne – and how well and faithfully she did it!
Consuelo Josephine Selgas was born on October 10, 1901 in Brooklyn, New York. She attended elementary and high school there as well as special piano studies. When she realized that God was calling her to religious life, she first considered the contemplative life. She visited the Carmelite Monastery near her home and sought prayers for guidance. The Lord answered these prayers and directed her not to Carmel but to Maryknoll. She entered on September 24, 1924 and made her first profession on April 30, 1927. She was assigned immediately to the Philippines. Sister M. Theodore Farley, her first superior there, writes:
"After three wonderfully happy years at St. Mary's Hall, a hospice for young University students in Manila, Sister Elvira was suddenly taken ill, and in 1930 was re-assigned to the United States. This was a great natural disappointment to one then so young, vivacious, and enthusiastic.
"The work at the Hall with the students was interesting and enticing, and Sister gave it all the cooperation of which her generous heart was capable. Here, her talent for music, among a music-loving people, and her knowledge of Spanish were deeply appreciated gifts which she brought to her work there. The community at St. Mary's Hall numbered three. They called themselves 'The Clover' and were a happy trio. Today, the stress is on small communities. This was one of the first of such, in Maryknoll. Besides being a very active one, it was above all a house of prayer.
"Early in her religious life, God thus called our Sister Elvira to suffer for Him and with Him. Little did she know when she was asked to sacrifice her work in the Philippines the important work that still lay before her for God and souls. Thomas Merton says: 'Suffering is not the cause of holiness, but only its occasion. Love expressed in sacrifice, is what makes us saints.'
The next sixteen years found Sister Elvira at The Center. She studied for her college degree, taught Spanish at Maryknoll Teacher College and was in charge of the Stamp Department.
In 1946, she was assigned to Middle America – first to Siuna, Nicaragua, and then in 1949, to Merida, Yucatan, Mexico. In the mid-50's she guided the foundation of the Hijas de Maria Immaculada, a community of young women from Yucatan. On August 15, 1977 Sister rejoiced to receive the long awaited news that Archbishop Manuel Castro had authorized the community to be called a "pious union" in preparation for being accepted officially as a Secular Institute belonging to the Archdiocese of Yucatan.
In 1959, Sister Elvira again returned to the U.S. because of ill health which was to keep her on a semi-active schedule at Bethany throughout her remaining years.
Sister Elvira is survived by her brother and her sisters. The Mass of the Resurrection will be offered February 7th at 11:00 a.m. in the Chapel at The Center by Father Robert Sheridan, M.M., with many of Sister Elvira's relatives, friends, and Maryknoll Sisters present.
Sister had the gift of time to prepare for her death. She meditated often on Psalm 23 and in particular the final verse:
"Certainly Your goodness and love will be with me as long as I live; And Your house will be my home forever."
In November, 1975 she wrote her thoughts and wishes regarding her death and the letter concludes with the following paragraph:
"Lastly, I want to thank all of you for your many kindnesses to me – and as another kindness to pray for me. When I get to heaven, I shall sing my praises to the Lord and tell of His wonderful mercies to me. For you, my dear ones, I shall ask an increase of faith, hope and charity. May He bless you – and forgive for me any hurt I may have given to anyone. May He keep His living gaze on you and my beloved Maryknoll."
Let us pray for Sister Elvira as she asks with the celebration of the Eucharist and thank the Lord for the gift of her life shared with us.