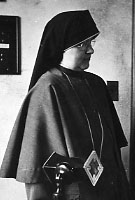 Sister Emmanuel Spader, MM
Born: May 30, 1895
Entered: April 21, 1924
Died: December 9, 1963
Our dear Sister Mary Emmanuel went home to God this morning shortly after 10 o'clock. Sister had been anointed a month ago, when she appeared to be growing weaker, and again yesterday on Our Lady's lovely Feast. It seems so fitting that our Emmanuel, whose name she chose to bear, should come for her in this Advent season.
Sister Mary Emmanuel, (Christine Magdalen Spader), was born in Kingston, New York on May 30, 1895, one of seven children. As a young woman, employed as a seamstress, Christine learned of the missionary work of Maryknoll and desired to give herself to this service for souls. She applied for admission and entered the following year on April 21, 1924. On December 8, 1926 she pronounced her first vows. Assigned to the Venard two years later, she served there until 1930, and again from 1934 to 1938.
The following years were spent at the Motherhouse or at Crichton, where Sister was charged with bonnet making, at which task she proved to be a devoted artist. When the Bethany Infirmary opened in 1957, Sister Emmanuel went there as a patient and remained until her death.
Sister Mary Emmanuel is the ninth member of our religious family to go to her eternal reward this year. She is mourned by her 92 year old mother and five of her sisters and brothers. The funeral will take place from the Bethany chapel on Wednesday.
As we offer with loving solicitude our suffrages for her dear soul, may Sister intercede for all of us who have yet to complete our course. May God welcome her soon, with special love, to the Maryknoll family in heaven!