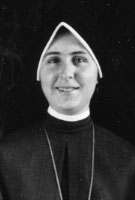 Sister Esther Marie Kelly, MM
Born: January 29, 1929
Entered: September 6, 1945
Died: January 23, 1999
Today, on Sister Esther Kelly's 71st birthday, we gather to celebrate and thank God for her life and fifty-four years of dedication and service as a Maryknoll Sister. Esther died suddenly and unexpectedly on January 23 at St. Mary's Convent. After being waked at St. Mary's School Hall, the Mass of Christian Burial was celebrated in Assumption Church, Kathmandu, on January 26 by Monsignor Anton Sharma, Apostolic Prefect for Nepal, Maryknoll Father Bob Lloyd and Jesuit Father Mathew Assarikudy who called to notify us of Esther's death. Over two hundred people attended Esther's funeral attesting to the esteem in which she was held both by the religious community in Kathmandu, her students and her many friends among the Nepali people including the shopkeepers. Esther was laid to rest at the foot of the beautiful Phulcoki Mountain that nestles the village of Godavari, where the Jesuit Cemetery is located on the grounds of their retreat house.
Esther Marie Kelly was born in Larksville, PA, one of seven children, to Charles and Mary Kelly. Shortly after graduation from Larksville High School, she entered Maryknoll and made her First Profession of Vows on March 7, 1948 and her Final Vows three years later. When asked why she chose to enter Maryknoll, Esther replied, "While I was in grammar school I had a keen interest in children of other cultures. When it came time to choose a Religious Community I was naturally attracted to a missionary group.
Esther obtained a B.S. Degree in Pharmacy from Fordham University in 1952 and the same year was assigned to work in the Maryknoll Hospital in Pusan, Korea. She was Head of the Pharmacy Department at a time when the Outpatient Clinic was serving 1,000 patients each day. She was also responsible for organizing the pharmaceutical needs of the hospital patients. Even with that heavy responsibility she wanted to be involved in the education of young professionals and cooperated with the Department of Pharmacology at the University of Pusan by establishing an internship at Maryknoll Hospital for pharmacy students.
After working for eighteen years as a pharmacist, Esther had become aware that the field of pharmacology was changing rapidly and that she would need more education. Thus, she returned to the States to study for her master's degree at St. John's University, Queens, NY. She then returned to Korea and for the next ten years worked as a pharmacist in rural areas of Korea and also in a Health Cooperative. Her work in the Health Cooperative involved visiting the sick in their homes and helping them get to the hospital if that was indicated. She spent much time with terminally ill patients.
Esther returned to the Center to serve as pharmacist in the Congregational Health Unit in 1984. After completing three years of service she was assigned to open a new mission in Nepal.
Sister Rosemary Huber, who gave the reflection at Esther's Funeral Mass in Nepal, wrote: "Esther loved Nepal, most especially the people here. As I reflect on the past year of living with Esther and our moments of shared prayers and reflections, I recalled the frequency with which she repeated her conviction: 'I've always felt God called me to Nepal, though I have never fully understood the why of the call. The visa and other problems have caused me so many difficulties. But I always felt that this is where I was meant to be'." Jesuit Father Bill Robbins summed up Sister Esther Marie's attitude toward mission in these words: "My reflections regarding Esther were on her steadfast service to many people. She came to Nepal hoping to teach pharmacy, but with a much deeper hope of helping people in whatever way God wanted. Her happiness brought happiness to others. She rose above difficulties."
Sister Anna Maria Hartman who with Esther was assigned to Nepal in 1988, remembers Esther as extremely conscientious in teaching English to young adults in the Institute. She was an excellent and much loved teacher who was often asked why she was so different from the other teachers there. She was a gentle person, a true witness to Gospel values and people were drawn to her. Many of her former students continued to keep in touch with her even after they graduated. Most recently she was teaching young men who were aspiring to join the Jesuits at the Jesuit Training Center in Kathmandu.
Esther was also instrumental in reviving the Conference of Religious in Nepal in the early 1990s. She saw the need to unite the various Congregations, the majority from India, in their endeavors to be in mission to the people of the Hindu Kingdom of Nepal.
Esther networked with groups working for justice and peace. Her former students – young women involved in promoting women's rights in Nepal – frequently sought her opinions on the articles they wrote for their bi-monthly journal. Most recently, she organized several days of visits and interviews with Justice and Peace groups in Nepal for the Coordinator of the Dominican Justice and Peace Promoters of India. Her eyes were constantly open and registered the injustices and poverty she saw around her; these scenes were embraced in her thoughts and prayers.
Many Sisters and Esther's own family have mentioned that it was a special blessing that Esther returned to the Center to participate in the November 1998 Congregational meeting, giving all an opportunity to visit with her. Thanksgiving was a particularly significant moment for her family as they gathered together with Esther in their midst. Now it is even clearer that this wonderful visit was a gift from the hands of a caring and loving God.
We thank our Maryknoll brother, Fr. Michael Duggan, for being with us today to celebrate this Liturgy of Christian Burial as together we praise and thank God for the gift of Esther's life among us.