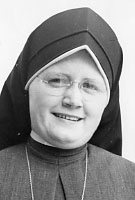 Sister Ethel Healy, MM
Born: April 11, 1921
Entered: December 7, 1939
Died: August 12, 2010
Our Sister Ethel Rita Healy died quietly in Maryknoll Residential Care IV shortly after midnight on August 12, 2010. She was eighty-nine years old and had been a Maryknoll Sister for seventy years. Typical of her selfless nature and eagerness to be of help to others, Sister Ethel donated her body to scientific research.
Born April 11, 1921, in Buffalo, New York, Ethel was the daughter of Anna Teresa (Casey) and John Anthony Healy. Both parents had emigrated from County Clare, Ireland. One sister, Sr. Anna May, also became a Maryknoll Sister and their brother Gerald, a Jesuit priest, served in the Philippines.
Ethel was educated in Buffalo Catholic schools, graduating from St. John the Evangelist grammar school and Mount Mercy Academy high school. Later in life Ethel took many workshops which enhanced her Maryknoll ministries. These included CCD training, development training for the Head Start program and a nurse's aid course.
Through mission programs during her school years and by reading mission magazines Ethel as a young girl felt a growing call to become a missionary Sister. Her spiritual director, Father Raymond J. Kennedy, SJ, of Canisius College, Buffalo, wrote that Ethel would make "a very splendid and very zealous" Maryknoll Sister. On December 7, 1939, she entered Maryknoll from St. John the Evangelist parish in Buffalo. On Reception she received the name Sr. Rose Gerald but she later returned to her baptismal name. Her First Profession of Vows was made at Maryknoll, New York, June 30, 1942, and her Final Vows were made in Honolulu, Hawaii, June 30, 1945.
From 1942 to1945, at the Waikiki and Punahou missions in Hawaii, Sister responded earnestly to various responsibilities and needs. She served as housekeeper, was in charge of the kitchen and taught CCD classes. On returning to Maryknoll she did clerical work for a year for the Field Afar magazine. Then she next spent six years at the Maryknoll Society's Venard seminary, Clark's Summit, Pennsylvania, as one of the Sisters of the domestic staff.
In 1954 Ethel went to the Stockton, California, mission and there taught catechetics in grades one through eight for fourteen years. From 1963 to 1966 she served the Stockton community as Assistant Superior. In 1968 she returned to Buffalo for a year of family ministry with her dying father.
After another two years in Stockton, where she ministered in social service home visiting, she was again called home to family ministry, this time with her elderly mother. When she returned to California in 1975 she worked in the Head Start program of San Diego until 1979.
From 1982 to 1988 Ethel served capably in the Center Health Unit. She said, "I took care of my mother and I know how hard it is to lose your independence and to have others take care of you." She loved to care for her Maryknoll Sisters. "I feel the need is great," she said, "since so many of us are at that point in our lives where help and support of each other is important." When she completed this assignment Sister Suzanne Moore, Congregational Services Coordinator at the time, wrote her: "We will miss you. Know that you have made a difference, that people are happier and better served because of your efforts." Wherever she was and whatever Sr. Ethel's ministry, any Sister who served with her remembers her as quietly faithful, always devoted, and ever pleasant. She had a ready laugh and a quick sense of humor. A down-to-earth and unassuming person, Sr. Ethel could always be depended on. A virtue, indeed.
In 1988 Sister Ethel was assigned to the Eastern United States Region. For three years she lived and served in Jacksonville, Florida, as part of a team of semi-retired Sisters. Her ministry included visiting the parish sick and the elderly to whom she was especially devoted and helping with the Head Start program.
Sister Ethel had a special love for the Center. When she returned to the Center from Jacksonville, Florida, in 1992, she wrote: "There is so much to offer here, I feel like I am coming home. Hopefully, I will be able to help out where needed." As a semi-retired Sister she worked daily in the mail room, usually until the day's mail was distributed. This work often made for some very busy days. In 2008 Sister's energy had so diminished that she took full retirement. She was an avid sports fan. Her family had given her a state-of-the-art television on which she loved being able to keep up with her favorite baseball team, the Mets, and her hometown football team, the Buffalo Bills.
In midsummer 2010 Ethel was diagnosed with a serious illness. Sister understood well the nature and consequences of her condition and opted only for relief from pain. The disease progressed swiftly and on July 9, 2010 she was admitted to Residential Care IV. During her short illness there she was cheerful and animated, often despite much discomfort. Again her unassuming nature showed itself as she thanked and praised the staff and the hospice nurse. When one of the Sisters asked if she could do something for her, Ethel replied, "God is doing it."
As we make our farewells to Sister Ethel we echo the words of her spiritual director's long-ago promise. Ethel Rita Healy certainly proved herself "a very splendid and very zealous" Maryknoll Sister.
We welcome our Maryknoll brother, Father James McAuley, who will preside at this Memorial Liturgy.