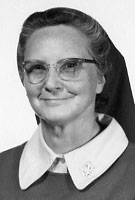 Sister Eugenia Marie Jautz, MM
Born: November 20, 1915
Entered: July 2, 1936
Died: September 8, 2011
"I depend on our Blessed Mother for everything."
-Sister Eugenia Marie Jautz
In the light of Sister Eugenia's words, how fitting that she entered into the fullness of life on our Blessed Mother's birthday, September 8, 2011.  Eugenia went Home to God peacefully and gently in Maryknoll Residential Care at the Maryknoll Sisters Center in Ossining, NY.   Her famous laugh and unfailing cheerfulness so impressed the staff that they bestowed upon her the title: "The Happy Sister."  Unwittingly, the staff had captured the essence of Eugenia's life in mission: she was always the "Happy Sister" bringing happiness to others.
Sister Eugenia Marie Jautz was born on November 20, 1915 in Milwaukee, WI, the daughter of Melanie (Steckel) and Joseph Jautz.  Her parents, both brothers and her sister have predeceased her.
Sister Eugenia attended St. Michael's grade school and Holy Angels Academy (now Divine Savior/Holy Angels), and was graduated in 1934.  Writing of her missionary vocation, Eugenia noted: "It was during my years in school that the idea of being a Religious Missionary was growing.  In grade school I was inspired by the Divine Word Society publication from Techny, Illinois called The Little Missionary.  In high school Fr. Robert Sheridan, MM, gave a talk in our school."  Father Sheridan then continued to tend the flame of Eugenia's vocation, keeping in touch with her by letters of encouragement and support.
Following her graduation from the Academy, Eugenia worked for a while in the office of a candy company all the while nurturing her missionary call.  She entered the Maryknoll Sisters on July 2, 1936.  At Reception, she retained her baptismal name 'Eugenia.'  Mother Mary Joseph, knowing nothing of the story behind Eugenia's name, but surely guided by the Holy Spirit, said to Eugenia:  "It is an unusual name.  Your mother must have had a reason for choosing it."  Eugenia was named for her mother's beloved younger sister who had died in her early teens.  And so, thanks to Mother Mary Joseph, Eugenia became Sister Eugenia Marie.  She made her First Profession of Vows on January 6, 1939 at Maryknoll, NY, and her Final Profession January 6, 1942 in Hawaii.
Sister Eugenia received her teaching degree from Maryknoll Teachers College in 1941; she was then assigned to the Philippines.  However, due to the threat of impending war in the Pacific, she was not granted a visa and re-assigned temporarily to Hawaii.  This was a temporary assignment that lasted twenty-five years!  Eugenia arrived in Hawaii on her 26th birthday.  Two weeks later, Pearl Harbor was bombed.  Eugenia writes:  "My mission career began with entertaining servicemen and finger printing children as schools were closed temporarily.  Eventually schools were reopened and we carried on as best we could."
Sister Eugenia taught the primary grades where her loving heart and teaching skills launched her young students on a smooth sail of the sometimes turbulent seas of learning.  Her greatest joy was preparing the children for their First Holy Communion.  Eugenia was also put in charge of the Regional beach house.  Her warm hospitality made it a welcoming house of relaxation and fun for the Sisters.
In 1967, Eugenia was assigned as Assistant Superior of Bethany near Maryknoll, NY.  At the time it was the Maryknoll Sisters Nursing Home.  Her cheerful disposition, kindly humor and loving heart brought joy and new life to both Sisters and staff.  Eugenia returned to her teaching apostolate in Hawaii in 1969.  This was followed by her assignment in 1972 to St. Therese School in Chicago Chinatown where she taught the fourth grade.  Eugenia had requested the change because of her aging mother's frail health.  At the end of each exhausting week of teaching lively children, Eugenia faithfully rode the train from Chicago to the nursing home in Milwaukee, WI where her mother resided.   Eugenia was deeply grateful to Maryknoll for making it possible to bring comfort and joy to her mother in her last years.
In 1983, Sister Eugenia returned to Maryknoll, NY, to give service in Data Processing.  During this time, she was also a dedicated volunteer in Maryknoll Sisters Residential Care.  She spent countless hours visiting Sisters, reading to them, calling the Bingo games, and sharing with them the latest news around the compound – always with her joy-giving laugh and cheerfulness.  An exemplar of Community Spirit at its best.
Eugenia's return to mission St. Therese School in Chicago Chinatown in 1986 was a joyful home-coming.  Her former students and many friends welcomed her with open arms.  Her many talents found full scope in the Religious Education program in parish and school.  She directed the children in singing at Mass, prepared them for the Sacraments, sparked joy and laughter at parish celebrations, gave an example of selfless service to the seminarians from Catholic Theological Union who did their ministry practicum in the school and parish – and put her cooking skills to good use in preparing their weekly gourmet lunches.  Upon hearing of the death of Eugenia, a parishioner wrote, "I am so saddened by the news about Sister Eugenia, our beloved teacher and librarian.  She will be missed by her students and friends whose lives she affected with much love and kindness".
In 1992, Sister Eugenia returned to Maryknoll, NY, where, in her own words: "[I] found my joy in volunteering where needed."  She lived the words of Jesus: "I am in the midst of you as one who serves."  When the time came for Eugenia to be on the receiving end of service during her last illness, she accepted it graciously.  She received her new assignment to the Center's Eden Community on January 1, 2001, and took as her special mission to pray for Maryknoll's work in Brazil.  Until the day she died, Eugenia never failed to express her gratitude to the staff for their loving care.  She was a loyal friend, a life-giving companion. Sister Eugenia will live on in our hearts as the "Happy Sister" who brightened our lives in so many ways.
We offer condolences to Sister Eugenia's family.  We welcome and thank, Rev. Leo Kennedy, MM, who will preside at our Liturgy of Christian Burial.