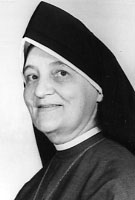 Sister Faith Hughes, MM
Born: September 5, 1906
Entered: April 4, 1927
Died: July 21, 1991
Sunday morning, July 21st, Sister Faith Hughes became suddenly ill at 7:00 A.M. She received the Sacrament of the Sick shortly after eight o'clock and died at 11:05 A.M.
At the specific request of Sister Faith, made in 1978, there will be no eulogy, obituary, introductory talk nor Letter of Appreciation read or written. According to her wish we will have a simple Mass of the Resurrection this morning. We want to respect Sister Faith's wishes, but do view the request as unusual. Faith was a member of Maryknoll for 64 years; we share with you the following summary of her life.
Anna Agnes Hughes was born on September 3, 1906 in Glenamaddy, Co. Galway, Ireland, as far as can be deciphered from the records. She became a naturalized citizen of the U.S. on November 21, 1944. Her mother, Margaret Murray Hughes and father, Michael Hughes, had five daughters. Anna Agnes graduated after 12 years of education in the National School in Ireland. She worked for two years as a dress designer in Ireland and in Boston for two years as a waitress in a private home.
Sister Faith knew of Maryknoll through the "Field Afar" and entered at the Venard on April 30, 1927 from St. Gregory's Parish in the Boston Diocese. First and Final Profession of Vows were October 28, 1929 and 1933, respectively. Faith's work at Maryknoll rotated between the kitchen of the Sisters' and the Seminary at Maryknoll and Los Altos, and sewing at Bethany, the Venard, and our Center. She was an accomplished seamstress. Faith was admitted to the Maryknoll nursing home in September, 1987 and remained there until she died.
When Sister Faith entered Maryknoll she said she wanted to come because: "It is the place where I can do most for God." We all know that Faith's return to God is where she can also now do the most for us. We commend her to your prayers. We thank Father Norbert Rans, M.M. for celebrating the Mass of the Resurrection with us today.