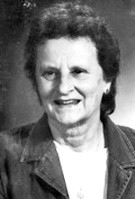 Sister Frances Calcaterra, MM
Born: March 20, 1931
Entered: February 1, 1951
Died: April 13, 2020
"This is the day that the Lord has made; let us be glad and rejoice in it."  The Easter song called to Fran and she lovingly responded. Sister Frances Calcaterra went home to God on April 13, 2020 at the Mary Manning Walsh Home in New York City. She was 89 years old and a Maryknoll Sister for 69 years.
Frances (Fran) Kathryn Calcaterra and her twin sister, Delores, were born on March 20, 1931 to Angelo and Catherine (Locke) Calcaterra in Highland Park, MI. She attended Santa Maria Grammar School and graduated as a member of the Honor Society from Blessed Sacrament High School, Detroit, MI in June 1949. Fran began her studies at Marygrove College but left after one year and entered the Maryknoll Congregation in Valley Park on February 1, 1951. Her First Profession was on September 8, 1953 at Valley Park after which her group moved to Maryknoll, NY. Sister Fran was assigned to work in the multigraph department where she was quick to learn the work and to her surprise found that she liked it very much. Her enthusiasm for the work that she was given was a gift that graced her whole Maryknoll life.
Sister Fran earned a Bachelor of Education Degree at Maryknoll Teachers College in 1957. She did her practice teaching at Corpus Christi School during her final semester at Maryknoll Teachers College. Her evaluation spoke to her maturity, her classroom management skills and her love for the students, a love which was reciprocated in full. At graduation, she was asked if she would like to be assigned as a teacher—her response "Yes, I love it!" She was then assigned to Transfiguration School in Chinatown NYC, and she stayed there for nine years. Later, in 1966, she wrote to Mother May Colman: "I want to thank you for my first assignment here in Chinatown. These have been among the happiest and most fruitful years in my life". Those who lived with her there, and in many other Maryknoll houses, reflected on Sister Fran as a person who was wonderful in community—ready to share the fun and the work. And she loved all kinds of sports, getting both the Sisters and the school children involved!
In 1966, Sister Fran was assigned to Hawaii, and she taught junior high school at St. Ann's in Kaneohe. In 1970, she moved to Maryknoll High School where she worked part-time in the guidance office as she studied for her Master's Degree in Education at the University of Hawaii, specializing in psychology and counseling. She loved this work, loving and being loved by the students and their parents alike.
In 1978, Sister Fran and Sister Peggy Dawson started a new presence among the Hawaiian and Samoan population in Waimanalo, Oahu. Sister Fran worked in the guidance unit of the local high school, and Sister Peggy worked first as a substitute teacher. She then started an adult education center to assist the low-income students to complete their educations. This community modeled a change from the institutional mode of mission in Hawaii, a precursor of the future there.
In 1980, Sister Fran's mother became ill, and Sister left Hawaii to take care of her until her death in 1982. Sister's father then also became ill, and Sister cared for him through his illness with the support of her twin sister, Delores, and her sister's family. Sister Fran remained a member of the Central Pacific Region during her family ministry. During this time, she worked part-time in the guidance department of Marian High School in Birmingham, MI where she made many good friends and joined several social justice groups in which she was very active.
In 1990, after her father's death, Sister Fran took time to discern her next step in ministry before finally making the decision to leave the Central Pacific Region and apply to the Eastern US Region in 1993. In the same year, she began her ministry in the guidance and public relations offices at Our Lady of the Lakes High School in Waterford, MI. As was so often the case with Sister Fran, the faculty, students and administration of the school loved her and kept asking her to renew her contract there—for the next several years until 2016.
Sister Fran returned to the Maryknoll Sister's Center in May 2016. There she retired and was assigned to the Eden Community where she lived out the rest of her years and died under the care of our loving staff in the Maryknoll Sisters Residential Home Care.