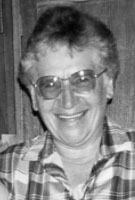 Sister Frances Kersjes, MM
Born: January 27, 1929
Entered: February 1, 1951
Died: August 17, 2011
In the early morning of August 17, 2011, Sister Frances Kersjes went home to God very peacefully in the Maryknoll Residential Care.
Sister Frances Eleanor Kersjes was born January 27, 1929 in Grand Rapids, Michigan, daughter of Anna (Baar) and Leo Kersjes, the fifth of eight siblings. Her parents, two Sisters and a brother have predeceased her. Fran graduated from Catholic Central High School in 1947. On February 1, 1951 she entered the Maryknoll Sisters Novitiate in Valley Park, Missouri, from St. Alphonsus Parish in Grand Rapids. Fran made her first Profession of Vows at Valley Park on September 8, 1953, receiving the religious name of Sr. Leo Ann. She made her Final Profession at Maryknoll, NY, on September 8, 1959.
After graduating from Maryknoll Teachers College in 1959, she was assigned to the Bolivia/Peru Region. Until 1974, following language school in Cochabamba, Bolivia, Fran engaged in multiple ministries: primary school teacher, assistant social worker, catechist and parish secretary in Riberalta, Guayaramerin, and later in La Paz and Cochabamba. From 1968 to 1969, she pursued a course in catechetics receiving a diploma from the Divine Word International Center of Religious Education in London, Ontario, Canada. Returning to the Region she resumed her ministries until 1974, when she responded generously to a call for Congregational Service at Maryknoll, NY. On returning to Bolivia in 1976, Fran spent several months in La Paz, the functional capital of Bolivia, working in the Maryknoll Parish of San Pedro. In 1977 she returned to Cochabamba in order to do catechetical work in the parish of Santa Ana de Cala Cala.
While serving as the Administrator of the Bolivian Sisters Regional House in Cochabamba from 1979 – 1981, Sister Fran became interested in the National School for the Blind in that city. In the depths of her heart Fran, following her favorite saint, Francis of Assisi, always asked, "Who among my neighbors is most in need of love at this moment?" It was at this time that her great love for the blind especially children and youth began. Her awareness of the exclusion of the blind from many of life's possibilities moved her to prepare herself to minister effectively to this needy sector of society. In their evaluation of a course she took at the Perkins Institute of the Blind in Watertown, Massachusetts, the staff remarked that they were very impressed with "her eagerness to learn, her endless energy and her dedication to serve the people of Bolivia".
Although she was able to work within some of the established programs at the National School for the Blind, Fran was convinced that there was so much more that could be done. Her friendship with an elderly blind Jesuit priest, Fr. Ignacio Zalles, gave rise to her creativity in which she surfaced volunteers who would give time to helping blind children attend both grade and high school by spending hours assisting them with their school assignments. Eventually she managed to acquire Braille equipment which opened a whole new area of ministry not only for her but for the volunteers as well. Before long, Fran began to set up a Braille library. Sisters and friends responded to her request for old magazines and books to be recycled and converted into Braille. She solicited help not only from family and friends in the States, but also from the local people, including local authorities even to the level of the President of the country and his wife. Fran was awarded a certificate of recognition from the Cochabamba Association of the Handicapped (A.CO.A.I.) in gratitude for her efforts in favor of the visually challenged of Cochabamba. In a letter to family and friends, Fran expressed a dream with the words; "We all know of the wonders of teaching, SEEING and appreciating the differences of personal holiness and holistic growth. This truly happens as our Christ-like life is shared".
Fran's creativity was not limited to just formal education. She realized that the blind needed to become independent, to find ways to earn a living so that they would not be confined to begging on the streets and/or selling lottery tickets. Before long the blind were in the process of acquiring trades which included knitting sweaters, shawls, baby clothes, macrame plant hangings, etc. Sister Fran's energy was rewarded when one of the local T.V. channels promoted a telethon for the benefit of the newly created Center for the Blind. The theme chosen was "a little bit of heaven" featuring Ivonne, a beautiful three-year old blind child, who became the symbol to the entire city of Cochabamba of the work being done for those most in need of love and service. Fran is known as the co-founder of the Center for the Blind.
In 2002, Fran began a new phase of her life, returning to the Center to be part of the Mission Awareness Program (Promotion) which can be characterized as "Making God's love VISIBLE". With different companions she went for three-month's summer journeys to the Midwest where she spoke in numerous parishes, schools, to family groups etc. Previously she spent long hours contacting dioceses to set up dates, arrange for hospitality, mapping out directions and driving hundreds of miles in known and unknown areas. She gave her all as she always thought of her mission as one of spreading love in whatever way she could.
In June 2011, Fran chose to participate in the Mission Institute entitled, The Vulnerable Heart. Discovering the God Who Waits. In answer to the question posed to the group: "Do you feel the Presence of God", she answered forcefully: "I Do!" In the usual simplicity night closing of the Mission Institute, Fran offered her inimitable portrayal of Barbra Streisand singing "Second Hand Rose"— she was never really second hand as she had the gift of reaching "PEOPLE"— her favorite song.
Less than a month later when Fran learned of her illness, her serenity was impressive as she responded to the diagnosis with our community motto: "Be it done unto me according to your will" — Ecce Ancilla Domini. Reviewing jottings on pieces of paper, Sister Fran wished to express her love and gratitude to the Nursing Staff with these words: "They are all SAINTS — such perfect caring".
We are grateful to Fran's family who graciously made many efforts on separate weekends driving endless hours to be with her at this time, sharing their loving support. During their stay they made contacts with other family members and friends who were not able to be here.
We welcome Fr. Larry Lewis, MM, a long time friend, who will preside at our Liturgy of Christian Burial.