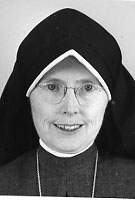 Sister Francis Mary Goode, MM
Born: April 22, 1906
Entered: October 15, 1927
Died: June 2, 1961
On the eve of Corpus Christi, when it seemed that Sister Francis Mary would not live through the night, she calmly smiled, in loving anticipation as we reassured her that the veil between God and herself would soon be lifted, and she would see Him face to face! As if she wanted all of her Sisters to share her joy of that meeting she gave a beckoning smile, and a welcoming gesture of her hand to one Sister after another, who appeared at her doorway, to lend support and comfort in these last hours. A good religious, Sister was obedient until the end, even departing this life this morning at the words of the priest at Mass, "Go – the Mass is ended." She could go – her holocaust united with Christ's sacrifice, had been completed.
Although Sister has never been robust, she has always carried on her work calmly, uncomplainingly, and with a smile – never counting the cost. The Sisters who were privileged to be with her during her last days, have nothing but praise. They say she "says very little, does not ask any questions and seems perfectly cheerful." She was simply good; living up to her name of "Goode."
Sister Francis Mary (Mary Goode), was born in County Roscommon, Ireland, on April 22, 1906. She received her education in Ireland, before coming to the United States in 1923.
As a novice, Sister was assigned to Bethany, which at that time was a rest house, where she remained after Profession, until 1937, when she was sent to our convent in Los Altos, where she was appointed Assistant Superior. Sister remained on the West Coast until 1949, having been stationed also in Monrovia and Stockton. In 1949 Sister returned East and was sent to the Venard, where she remained until her assignment to Bethany in 1954. From 1956 until the present, Sister was in and out of the hospital on several occasions and from this time she never seemed to regain her former strength. In July 1960 there was a decided decline in Sister's health and it continued over time. Sister has been in the Bethany infirmary since November 1960 – she was able to go to Chapel – on the infirmary floor.
Sister Francis Mary's Requiem Mass will be sung in Bethany Chapel on Monday morning at 11 o'clock. She will then be laid to rest in our lovely cemetery.