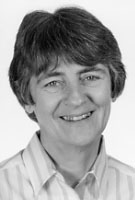 Sister Francisca Callert, MM
Born: May 7, 1926
Entered: September 6, 1944
Died: March 12, 1996
Asked for a favorite quotation for her memorial card, Sister Francisca Callert replied with her usual clarity and brevity: "Jeremiah 31:3," which can translate: "With unchanging love I love you, and now in mercy I have drawn you to myself," and so it is. Fran died on March 12 at 7:40 p.m. in Santa Ana Convent, Cochabamba, surrounded by her sisters Mary Ann and Gloria, and Maryknoll Sisters Mary Aulson, Chris McKeegan and Laura Hatton. Previously, she was anointed by Maryknoll Father Thomas McBride. As Sisters sang the "Salve Regina", Fran responded, and a few hours later was drawn to her God of mercy.
Sister Francisca Callert was born Betty Jean Callert on May 7, 1926 in Detroit, Michigan, the daughter of Francis and Hilda Sullivan Callert, and lived there with family members, a brother, Jerome, and sisters Mary Ann and Gloria. The Callert family were members of the St. Mary's of Redford parish, Detroit, and previous to her entrance into Maryknoll, Betty Jean attended the St. Mary's of Redford Grammar and High School, under the direction of the IHM Sisters of Monroe, Michigan.
She entered Maryknoll on September 6, 1944, and at her Reception in 1945 received the name "Sister Francis Jerome," which was later shortened to the Spanish "Francisca." Following First Profession on March 7, 1947, she was assigned to Bolivia. After language school she worked as a teacher in Riberalta, Beni, then Cochabamba, and again Riberalta, where she made Final Profession in 1950. She continued there as a social worker having been asked to organize a center, "Pio Decimo," for caring for the needy.
Following a course she took in Community Development in 1968 in Michoacan, Mexico, she was assigned to Santa Cruz, where she was commissioned to undertake a study of the diocese. She was then able to revolutionize the diocesan catechetical program, with approbation of Auxiliary Bishop Charles Brown, M.M., using the minor seminary as a center, and involving a group of young volunteer teachers. She acted as secretary to ecumenical groups engaged in rural development and internal colonization, and from 1969-1972 served on the Regional Governing Board. In 1983 she returned to Maryknoll for Congregational Service and was assigned to Promotion/Mission Education on the West Coast. As a partner to Sister Maria Serraon she was deeply affected by Maria's sudden death while speaking in Church.
In 1987 she returned to Santa Cruz and was again engaged in a catechetical-pastoral team in the community of LaGuardia with priests of the Society of St. James. She continued this ministry until her death.
Fran's illness began before July, 1991. In October 1992 she returned to Riberalta in time to celebrate the 50th anniversary of the Vicariate. She received more treatment in 1993 in New York, but returned to Bolivia in time to celebrate her Golden Jubilee at the Regional Assembly in 1994. She continued her ministry in the parish of LaGuardia and trained Aurelio Ibanez in her methodology, inserting him into the supervisory role.
She was able to attend the first days of the Sisters' Regional Assembly in Cochabamba in February 1996, but was clearly unwell, as she wrote to Dr. Patricia McCormack, her devoted and trusted physician in New York. During her last days all the Sisters in Bolivia were able to share with her at and after the Assembly. Her sisters Mary Ann and Gloria flew to Bolivia in time to have four days with her. She spent several days in the Belga Clinic, but wished to return to the Santa Ana Convent where our matriarch, Sister Elizabeth Ann Altman, the other Sisters, and Carmen, the cook, were attentive to her every need until her death.
Following Fran's death, according to her request, her body was flown to Santa Cruz for burial in LaGuardia. The plane carrying her body and a number of Sisters was detoured to LaPaz (was Fran organizing her last tour of her beloved Bolivia?). The detour resulted in several hours delay, leaving Archbishop, catechists and parishioners waiting patiently for her to arrive for her wake in the Church. St. James Father Brad Killingsworth, her last pastor, and Bill Baker, pastor of the next town, also waited and followed the meticulous details spelled out in her last letter of July 18, which she had Mary Aulson and Babs Barr sign. People of LaGuardia and Sisters from LaPaz and Cochabamba kept an all night vigil, the pastor Sinsinawa Dominican Sisters, and Father Bernard Garrity, M.M. graciously arranging hospitality for our visiting Sisters.
On March 14, numerous priests: St. James, Maryknoll, Dominican and Diocesan, joined Maryknoll and other Sisters of the Dominican family, Adorotrices, Cruzadas, Daughters of Charity, and numbers of her catechists and students, as well as a touchingly large group of the simple people she had listened to and assisted along her way. Bishop Charles Brown, M.M. was principal celebrant of the morning liturgy, as all went according to her last request, including the music and her desire to be buried in the earth (rather than a cement niche) in LaGuardia, the grave surrounded by a white picket fence. The burial plot was donated by the Mayor of LaGuardia and flowers that had filled the sanctuary were heaped on the grave, where she asks that there be placed a wooden cross that "marks the spot with my name on it; Hermana Francisca Callert."
What does one say of Fran? She was a dedicated daughter of the Church, a straightforward thinker and doer, committed to Maryknoll, to mission, to Bolivia, friend of youth and of the poor. People's response at her wake and funeral surely demonstrated that the love is mutual, and she is alive not only in the Kingdom of her Merciful God, but in the hearts of all those to whom she showed mercy on earth. As we mourn her passing, we rejoice in her peace.