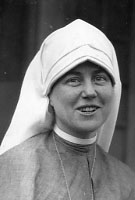 Sister Frederica Hall, MM
Born: February 29, 1892
Entered: October 15, 1928
Died: May 23, 1975
On Friday, May 23rd, we received word from Monrovia, that Sister Frederica Hall had passed away quietly, at 3:42 p.m., surrounded by the Sisters whom she loved.
We first received word of Sister Frederica's illness in March of this year. She, who was always a bundle of energy, was apparently becoming listless and tired; and after falling ill, was taken to the hospital. When diagnosed with her illness, she joyfully told them she had no desire to prolong her life or to have extraordinary means taken – she was ready to go to God. As gaily and generously as she had embraced life, she also welcomed death. Although physically she was weakened by her illness, her spirit was undaunted until the last two days of her life.
Sister Frederica Hall (Margaret Helen Hall) was born on February 29th, 1892 in Salt Lake City, Utah. She was educated in California and before entering Maryknoll in October, 1928, she worked as a School Nurse in San Francisco. During her early novitiate days she became particularly close to Father Founder, James Anthony Walsh, who referred to her fondly as "little bo-peep". Following her profession as a Maryknoll Sister, in 1931, Sister was assigned to St. Paul's Hospital in the Philippines. Her dedicated service and boundless energy overflowed into evening recreations, where her talent as an actress soon became evident. With Holy Days and Holidays, she would entertain the rest of the Community – especially with her renditions of "nuestra fundadora" St. Teresa. These performances became almost legendary and wherever she went, for as long as she lived, she was found doing "command" performances, much to the delight of the entire Community.
Sister was interned in the Philippines from 1942 to 1945 at which time she was repatriated to the United States. The next 25 years of her life were spent in the California missions doing both medical and pastoral work, bringing in her own inimitable way, the message of Christian joy and hope to all with whom she came in contact. She "retired" to Monrovia in 1971; but kept active in her service to others – just last year she volunteered to care for an elderly neighbor who had "no one".
Sister's life with us is, perhaps, best summed up in a letter of recommendation written for her, to Mother Mary Joseph, by a Jesuit uncle, in 1928: "She is a veritable treasure, innocent, capable, a veritable sunbeam. Take good care of her and she will do wonders for God, the Church, and her Community."
Anyone, who has ever lived with Sister Frederica, knows that these were prophetic words, indeed, for which we can only thank God, as we offer the Mass of the Resurrection for her life of tireless, joyful service, ever nurtured by profoundly childlike and constant prayer.
The funeral will take place on Tuesday, May 27th, when Sister will be buried in Holy Cross Cemetery, Los Angeles.