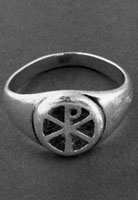 Sister Gabrielle Marie Noone, MM
Born: April 28, 1905
Entered: April 5, 1927
Died: April 21, 1929
Sermon given at the funeral of Sr. Gabrielle Marie Noone by Fr. Superior:
"How beautiful is the chaste generation with glory, for the memory
thereof is immortal because it is known with God and with man. " (Wisdom)
Dear Fathers, Sisters, friends and relatives of our beloved dead:
We like to see the blossoms of springtime; but we do not like to see them wither and fall and the more beautiful the flower, the more we love it and the greater is our desire that its fragrance should remain.
But all flowers are from God. He it was Who created all things, the lilies, the flowers of the field. He sustains them, gives them air, sunshine, moisture and clothes them with beauty. Then in His own good time when He wills, they wither and wilt, fall to the ground, and into the ground from which they came.
So it is with our bodies; but with this great difference: that the day we go into the dust, that day when we are laid in some simple lowly grave, we anticipate the sound of the trumpet. Those eyes that have seen on earth will look into the eyes of God, and in the meantime the judgment will have taken place and the soul will have been assigned to its place forever.
Today we lose a choice flower from this garden of God, a tender flower, a young life. A short life was hers, and yet short it was only in the eyes of the world. For in the eyes of God, according to the Book of Wisdom, the length of life is not measured by the years of man but "an immaculate life is old age." God sees the fulfillment of life in the purity with which that life was lived. What the life of this young Sister was before she came to Maryknoll, her kith and kin know better than we do; but we judge from the fruits and in such judgment we know what that life must have been. The fruits manifested here were the fruits that marked the lives of holy people: love of God and patience.
She had hardly received the habit when she was obliged to take to her room. It was a great disappointment to her naturally, as it would be to anyone who had offered her life for the service of God and found herself, humanly speaking, within a very short time unfitted for the tasks which she thought would be hers. She smiled sweetly at the will of God, accepted graciously the service of her Sisters, and set herself to the task of regaining her health.
The days ran into weeks, the weeks into months, and the generous purpose which she had expressed when she took the habit of religion continued with her. There was no drawing back from that generous gift, not one particle. She accepted with perfect resignation that long, tedious illness, patiently waiting for such time as God would give her the strength to fulfill the duties of her state of life.
Then, two weeks ago, the road turned directly towards the goal for which we are all striving; but there was no keen disappointment. In her heart of hearts, she was ready and willing to accept the final sacrifice and go to meet her God. This life, short as it seemed to us, may be looked upon as a loss; yet it is not a loss. Certainly, it was not a loss for herself. She had finished her course; she has won her crown, that crown which has been laid up for the virgins of Christ. It is no loss for her. A loss for those who know her, her kith and kin, her sisters in religion? Yes, of course, because the separation is painful and loss by death means separation for a time. A loss to her community? No more so than was her illness useless, and her illness was not useless. Some of us live on without being confined to bed or brought to a hospital. We run on for years in active life, and people, it is true, who look upon our work with sympathy, applaud what we are doing. But in God's sight, there is no guarantee that our active life, even that devoted to the service of God, is better than the short life well led, patient suffering, love of God, expressed by a spirit of sacrifice such as we found in the life of this young Sister. After all, we know not what price such a life has. Activity is so often accompanied by imperfections.
Again, God is generous. His arm is never shortened and He can make up for all deficiencies, for our lack of health and strength. He can turn to the advantage of the Church and to His own advantage and the glory of God what seems to us to be weak and incompetent. So, we do not look upon her life as a wasted one, nor do we look upon her departure now as a loss, rather as a gain, because she will have the power of intercession and it will bring blessings on those who loved her, on those who served her.
As we close the book of this short life, I am more disposed to congratulate than to lament. She goes to her Eternal Spouse, to be received by Him, to be embraced by His dear Mother. He had called upon the Blessed Virgin so often. "Lead me on," she cried, "to the odor and fragrance of thy ointments! Lead me on!" Our Blessed Mother has led her on, drawn her to herself, and now in turn she leaves behind her the fragrant odor of a sweet, pure life that will always be remembered by those who knew and loved her on this earth. We picture her as one who was more than ordinary in her holiness of life. I have done this without exaggeration on the testimony of those who have nursed her during this long illness. There is not the recollection of a single sigh of discontent or complaint, certainly a proof of great patience, of great virtue, of great love of God. I congratulate this Community on having produced such a flower, on having such a soul to intercede for them before the throne of God.
Yet, we must not fail to pray for her because in God's sight no soul from this earth is perfectly justified. We will remember her in our prayers, and we will look to her that through her intercession we ourselves may grow be more like her in love of God, in patience under trial, in solicitude for those around her. We feel certain as we place her precious body to rest that her soul will intercede with God for you, her Sisters, for you, members of her family and her parents, and for all Maryknollers wherever they may be.
Eternal rest grant unto her pure soul, and let perpetual light shine upon her!