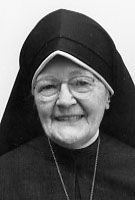 Sister Gemma Shea, MM
Born: December 3, 1894
Entered: September 9, 1912
Died: January 8, 1993
We are gathered here today to celebrate a very Holy and Historic moment, Sister Mary Gemma's final journey home to her loving God. In the last hours of her life, Sister Gemma seemed to know and feel the presence of God beckoning her to her heavenly home. Union with God was always her greatest desire, and now on January 8, 1993 at 10 p.m. this desire was to be fulfilled. Quietly, with her sisters around her praying and singing, Sister Gemma gave up her spirit to God. Her heart became silent, her breathing quieted and she slipped away to eternity.
Sister had lived a very full and holy life, having just completed her 98th year. Being one of the last of the founding group since Mother Mary Joseph's death in 1955 she has graciously shared with all her sisters the meaning and significance of those early years at Maryknoll.
She had a wonderful memory and had many a story to share with all of us. Born on December 3, 1894 to James Joseph Shea and Mary J. Baker in Roxbury,  Massachusetts, Margaret was one of their two children, the other child being her brother James. She attended Longfellow Grammar School and West Roxbury High School. After that she worked as a dressmaker, in a shoe factory and caring for children. Margaret had been searching for a religious community, but was not attracted to any that she found, but knew in her heart she wanted to be a Religious. To grow in union with God was her very strong desire, born at this time and lived throughout her life. Then when she was 17 years old, she met Mary Josephine Rogers through Fr. James Anthony Walsh and after a few meetings she decided to join Mary Josephine in traveling to Hawthorne, N.Y. So on September 9. 1912 they took the train together to Hawthorne.
The first years were new and exciting and full of hard work for all the group. During this time she received her religious name, Sister Mary Gemma. On one occasion after describing her earlier life and arrival at Hawthorne, she spoke of her love for Maryknoll with these words; "Then was Maryknoll – and now is Maryknoll – and forever Maryknoll in heaven, I hope. Amen".
Sister Gemma's first assignment came in 1920 to Seattle to work and live with the Japanese community. In 1921 through a special dispensation she pronounced her First Vows followed by her Final Vows in September 1924. In addition to visiting families and responding to their needs, Sister Gemma began a kindergarten for the children. She was then assigned to the Venard and Korea, returning to Seattle in 1927.
Her next assignment was to Manchuria in 1929 to be again with the Japanese community. Through home visiting and conversations with the people she was able to share her faith. Only in later years after the War, and as these same people returned to Japan, was she to see the fruit of her loving labors through their conversion to the Catholic faith. She herself moved to Japan in 1938 to begin the training of Japanese women for a missionary congregation. This endeavor was interrupted by the war in 1941 when Sister Gemma was interned with 140 Religious women, both Catholic and Protestant, in the Sacred Heart Sisters school. It was here that she received the greater part of her collegiate education, studying Philosophy, Mathematics and History as most of the internees were teachers. It was a time of suffering and inadequate food and Sister's eyesight was impaired from that time. Just before she was repatriated on the Gripsholm, Sister wrote to Mother Mary Joseph these words: "Our camp is a veritable spiritual power-house, nearly all being Religious. Many and fervent are the prayers for all that is and all who are dear to us." Sister Gemma was the only Maryknoll Sister interned in the school. After the war many of the young women to whom she had given Novitiate training, later became members of other religious Congregations.
After some time as extern at the Cloister on her return to Maryknoll, Sister again took up her missionary journeys. First to Hawaii, then back to Maryknoll and finally in 1949 back to Japan via Seattle.
Sister Gemma was to spend the next 19 years in Japan, first in Tsu, again doing parish work and gracing the many activities with her music and other artistic abilities. Later she moved to Kyoto where the Maryknoll Sisters had a center for women. There were classes in English, sewing and cooking, this latter being Sister Gemma's specialty. Many women came to learn the art of cooking Western foods and Sister later met the challenge of making fancy dishes in addition to her more substantial menus. She often said throughout her life "I don't know how to do this, I cannot do this" and then would enter into doing the task with all her heart. In deep faith she would often say, "God takes our failure and turns it into success." Her gentle manner and love of people were always present in all her relationships, and in this way many persons were brought to ask her to teach them about her faith. There was also a hostel for students at the Center and Sister Gemma was always there to hear about the girls' joys and sorrows, never too busy to listen and share a story herself. With the aspirants to the Maryknoll Sisters she often spoke of Mother Mary Joseph, as a wonderful person with an understanding heart, full of love and joy.
Toward the latter part of the 1960's, Sister began to prepare for retirement deciding to leave Japan; to go to Monrovia while she was still able to be active and to  continue work with the Japanese in the area. Sister's gentle presence and understanding were very much appreciated by the Community at Monrovia. During this time she began to record her recollections of the early days of Maryknoll, an activity that became very much a part of her life from then on.
In 1986 for the 75th Celebration of Foundation, Sister Gemma did a Video interview to share her memories of those first years of life among the Sisters, Priests and Brothers. Her infectious laugh between her stories, sometimes laughing at herself, was enjoyed by all. She had some trepidations about doing this, but it is now a treasure along with the many tapes she has left us, of our rich and faith-filled heritage.
After many happy years in Monrovia, she thought long and hard about coming back to the Center for a more supportive living situation and in March 1991 made the decision to return. As it was described by a woman who interviewed her, she came to close the circle of her life in the heart of the heart of Maryknoll, the Center.
Here she continued to be her gracious self, full of gentle charm, her eyes sparkling with humor holding many of us spellbound with her stories of life in Maryknoll. She had many visitors, who came to interview her or just to share a few moments with her. As she neared her 98th birthday on December 3rd, 1992, she said to one of her friends. "I never before knew anyone who was 98 years old." Her prayer during this time was often "to let God give me all the love He can so I have enough to give to everyone else". As she began to fail, her daily prayer was to say, Come Lord Jesus, making herself ready for that day when God would come to take her home.
For all of us there is a mixture of pain and joy at Sister Gemma's "going home". Pain because we will no longer have her gentle presence among us; joy that she is happy with the Lord. We are very grateful for the gift of her life to all of Maryknoll and the people she has known and loved. And so we come to celebrate this Liturgy of the Resurrection with pain, joy and grateful hearts. We welcome our Maryknoll brothers, Fathers Bob Reiley, Don Vittengel and Jim Gehrlich to celebrate this Liturgy of the Resurrection.