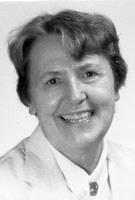 Sister Gilmary Simmons, MM
Born: September 26, 1922
Entered: September 6, 1951
Died: April 3, 2008
"Each of us has a cause, a mission, an aim in life which is so big that it takes us a lifetime to complete it."
Shortly before 1:00 p.m. on Thursday, April 3, 2008, Sister Gilmary Simmons completed her mission when she died in Residential Care IV at Maryknoll, New York. She had lived as a Maryknoll Sister for 56 years, first as a well known pediatrician, active in world wide ecumenical health endeavors and earned numerous awards, citations and two honorary doctorates. Then life changed for her. Her own health suddenly compelled her to have a life of greatly reduced activity. Finding herself entering into a period of ever more gradual physical and cognitive decline, Sister Gilmary adapted graciously, explaining to a friend that this was a time of gaining "greater intimacy with God." She seemed to live both moments of her life fully and deeply as equally important parts of her one mission.
Eileen Catherine Simmons was born September 26, 1922, in York, Pennsylvania, to Joseph Peter and Hazel C. (Wright) Simmons. Her parents, along with her sister, and brother, have all predeceased her. Eileen studied at St. Rose of Lima Primary School and graduated from York Catholic High School in 1940 before enrolling in Trinity College in Washington, DC, where she earned a BA in chemistry degree in 1944. She went on to receive an M.D. from Woman's Medical College in Philadelphia, Pennsylvania, in 1948. Following a year of internship at Harrisburg Hospital, and a year as Extern in General Pediatrics at Children's Hospital in Washington, DC, she transferred to Duke University in Durham, North Carolina, and was an Assistant Resident Physician in Pediatrics for a year. With these years of medical preparation completed, she pursued her dream to enter Maryknoll on September 6, 1951.
At reception in Maryknoll, Eileen received the name Sister Gilmary, Gaelic for "servant Mary," a name she retained the rest of her life. She made First Profession of Vows at Maryknoll, New York on March 7, 1954, and was assigned to Pusan, Korea, where she made Final Profession on March 7, 1960. In Korea she joined Maryknoll's medical team treating war refugees in the post-Korean war clinic where hundreds were being treated daily. She was in charge of Pediatric Public Health, setting up a tuberculosis-control home care program, maternal and child health clinics, and preventive medicine and health education programs both in Pusan and in rural areas. In 1962 she became the first medical director of the 150-bed Maryknoll Hospital in Pusan, seeing it develop into a Medical Training Center before administration of the hospital was turned over to Koreans in 1968. During this time she also served as Assistant Professor of Pediatrics at the Catholic Medical College in Seoul, Korea, and gave special courses in pediatric allergy and pediatric public health. In Pusan medical circles of the 50's and 60's, the word 'pediatrics' was said to be synonymous with Sister Gilmary!
Leaving Maryknoll Hospital in 1968, Sister Gilmary became a Board Member of an Ecumenical Community Health Program in rural health care on Ko-Je Island off the southern coast of Korea. The aim of the program was to coordinate missionary and government resources for total health care by minimizing limitations of costs and personnel.
Sister Gilmary' s participation in this ecumenical program resulted, in 1971, in an invitation for her to be medical consultant to the Christian Medical Commission of the World Council of Churches in Geneva, Switzerland. This was a great honor and a unique position for a Catholic, requiring approval from the Vatican Secretariat for Christian Unity. The goal of the Commission was to enable the delivery of better medical care in developing countries through workshops with Church and Government Health Personnel. The work had Gilmary traveling extensively to Africa, Asia, Middle and South America, to the Middle East, to Europe and Islands of the Pacific. She also served as Liaison for Health Affairs to the Vatican Secretariat for Christian Unity and to SEDOS, (Documentation and Research Centre) in Rome, Italy. Her worldwide travels often gave her the opportunity to share with and learn from the medical work of other Maryknoll Sisters in various parts of the world, increasing her own expertise and experience in this field.
Sister Gilmary continued in this work until 1974 when she returned to be Health Services Director and Center Coordinator at Maryknoll, New York. From 1979 to 1984 she did family ministry, caring for her father until his death in 1984. She chose to take a medical refresher program in Community Health and Pediatric Community Medicine at St. Vincent's Hospital that included serving the sick poor in shelters for the homeless. In 1986 a radical turn in her health brought her back to Maryknoll, where she worked part time in the Development Data Processing Office for 15 years. It was in this period, in 1987, that she received the last of her many public recognitions, when the American Association of University Women honored her with the "Outstanding Women in History" award. Increasingly failing health led her to full retirement in 2003.
We extend our sympathy to Sister Gilmary's sister-in law, her nieces, and her friend all of whom are with us today, and to a third niece, who could not be here. We also extend our sympathies to her many friends, and in particular to the staff who loved and cared for her in Residential Care. We welcome Maryknoll Father Raymond Sullivan, who served in Korea with Sister Gilmary, who will preside at our Liturgy of Christian Burial this morning.