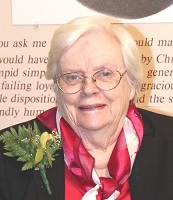 Sister Gloria Ryan, MM
Born: February 11, 1924
Entered: September 6, 1945
Died: May 23, 2021
Sister Gloria Ryan entered eternal life on Pentecost Sunday, May 23, 2021 at the Maryknoll Sisters Home Care, Maryknoll, NY. She was 97 years old and a Maryknoll Sister for 76 years.
Gloria Frances Ryan was born on February 11, 1924 to Ann (Cannon) and Robert J Ryan. She was one of four children. Gloria graduated from Bay Ridge High School in 1942. She worked as a clerk for Life Insurance Company in New York City for 3 years. At the same time, she studied at St. John's Evening School completing Religion and Philosophy courses in May 1945 before joining Maryknoll. She attended Maryknoll Teachers College from 1947-1951 and received a Bachelor's Degree Education. She completed a Masters in Adult Education at City College, New York in 1973.
Gloria entered Maryknoll from St. Agatha Parish in Brooklyn on September 6, 1945.  She traced the seeds of her vocation to reading articles in The Sign, and to an account of Chinese Mission Work by a Brother when she was in 8th Grade.  She wanted to become a religious sister because she wished to 'consecrate herself entirely to Christ and to Christ alone'.  She also wrote that she 'always loved the missions. It is the type of work I am most attracted to and would undertake it with zest'. At her Reception, Gloria was given Sister Robert Anne as her religious name. Gloria's First Profession was on March 7, 1948, and her Final Commitment 3 years later on March 7, 1951, both at Maryknoll, New York.
Gloria's first mission assignment was to the Philippines in 1951 where she taught English and religion to elementary grades and high school students in Lucena for 14 years. Her students had a high regard for her and her friendships with former students and teachers have endured through the years. Sisters Amelia Omana and Christelle Zabalerio were her former students as well as Lulu Manalo with whom she had a lasting friendship.  She described as her 'forte' the education of teenagers and adults.
After her first Decennial in 1962, Gloria returned to teaching in Santo Tomas, Davao on the island of Mindanao in the southern Philippines where the Maryknoll Fathers had established new mission areas. She taught religion and English for a year there and then moved to Cateel, Davao where she was school principal for 4 years.
During the early years of her mission in Cateel, Gloria had a near-death experience. On December 8, 1966, Gloria and Helen Fitton were walking along a riverbank when bees attacked them. She fell while they were running away. When the people found her, she was lying under a mound of bees and they thought she was dead because she had no pulse. They built a circle of fire to drive the bees away and finally, Gloria cried 'Help me!' Then they took her to a clinic where local women patiently pulled a thousand stingers from her body. She was rushed by plane to a hospital in Davao City and then to Manila for recovery. In local people's lore, carabaos, known as the strongest beasts of burden in the area, often died from bees' attacks. Thus, Gloria had gained great "face" from surviving the attack of the bees.  Gloria herself told a friend that coming back to life gave her the insight that there was more mission work for her do.
After Vatican II, Gloria asked for and received an assignment to pastoral work in a rural parish in Sigaboy, Davao from 1969-1970. There, she shared in a new team approach to evangelization. The catalyst was the pastor, Maryknoll priest Fr. Michael Hiegel, who believed in people's capacity to bring about mutual evangelization throughout the parish and the outlying barrios. They worked at forming Christian communities with weekly prayer groups using Bible reflection. Gloria wrote about the meaningful sharing that touched the lives of the people who exercised their Christian responsibility for the life of the parish. Her next assignment from 1973-1975 was in Santo Tomas, Davao, where she engaged in family life education, Bible prayer groups, home visiting, and team meetings.
Gloria came back to the United States after more than 22 years in the Philippines. She worked at the Maryknoll Sisters Center in Direct Mail for four years. Gloria had the gift of making people laugh, enjoying moments of togetherness—her co-workers remember her well. Gloria used her 'people' gifts in this ministry, developing friendships with the Sisters with whom she worked. From 1981 to 1984, Gloria worked on Mission Education with the East Coast New England Team, enjoying the chance to meet many Maryknoll supporters, and sharing her love of mission with them.
During her years in Mission USA, Gloria worked with runaway girls for several months while staying with the Franciscan Sisters. She taught Adult Education at Rochambeau from 1979 to 1981 and worked for 6 months in an urban ghetto in Manhattan. After a 5-month intensive course in Spanish in Bolivia in 1986, she ministered to the needs of Salvadoran refugees and Mexican families with Sr. Ethel Howley, SSND in Westbury, Long Island. She helped them address needs for employment and housing as well as Christian Community development. She was in this ministry until 1991. Gloria joined the Eastern Region in 1987.
From 1992 to 1994, Gloria stayed with our Sisters in Monrovia, CA to take care of her mother. For her golden jubilee year, Gloria wrote about how grateful she was for her 'cup was overflowing' from her previous mission experiences. She felt called again to active ministry and she worked from 1995 to 2000 as a semi-retired Sister doing volunteer work in the parish in Terryville, CT. Gloria's experience of increasing diminishment led to her final mission assignment to the Center where she joined the Chi-Rho community in 2000. Gloria's prayer ministry was for the runaway girls and the Philippines.
A few years later, in 2004, she moved to the Eden Community where she received excellent care until her death. A Sister working on the 3rd Floor shared that Gloria was always present at the Cookie Corner, a place where the Sisters gathered for storytelling. Two days before she died, Gloria came and asserted, 'My name is Gloria' with a smile. We thank Maryknoll Fr. Kevin Hanlon for presiding at this Liturgy of the Resurrection. We thank you, Gloria, for having brought great joy to us and to so many. You have truly lived mission with zest!