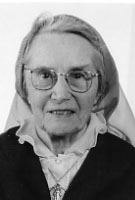 Sister Grace Doherty, MM
Born: January 10, 1901
Entered: September 24, 1924
Died: August 13, 1955
Only five weeks away from attaining her 71st Anniversary within Maryknoll, Sister Grace Doherty died very peacefully on Sunday, August 13, 1995, at 10:15 p.m. in Assisted Living. She was surrounded by many good friends who had been keeping watch and praying with her since mid-afternoon. Although she was 94, there had been few signs of her imminent death. The evening before, on August 12th, she had been present at the community Eucharistic Liturgy. It was afterwards that she admitted not feeling her usual chipper self. Hardly anyone suspected that, in a matter of hours, she would be celebrating forever with the choirs of heaven, arriving in good time for her Feast Day on August 15th!
Grace was born on January 10, 1901, in Halifax, Nova Scotia, the third of seven children born to Cecilia and Philip Doherty. When Grace was eight, her father died and her mother moved with the children to Brighton, Massachusetts to be near her brothers so that Grace and her sisters and brothers would grow up surrounded and blessed by the loving attention of an extended family.
Grace's early education was in Brighton, at St. Columbkille's parish school. She did her high school at Mt. St. Joseph Academy and then enrolled in a three-year course at Boston Normal School from which she was awarded her Teacher's Certificate. After teaching for three years in East Boston, on a crisp fall day, she took a train to New York to enter the fledgling Community of Maryknoll Sisters. It was September 24, 1924.
When Grace was formally received into the Congregation, in April of 1925, she was given the name by which so many Sisters fondly remember her, Sister Mary Tarcisius. Upon completing her novitiate, she made her First Profession of Vows on April 30, 1927, at Maryknoll. Within a few weeks, Grace found herself in the first group of those Sisters assigned to the Territory of Hawaii. Their mission was to establish a parochial school system in the Vicariate of the Hawaiian Islands. Thus, Grace embarked on her lifelong distinguished teaching career and became a major contributor in the foundation of the school system that flourishes today in the Islands.
A teacher par excellence, Grace's potential for leadership was also tapped for the good of the young Community in Hawaii. She had only been there four years, having made her Final Profession on April 30, 1930, in Honolulu the year before, when she was appointed Regional Superior. She served the Region in that capacity from 1931-1937. In 1933, she was also simultaneously local superior in Punahou.
After finishing her term as Regional she did a year of studies at Immaculate Heart College in Los Angeles, earning her Bachelor's Degree in 1938. Upon her return to Hawaii, she was assigned to St. Anthony's on Maui where she continued to give her affection and best energies to her students and also to the Sisters whom she served as local superior. This service would be requested of her yet another time in 1943, in Kalihi Kai.
By the time the long, uncertain and devastating years of World War II were over, Grace had completed her graduate work at the University of Hawaii from which she got a Master's Degree in Education in 1946. In the Congregation that was also the historic year of the Fourth General Chapter to which Grace was a delegate, and at which Mother Mary Joseph chose not to seek ecclesiastical approbation to continue in the position of Mother General.
Just as 1946 was marked with unprecedented changes in the Congregation, Grace also experienced a major change for herself. After almost 20 years in Hawaii, she was assigned to Hong Kong. Resilient and adaptable, she spent the next ten years giving herself generously to her Chinese students in their struggle to rebuild their lives after the war.
In 1957, when she returned to Maryknoll for Renewal, she was asked to join the faculty of Maryknoll Teacher's College. By this time, she had a wealth of experience which she shared with us magnanimously. As a consummate educator, she brought out the best in each budding Maryknoll Sister teacher, demonstrating that the secret in all education lies in the belief and love of the person.
After eight years here in the college, at 63, Grace was to set sail once again, this time for Mindanao in the Philippines to continue teacher training, a ministry she really enjoyed. In fact, on a number of occasions, she said "I have always enjoyed everything that I was asked to do." The lightness in her step and the sparkle in her eyes bore witness to her sincerity. She looked for the good in everything and she found it.
Although "at home" among the people in the Philippines, after four years, the work load combined with the humid climate proved too much. Returning via Hong Kong, she was asked to stay on for a while to do individual tutoring, a task which would be less arduous for her later years. Grace happily acquiesced and performed this service until 1971. Hong Kong's loss was Monrovia's gain.
For the next 24 years, at our retirement center in Monrovia, CA, Grace continued to reach out to others, visiting the elderly, talking Scripture, being spiritual adviser to the Legion of Mary, telling stories, keeping up with a voluminous correspondence and playing scrabble. They say she won frequently!
At 94, beginning to sense a change in her physical capacity, Grace asked to return to Maryknoll in April of this year. From the moment she arrived, she was a constant source of wonderment and delight to all. She adjusted well as she had adjusted everywhere else in the myriad circumstances she had encountered. She spent time with others in Assisted Living, regaled them with her stories and listened to theirs. Through correspondence, she also kept in touch with many people who had been part of her life, in Hawaii, Hong Kong and Philippines.
Last year when she celebrated her 70th Jubilee as a Maryknoll Sister, the Sisters in Monrovia gave thanks that on September 24, 1924, she had taken that train to Maryknoll. They blessed God for giving us 70 years of Grace. We could not express it better!
We welcome Sister Grace's family and friends. We also welcome our brother, Maryknoll Father Joseph Veneroso, who will preside at this Eucharistic Liturgy of Resurrection.